Whether a social network will become popular depends upon far more than the technology its creators deploy. Its fate rests on who its earliest users are and how they put its features to use. As many failed efforts demonstrate, the success or failure of social networks also may depend on factors like speech standards and privacy policies, along with the ultimate determinant: whether people use them.
A new civic social network called Brigade, backed by tech billionaire Sean Parker, is off to a good start, at least measured by activity. According to Buzzfeed, Brigade's users have already shared over one million views. If that growth continues, expect to hear politicians citing what "young people say" on Brigade: 83 percent of those using its private beta are under age 33.
With that kind of competition, the path to success for another fledging civic social network, St. Paul, Minnesota-based Civic Eagle, looks much steeper. It will be hard to fight the network effect now boosting Brigade, but CEO Damola Ogundipe is not discouraged. He believes in his mobile-first product, which includes a compelling feature: a way for ordinary Americans to be part of the public conversation through video debates.
"We want the entire nation to join," said Ogundipe in an interview with The Huffington Post. "Most of the time we have these kinds of conversations face to face, at the dinner table, at the water cooler and at work. We're not texting them or messaging them. We want to bring that kind of civic discourse where it's face to face, where you can empathize with them, to a mobile platform."
So far, the bootstrapped startup's user base is just a rounding error by modern social media standards, standing at around 1,600 users since the launch of its public beta. And Ogundipe is the only person dedicated full-time to Civic Eagle, although he has five co-founders and a contractor on the team. But all that could change: The Civic Eagle team has built a more interesting civic app than many I've seen demonstrated in the past few years.
Like Brigade, Civic Eagle is focused on the discussion of political issues. Additionally, it is personalized to each user, pulling in open data from the Sunlight Foundation about national and state legislation related to users' expressed interests.
"Say you're passionate about civil liberties, the economy and foreign relations," said Ogundipe. "We filter legislative information at the federal level to you. We're working on the state and local level."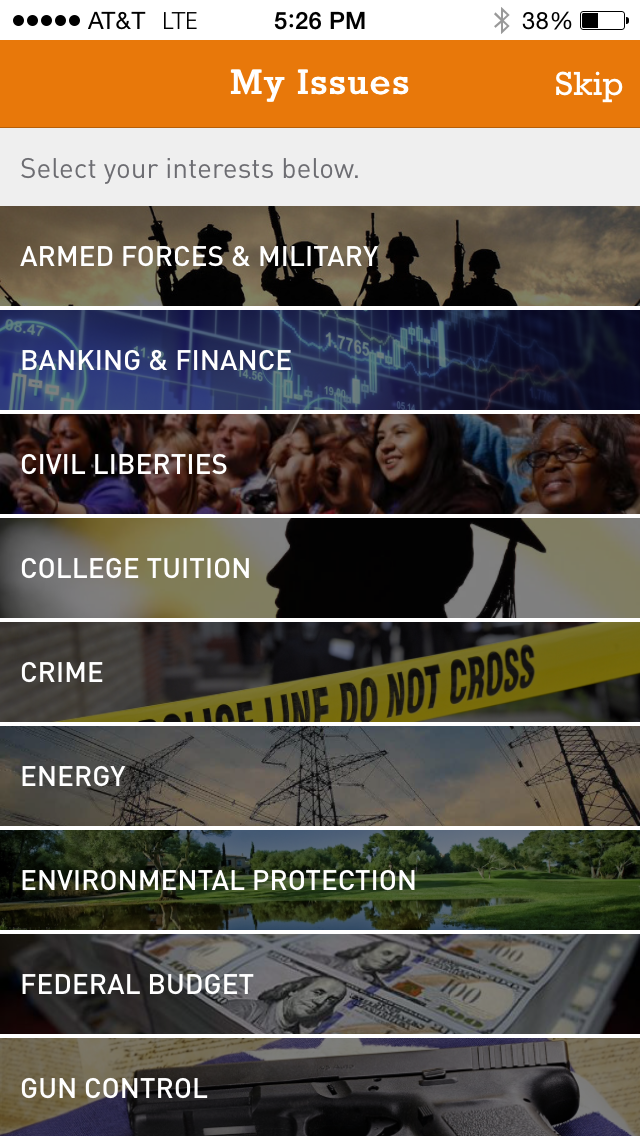 The mobile app offers a slick, fast interface for browsing bills, with options to favorite, support or oppose them, or share over Facebook, Twitter, Whatsapp, text messaging or email. Tapping on a bill sponsor brings up a picture of the legislator and contact information, including social media channels.
The feature that makes Civic Eagle worth keeping an eye on, however, is its use of 30-45 second videos, the lingua franca of modern mobile media, which it organizes into debates optimized for mobile users.
The app hosts "micro-video debates," as Ogundipe puts it. "Then, we have ways peripherally to help people understand the legislation and policy so they can get into a more informed discussion," he said.
Users don't have to participate to watch the videos, but they do have to download the app. Civic Eagle is currently available only on the iPhone, although an Android version is in the works. Like Instagram, there was no website at launch: Now Civiceagle.com includes product information, news and a link to download the app.
"When I downloaded the app, the thing that stuck out to me was video debates," said early adopter Kaylord Hill, a general manager at Raising Cane's in Houston. "None of the apps that I have or have heard of have video debate or other type of collaborative video. This is a different way of arguing," Hill said.
After only a couple of weeks in public beta, it's unclear whether Civic Eagle will catch on or not.
This March, Mark Zuckerberg said that at age 18, he knew that "if you build something that people really like, then that's enough" to succeed online. While it's hard to disagree with a Facebook founder -- and while even great marketing can't make up for a bad digital product -- marketing can certainly make a difference in adoption rates among comparable apps.
Brigade's considerable resources for marketing mean that potential competitors, from Civic Eagle to PopVox.com, may not be able to compete on paid outreach. The rivals' technology and communities will have to be more compelling, and the people who love them will have to push them.
Ogundipe said that he thinks his team has created a product superior to Brigade.
"I think our features are better, in terms of what we built with the community," he said. "We focus more on video, not text. They're in beta, so who knows what they'll end up launching."
Hitting the video theme hard, he said, "That's the trend we're seeing: Whether pictures or video, imagery is reigning supreme."
What is clear is the importance of social networks in civic life today. So it's critical to pay attention to each network's specific demographics -- from who is overrepresented, to who is underrepresented, to who is not represented at all. That's one reason to be cautious about politicians citing what "the people" say on social networks or journalists covering them as a proxy for public opinion.
Surveys from the Pew Research Center tell us that the demographics of social networking platforms differ significantly. Although Facebook penetration has gone the furthest, social networks are not yet statistically representative of individual cities or states. Women dominate Pinterest. Google+ users are mostly men. Reddit users are mostly young men. A majority of LinkedIn users are college graduates.
At present, Civic Eagle is about 80 percent millennials, mostly college graduates or college students, about 60 percent of whom are African-American. (To date, Brigade has declined to provide demographics beyond age.)
Which platforms members of the public choose to use is tied to power, class, race, gender, political ideology and even privacy features. Finding the right space for the right kind of sharing isn't easy or risk-free.
"There's a culture of fear that's put behind expressing political thought and civic expression in public," said Hill, who studied political science in college. "This app gives public discourse another kind of validity. You don't have to be a big-time scholar or sit on a public council to have an opinion. This makes the idea of civic engagement informal but cool."
Despite what you may have seen in "The Social Network," Sean Parker never said that a billion dollars was cool. In fact, he told the Financial Times in 2011 that he thought the opposite was true. But when a linked-in billionaire backs a for-profit social network like Brigade to "use social media to transform politics," the public might understandably wonder, "For whom, and to what end?"
Brigade's stated goals are to help people "feeling alone and powerless" to "work towards collective action" around shared local and national issues that span the ideological spectrum as represented by its partner organizations.
Its goal might also be to create a database of voter positions. Advocacy groups and political campaigns might find that useful -- as they do polling data -- in targeting voters who agree with their positions. Given enough data, Brigade might even be able to suggest what kinds of arguments could shift citizens' positions or votes.
So, for that matter, might Civic Eagle. Its app similarly includes a platform for "Our Leaders," which elected officials and advocacy organizations can use for analytics and outreach. The latter is how Civil Eagle generates money. To date, Ogundipe said, his company has three such customers in a private beta, with a waiting list of 12 more.
Brigade is focused on growing on college campuses this fall. It's not clear what other communities it's targeting. CEO Matt Mahan said Brigade expects to do outreach "in places where the average Internet company would never target."
With its starting base among African-Americans, Civic Eagle is already in one of those places. Whether it expands further is up to the public.
"I think Civic Eagle will get picked up," said Hill. "It's going to slow people down into a different conversation. Driving a civic message versus a comical message is a different thing. I do think, if and when people slow down and get out of Black Twitter, Vine, Instagram, it will be really interesting to see."