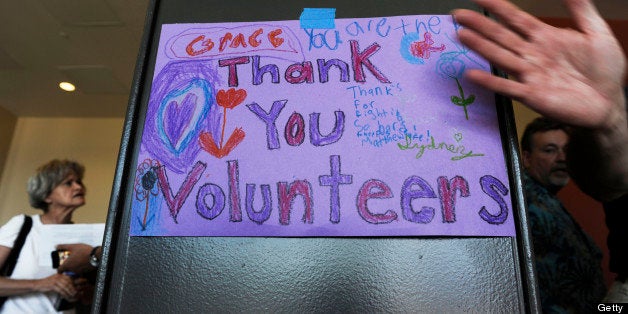 This was co-authored with Barb Quaintance.
More than 50 years ago, on a cold January day in 1961, John F. Kennedy issued his clarion call to action, beseeching his fellow Americans to "Ask not what your country can do for you; ask what you can do for your country."
Millions responded, finding new ways to serve. Young people, in particular, answered the call by joining the newly established Peace Corps.
Those dewy-eyed youth are all grown up now and either retired or planning for retirement. And yet, a great many continue to seek new ways to serve.
In a recent study of civic engagement among midlife and older adults, AARP found that the spirit of volunteering is alive and well among our older generations. Since the turn of the century, volunteer engagement has jumped 14 percent with 76 percent of those 45 and older saying they have volunteered in some capacity over the last 12 months. Although volunteerism dipped during the economic downturn in 2007-2008, it has since rebounded to pre-recession levels.
Those of us who work on intergenerational issues find it encouraging that older adults rank volunteering with children's groups third on the list of organizations for which they choose to volunteer. Of those surveyed, 31 percent volunteered to tutor, teach or mentor young people. Boomers and Gen Xers rated volunteering to serve children highest on their priority lists, at #2 and #1, respectively.
When so many adult volunteers choose to give their time to programs serving children and youth, it says tremendous things about our future. Not only are we taking the time to share our wisdom and expertise with future generations, but we're also instilling the importance of giving back and sharing -- two core American values on which many fear we're losing ground.
Many of us know from personal experience how powerful intergenerational relationships are to children -- whether spending one-on-one time with grandparents or getting encouragement from a kind older neighbor. We also know, from personal experience, how powerful intergenerational relationships are to our own lives. Those who live far from their children and grandchildren are apt to have some down days. Volunteering with children is a potent antidote to loneliness and isolation and can fend off depression, as well.
Thea Aschkenase, 89, of Worcester, Mass., regularly experiences the power of volunteering and knows its benefits work both ways. As a survivor of Auschwitz, she understands, first-hand, the devastating effect a lack of nutritious food can have on one's body and spirit. And because of her experience, she's determined to do whatever she can to ensure others never have to go hungry.
Once quiet and shy, Thea underwent a transformation when she began attending Worcester State University as an "elder student." While taking classes in urban planning, she got involved with the university's Hunger Outreach Program (HOT). As a HOT volunteer, Thea learned about the hunger that exists in and around Worcester, and how it especially affects young people. Feeling their suffering, she found her voice.
Thea is now an outspoken advocate for Worcester children and youth. She regularly speaks to local civic groups and, by relating her own personal experiences with hunger, helps them understand that the issue is real... and it is urgent.
She also regularly volunteers at South High School where she is well-loved by staff and students alike. Thea has been instrumental in helping the students push for universal breakfast and she works closely with the principal and the school's nutrition program to address other hunger issues.
Thea is joined by millions of other older adults serving on the front lines of volunteerism. One great example of this harnessed good will is AARP Experience Corps, a reading literacy program that matches older adults with struggling students in kindergarten through third grade. AARP is encouraging those 50+ to venture into the classroom to tutor children who are falling behind on reading. The focus on earlier grades draws on the understanding that children who do not read at grade level proficiency by fourth grade are much more likely to leave high school without a diploma. In fact, according to the Annie E. Casey Foundation children behind on reading are four times more likely to graduate late or not at all than kids who excel at reading.
The program is a success on multiple fronts, not limited to reading improvements by the students as documents by research from Johns Hopkins and Washington University St Louis. In fact, according to the same study, adults who volunteer with this program benefit from improved physical and mental health and better social lives.
What are really interesting though are some of the harder-to-measure aspects of the program's effect on the children it serves. Teachers have anecdotally reported they see better attendance and fewer behavior problems when older volunteers are in the classroom. To learn more about this program, and to get involved, visit www.aarp.org/experiencecorps.
Convinced? We hope so. Because if just 10 percent of retiring boomers were to volunteer in retirement, we would have 500,000 more pairs of hands working to improve our communities. Imagine what we could do with this enormous outpouring of talent and skill.
So what are you waiting for? Start planning for the next phase of your life: making the most of your retirement years as a volunteer working for a better future.
Donna Butts is executive director of Generations United.
Barbara Quaintance is managing director of AARP Experience Corps and a member of the Generations United Board of Directors.
PHOTO GALLERY
5 Ways To Find Your Next Act
Calling all HuffPost superfans!
Sign up for membership to become a founding member and help shape HuffPost's next chapter