Tax increases, spending limits, tax on pension income among Civic Federation's recommendations
A report released today by the Civic Federation lays out a number of recommendations -- including consideration in the near future of a progressive-rate income tax -- as part of a three-year plan to address the fiscal crisis in Illinois.
The 55-page report, "State of Illinois FY2017 Budget Roadmap," warns of the looming consequences of inaction -- a $25.9 billion unpaid bill backlog by the end of fiscal year 2019 -- unless "painful but necessary spending limits and revenue enhancements" are enacted.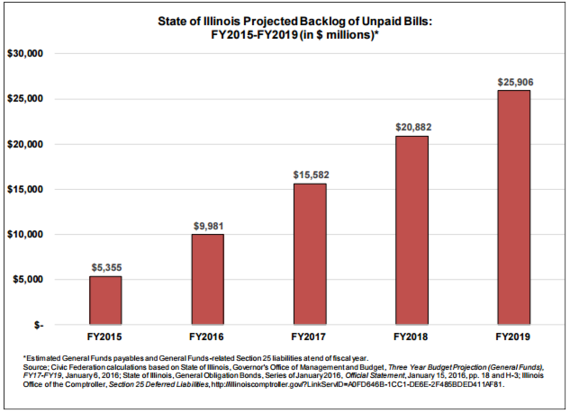 And even though Illinois is expected to end the current fiscal year $6.2 billion deeper in debt, which will push the bill backlog to a grand total of $10.2 billion in unpaid bills by June 30, Civic Federation President Laurence Msall says not all hope is lost.
"Systemic payment delays and the ongoing budget impasse in Springfield have only exacerbated our state's financial woes, and there are no more politically popular solutions left to explore," Msall said in a press release. "Despite this dire situation, our roadmap shows that with dedicated action and shared sacrifice, it is possible to enact a comprehensive plan that will get Illinois back on sound financial footing by FY2019."
Only after the state eliminates its backlog of bills and begins to make progress toward building a rainy day fund should it explore reversing some of the tax policy changes that were necessary to end the crisis as part of a comprehensive look at the State's tax system[...]

Savings from pension reforms are no longer possible due to the Illinois State Supreme Court's ruling that the changes were unconstitutional. Only difficult choices remain for the state.
In advance of Gov. Bruce Rauner's Feb. 17 budget address, here are the report's recommendations for the governor and lawmakers to consider during upcoming budget talks.
Calling all HuffPost superfans!
Sign up for membership to become a founding member and help shape HuffPost's next chapter