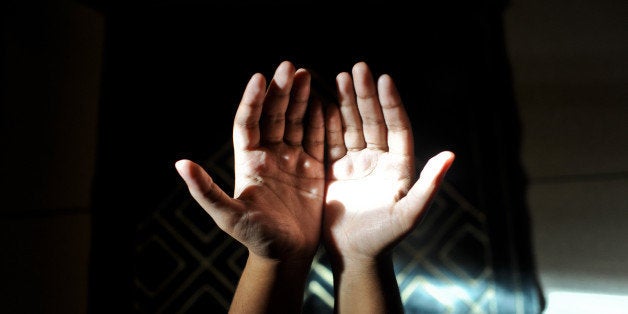 The 2016 National Day of Prayer comes this year in the midst of a painful, divisive, fearful election cycle. For months, we have experienced bombastic and hateful sound bites and media clips filled with dangerous rhetoric against other candidates, against marginalized groups, and against those perceived as "different."

And yet, the majority of community leaders and Americans--Christian, Muslim, Jewish, Sikh, Secular Humanist, Atheist, Agnostic, Zoroastrian--with whom I learn and work value diversity and prioritize listening and relationship over debate and derision.
If we have examples of bridge-building in private, why is our public space suddenly so painful to navigate with true dialogue? What would it take for political and civic leaders to highlight positive examples of diversity, instead of cultivating fear? What examples of interfaith engagement can we highlight as models of positive civic engagement?
Today, in my car on the way to an interfaith Day of Prayer in the City of Artesia, California, I listened to various radio personalities report on the primaries, and on the current "dialogue" amplified by candidates and pundits across the US.
Then, in sharp contrast, during the Day of Prayer service, I heard the following sentiments:
"Our positions are beautified [when we give to the poor.]"
"We pray for unity in our community."
"We need leaders who think of the next generation, not the next election."
"What Job needed was not answers, but companionship."
"The United States is a great nation."
"In the US, we have freedom to become educated, to be safe, to have unity and diversity."
"I'm thankful to be part of a great nation like the United States."
The City of Artesia this year sought to especially emphasize religious diversity--Artesia has an incredibly rich ethnic and cultural diversity, visible in community and cultural offerings, in programs and city endeavors, and in its demographics. The residents of Artesia are 45.8% foreign-born, and 25.2% are not US citizens. Commonly reported ancestries include Portuguese, Dutch, Filipino, Chinese, South Asian, and Korean, and the city also includes African American and Latin@ populations.
In short, Artesia is a very American city.
And while violence and discord fuel our political media cycle, more Americans are living together in cities like Artesia than living in homogeneous, isolated communities.
More Americans are coming together for common causes--business and housing development, building better school districts, working to help the homeless and hungry, and collaborating to make their cities stronger--than are participating in public discord and violence.
Of the religious leaders highlighted at the Prayer Service, every one mentioned the unique value the US has in allowing for freedom of religious (or no religious) practice. All affirmed the beauty of gathering in such a diverse group. Many who were immigrants spoke movingly about their appreciation for the opportunities they found in the US. We prayed together, sang together, ate together, and talked about local community challenges and hopes together.
Participants and their prayers--for Artesia and for our nation--included the following:
"Prayer for Shalom," by Associate Pastor Mark Lohman, New Life Community Church
"Prayer for the Country," by the Reverend Dr. Brian Suk-Boo Lee, Artesia-Cerritos United Methodist Church;
"Prayer for Helping Those in Need," by local Sikh and community leader Maninder Sethi;
"Prayer for Community Leaders," by Pastor Erik Edquist, The Well Foursquare Community Church;
"Prayer for Comforting the Suffering," by Rabbi Mark Goldfarb, Temple Beth Ohr;
"Prayer for Peace and Reconciliation," by Hindu Panit Vinod Davé; and
"Prayer for Care of the Poor," by Imam Hafez Hafez, member of the Islamic Shura Council of Southern California.
Dr. Victor Manalo, the Mayor of the City of Artesia, highlighted the value of gathering and listening to diverse opinions. Dr. Manalo has a long professional history of participating in social justice work and local politics, and also serves as faculty at Claremont Lincoln University, as director of the Claremont Core, which teaches Mindfulness, Dialogue, Collaboration, and Change. He encourages his faculty and students to engage in positive social change, and his political leadership also values collaboration and lasting, positive engagement.
How can we highlight the work of communities like Artesia--surely echoed in cities and towns across the United States on this National Day of Prayer--instead of focusing on ignorance, fear, and injustice? How do we raise our voices in collaboration and peace instead of allowing a hateful minority to overpower public discourse?
First, we must demand more of our media, and watch our own consumption and amplification. What quotes, websites, and posts do we share and re-share?
We must practice listening, and seek models that help us move from debate to dialogue.
And we can also heed the advice of local religious leaders, and the example of positive local engagement: give to the poor, pray for unity, focus on future generations instead of personal gains, provide companionship, work to continue to secure religious freedom, and practice being in prayer together.
Popular in the Community