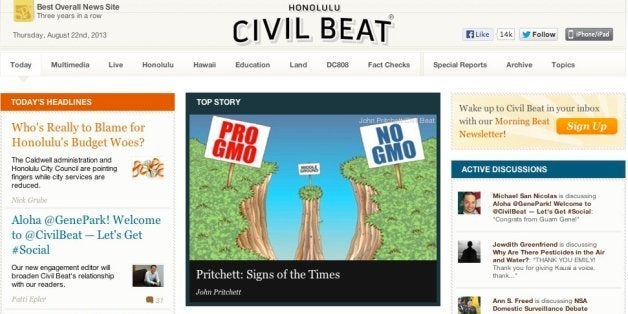 NEW YORK -– Journalists running into obstacles trying to obtain public records in Hawaii, and unable to afford a court fight, now have a place to turn.
This week, the Civil Beat Law Center for the Public Interest opened to assist journalists, as well as members of the public, in seeking greater access to government records
Executive director Brian Black told HuffPost that the "law center was created, in part, because there was a perceived culture amongst Hawaii government officials that was inconsistent with the public records law." Black said he hopes the law center can help "change the culture" by pushing for a more consistent system of fulfilling public records requests.
The law center takes its name from Honolulu Civil Beat, a three-year-old, public affairs-focused news outlet, but is being run independently. The Huffington Post is partnering with Civil Beat to launch HuffPost Hawaii on Sept. 4.
Civil Beat editor Patti Epler wrote Wednesday that journalists in Hawaii have "found that it's common for agencies to routinely reject -- without good reason -- requests for reports, documents and other information that should be readily available" and "sometimes simply ignore legitimate inquiries from the press and the public or stall for months."
If running into such roadblocks, journalists and members of the public can seek assistance by emailing the center at info@civilbeatlawcenter.org. Black said he hopes to soon have "a hotline specifically for addressing transparency issues and speaking to reporters, media organizations and the public about any access issue they're having."
Black said the law center may eventually tackle issues like the state's lapsed reporter shield law. But to start, he said he expects the biggest issue will be denial of public records requests.
The law center would offer free legal support to individuals and media organizations challenging official exceptions that are questionable under the law, or that use the law "in a way that is inconsistent with the intent of public records."
The Hawaii Community Foundation is funding the law center through the Pierre and Pamela Omidyar Ohana Fund.
Pierre Omidyar, who made billions as founder of eBay, created Civil Beat in 2010 and serves as president and CEO. The news outlet focuses on investigative journalism in the public interest, enterprise reporting, analysis and commentary, while also fostering community.
Black said Civil Beat, the new site, will have a mission similar to Civil Beat Law Center's in pushing for more accountability from Hawaii's state government.
"Civil Beat's mission is seeking transparency through investigative watchdog journalism," Black said. "The law center's mission is also focused on improving transparency."
Popular in the Community