The new President of the United States, and his chosen Secretary of Education, may seem to be big question marks as our futures unfold. What they will do to the system of public education might, at first glance, appear to be somewhat up for debate.
In Indiana, we've had front-row seats to the de-funding of public education in the name of "school choice" and its effects on students with disabilities. And it started under our new Vice President, Mike Pence.
My son, Leif, was asked to leave two private preschools before landing at Hilltop Learning Center, a developmental preschool in Washington Township School District in Indianapolis, Indiana.
At Hilltop, Leif presented behaviors that he had at previous preschools. He was diagnosed with developmental delays and, eventually, autism and a cocktail of speech and language disorders.
Leif, at the age of four, experienced fight or flight responses when in a classroom of peers, when music played, or in bathrooms. He struggled but, slowly, over the next two years, with the loving support of physical, occupational, and speech therapists, as well as highly trained professional teachers, he learned to cope and then thrive.
The team supporting and working with Leif helped him to develop a pencil grip to write his name, helped him to improve his speech to the point of being able to be understood by strangers, and helped him to get to the place where he can participate in circle time with his peers. Leif was ready for KINDERGARTEN!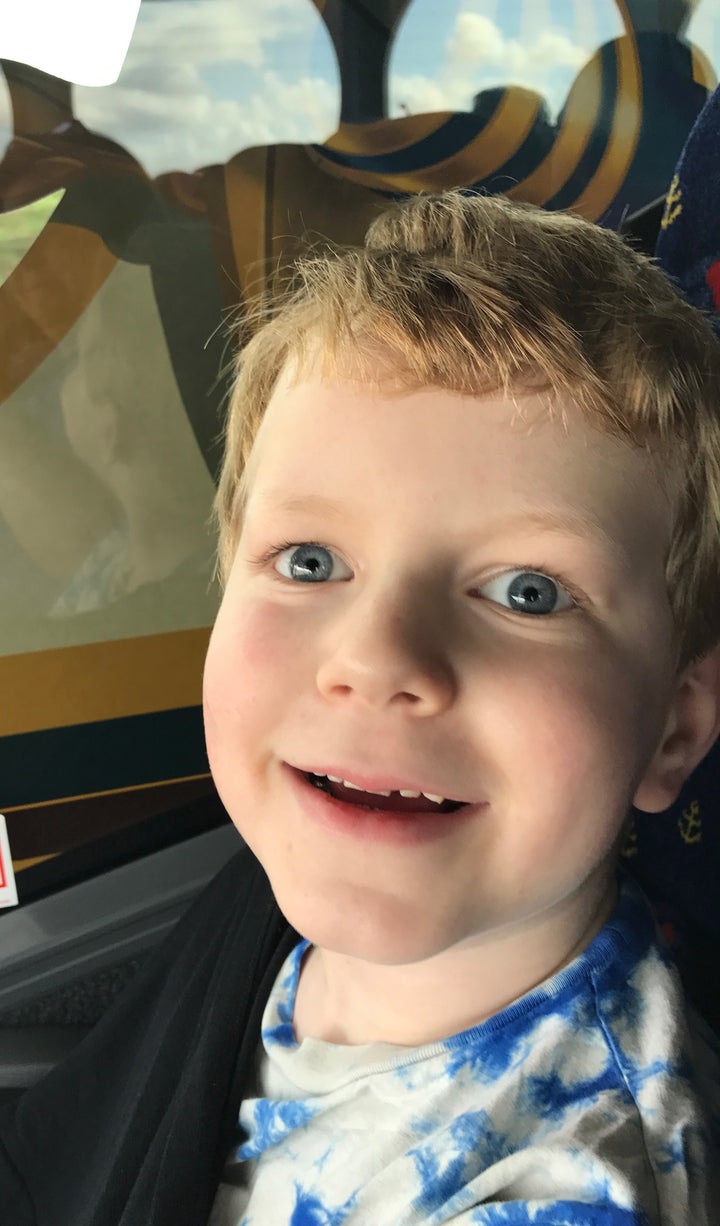 Leif is now in 1st grade in an autism classroom at a local public school where he has the opportunity to push-in to mainstream classes where his ability allows. He struggles academically, but he has made tremendous gains, working harder than many of his peers for the milestones he accomplishes.
Leif's teachers, therapists, and aides have guided and supported not only Leif, but also our whole family. He is now an emerging reader. The first time Leif read a simple book with some prompting, his teacher called me to share the good news. I wept.
The ability to read is a milestone that opens doors to opportunity, and in this Mama's mind, one baby step toward my son becoming a fully engaged citizen and independent adult. Little by little, that door of possibility is budging as Leif builds fluency.
All of this success for one little boy with autism, but it wouldn't be far-fetched to expect these supports and this progress to disappear. Indiana schools, like many state's public schools, took a blow in the recession of 2007-2009. Our schools still haven't recovered. Adjusting for inflation, per pupil funding has declined by 10 percent in public schools like Leif's. Funding across Indiana still slumps to 2009 levels.
Why the slow recovery? Because $485 million dollars have left public education in Indiana through what "education reformers" call "school choice" (aka: Education Savings Accounts, ESAs, or vouchers).
Indiana Representatives and Senators have rubber-stamped American Legislative Exchange Council (A.L.E.C.) bills defunding public education despite abysmal private options in Indiana. The most current results from studies of statewide programs in Louisiana, Ohio, and Indiana, have left the education community baffled. Huge declines in academics have been reported in voucher programs in this study, likely, because the private school community is not required to meet some of the same standards public schools do. This damaging trend is now a national crisis as voucher programs will be mandate for all 50 states under "education reformer" Betsy Devos.
Options for students with special needs, like my son, are worse than abysmal. Voucher programs are programs where schools choose the child. Leif is expensive to educate. Not only does he need special interventions that cost money directly, but he also needs teachers with experience and higher education specializing in autism.
Voucher systems and Education Savings Accounts are predatory to families like ours. Evasion of the Individuals with Disabilities Act, as our State Senator Jeff Raatz says, to "cherry pick" an education for special needs children through subsidies of for-profit private schools or, more likely, private therapy centers reduces my son's population to segregated, non-inclusive environments. Segregation of special needs students is counter to special needs student's rights under The Individuals with Disabilities Education Act.
The Individuals with Disabilities Act, IDEA, is supposed to ensure that special needs students aren't segregated from their peers. The "private facilities" (a modern code word reminiscent of institutions) special-needs students could access, as suggested by Indiana State Representative and Assistant Majority Whip Jim Lucas, are counter to best practices in special education.
Despite our desperate pleas to stop and look at research, stop and tell us what our rights will be in this education experiment, our new Secretary of Education, Betsy DeVos, has moved right down her checklist. The Department of Education, the department that holds those rights protected under the Individuals with Disabilities Act, is on the fast track to being dismantled. A bill was proposed to terminate the Department of Education just yesterday.
Without the oversight of The Department of Education, children like Leif will be at the mercy of the states. In my state, our lawmakers look at special needs students' rights as an afterthought, often throwing a line into new bills about access, without detailing what access looks like and how these rights will be enforced and protected.
Worse, in states like Texas, the education system is in the courts battling over caps to special education funding set at 8.5 percent when most states hover at 12-14 percent. The silence, by our state and federal legislators, to address the very real threat to the civil rights of America's disabled children is troubling to put it mildly.
Couple this with the fast pace in which voucher programs are growing despite research outlining the failure of such programs and I have to wonder if this is legislation without full understanding of what is at stake or is this legislation with some other motive?
Special needs families can educate DeVos and their state legislators, should they be inclined to listen, about what the climate looks like for our children. We have navigated the already strapped Medicaid system (more on that in the future), where there aren't enough providers and wait lists can get close to a decade. This is the system our leaders in government expect us to educate our children in. The infrastructure is MISSING.
Leif isn't merely an expensive student. If he doesn't get the support he needs now, he's going to be a very expensive adult, requiring care to make up for the skills he won't gain now while he's at his most teachable.
If our children don't have equitable education opportunities where they are supported, nurtured, and empowered, we will see a fiscal increase in the care required for them as adults. More importantly, we are watching a civil rights crisis unfold. Eventually, families like mine will have to reconstruct after this trendy voucher experiment crashes and burns.
House of Representatives and State Senate testimony is available on www.youtube.com if you are so inclined.
Related