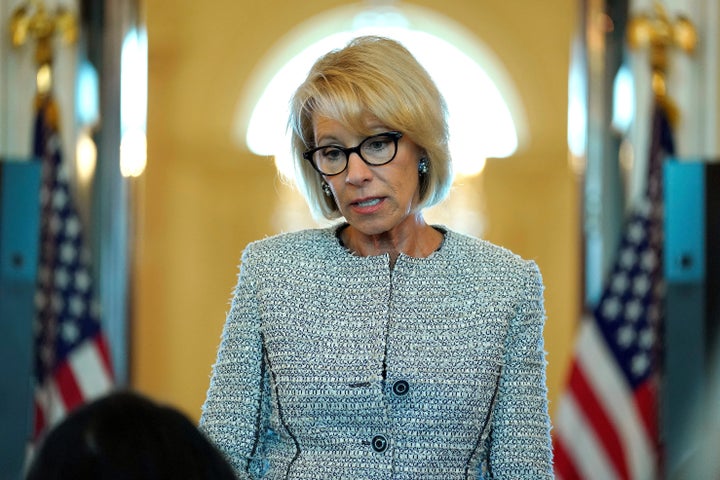 The U.S. Department of Education has been receiving thousands more racial discrimination allegations in schools than it has previously publicly reported, HuffPost has uncovered through an analysis of department data.
The HuffPost analysis, based on data obtained through a Freedom of Information Act request, found that between the fiscal years 2013 to 2016, there were over 2,000 allegations regarding racial discrimination in schools that were not previously publicly recorded in the department's annual reports.
The Department's Office for Civil Rights (OCR) enforces federal civil rights laws in schools. A vast majority of legal complaints that are filed with the office are dismissed for mundane reasons like lack of detail or lack of timeliness. Some complaints are investigated, and if a violation is found, have the potential to spark school district or university-wide changes.
There can be multiple allegations of racial discrimination within one complaint. HuffPost also found about 700 complaints of racial discrimination in schools between FY2013 and 2016 had not been publicly reported. In FY2016, for example, HuffPost found more than 300 complaints of racial discrimination weren't included in department reports.
When asked about the reason for the disparity between publicly reported numbers and those provided in the FOIA request, a spokesperson for the Department of Education noted that "between 10 to 15 percent of complaints received during the fiscal year are not yet categorized when data for the Annual Report is compiled." However, HuffPost found that deflated numbers continue to be used even years after the annual reports are released in documents like the 2019 budget request. HuffPost only analyzed data for racial discrimination, but these numbers are likely deflated for other categories of discrimination in schools, like gender discrimination.
The number of racial discrimination allegations filed with the Department of Education has generally increased over the years ― sometimes in unexpected ways, HuffPost found in an analysis of data from fiscal year 2010 through 2017.
Allegations involving racial discrimination against white students have seen a consistent uptick over the past several years, although the number of overall complaints regarding this type of discrimination remains small. In 2010, allegations of racial discrimination involving white students made up 3.2 percent of overall Title VI allegations ― the federal law covering racial discrimination in schools. In 2017, this number had reached 5 percent, reflecting nearly 200 allegations.
The pattern was similarly reflected in allegations of racial harassment against white students. In 2010, complaints involving racial harassment against white students made up 2.71 percent of all racial harassment complaints, but by 2017, this had increased to 6.86 percent, while still only reflecting 50 complaints in real numbers.
Experts who looked at the numbers found the rise noteworthy, but they cautioned against reading too much into it.
Seth Galanter, a senior director at the National Center for Youth Law, originally filed the FOIA request on which this HuffPost analysis is based and shared the responsive documents with HuffPost. Galanter previously served as a senior official at the Office for Civil Rights during the Obama administration.
Galanter was surprised to see the uptick in complaints alleging discrimination against white students, while noting that the increase in absolute numbers is "rather small."
"It does seem like white students and parents are more willing starting in FY 2017 to bring complaints to OCR," said Galanter.
On the other hand, Catherine Lhamon, who previously ran the Office for Civil Rights during the Obama Administration, said she didn't find the numbers surprising, and that they were in line with the types of fluctuations she would expect.
"I think some themes that come forward are maybe an increased recognition during the Obama Administration that civil rights apply to all people," said Lhamon, who is currently the Chair of the U.S. Commission on Civil Rights.
Additionally, in 2017, OCR received 71 allegations involving racial discrimination against "minority white" students. When asked for a definition of this categorization, the U.S. Department of Education did not respond with an answer. Similarly, past leaders of OCR were stumped as to what was meant by the categorization.
The racial category "other" also saw an uptick in over 500 complaints between 2010 and 2017.
However, allegations of racial discrimination against black students continue to make up the bulk of overall allegations ― there were over 1,900 in 2017. While there has been a steady decline in these types of allegations as a percentage of overall racial discrimination complaints, Galanter found these numbers strange and said analysts should continue to research and interrogate the decline.
The data also revealed a new high for allegations of racial harassment in schools. In February, HuffPost was the first to report that there had been a high of 675 racial harassment complaints in 2017. However, our most recent data analysis found that this number was incomplete. There were actually 728 complaints regarding racial harassment in schools in 2017 ― most of which were filed by black students.
Anyone can file an education discrimination complaint with the department's Office for Civil Rights. Under the Obama administration, an emphasis was placed on increased enforcement of civil rights laws, and the number of complaints increased. However, the Trump administration, under U.S. Secretary of Education Betsy DeVos, has sought to scale back the office's work.
DeVos has rescinded civil rights protections for groups like transgender students and created new rules designed to reduce the number of complaints that the OCR considers. The office has shifted emphasis away from addressing issues of systemic discrimination.
A ProPublica data analysis also found that under the Trump administration, OCR is now dismissing complaints at a faster clip than in the past and has been less likely to find civil rights violations. The Department of Education, under DeVos, has also sought to reduce the number of employees working for OCR.
But DeVos' staff has insisted that these changes come in the name of increased productivity and efficiency, instead of a lack of commitment to civil rights, as critics allege. At the start of the administration, there was a tremendous backlog of cases.
"The Office for Civil Rights is committed to protecting the civil rights as determined under the law of this land, and we do so proudly and with great focus each day," DeVos said in May.
Nicholas Perez, a freeleance data journalist, contributed to this report.
Popular in the Community