Attorneys who worked with Sessions alleged in the 1986 hearings that Sessions once referred to a black attorney as "boy," suggested a white attorney was a traitor to his race for representing black clients, called the American Civil Liberties Union and National Association for the Advancement of Colored People "un-American" for trying to "force civil rights down the throats of people who were trying to put problems behind them," and said that his only problem with the Ku Klux Klan was the extremist group's marijuana use.
In a stinging statement demanding that either Trump withdraw Sessions' nomination or the Senate reject his nomination, Wade Henderson, president and CEO of the Leadership Conference on Civil and Human Rights, cited Sessions' long opposition to federal intervention to protect voting rights. He also called out Sessions' repeated votes against legislation aimed at shielding LGBTQ Americans and women from discrimination and abuse as evidence that the Alabama senator's views had not substantially improved since the 1986 hearing. Sessions voted against the repeal of Don't Ask Don't Tell, the Matthew Shepard and James Byrd Jr. Hate Crimes Prevention Act, the Employment Non-Discrimination Act and the reauthorization of the Violence Against Women Act.
"People can certainly change over the course of 30 years, but despite glimmers of hope throughout his career—including his work on the Fair Sentencing Act of 2010 – the overall record shows that Senator Sessions has not," Henderson said. "He has no place leading our nation's enforcement of civil rights and voting rights laws or implementing our nation's desperately needed reforms to policing."
Michael Keegan, president of People for the American Way, called on the Senate to reject Sessions' nomination for the country's top law enforcement post.
"In the last 30 years, Sessions has done nothing that demonstrates that the Senate's judgement was incorrect or that he's learned from his mistakes," Keegan said in a statement. "Instead, he's spent years making a name for himself as one of the Senate's most extreme anti-immigrant voices, even attacking the Constitution's guarantee of birthright citizenship. As a senator he's voted in favor of torture programs under the Bush administration and opposed hate crime protections for LGBT people."
Rashad Robinson, executive director of Color of Change, a digital civil rights activism group, also called on the Senate to reject Sessions.
"Our question for members of the United States Senate is simple: do they support racism, or do they not? In 1986, the Republican-controlled Judiciary Committee refused to confirm Sessions to the federal bench," Robinson said in a statement. "In 2017, the Senate should be just as unequivocal: 'no' to racism means 'no' to Jeff Sessions."
Sherilynn Ifill, president of the NAACP Legal Defense and Education Fund, condemned Sessions' nomination in similarly strong terms.
"Jeff Sessions has a decades-long record – from his early days as a prosecutor to his present role as a Senator – of opposing civil rights and equality," Ifill said in a statement. "It is unimaginable that he could be entrusted to serve as the chief law enforcement officer for this nation's civil rights laws. This is yet another signal from the incoming administration that it is not only prepared to turn its back on equality, it is actively working to continue to sow division and undo decades of progress."
Anthony Romero, executive director of the American Civil Liberties Union, said that while the organization does not take stances on presidential nominations, it does "educate the American people and the Congress about nominees' records and past positions."
"Sen. Sessions has called the ACLU un-American and communist, assertions we flatly reject," Romero said in a statement. "His positions on LGBT rights, capital punishment, abortion rights, and presidential authority in times of war have been contested by the ACLU and other civil rights organizations."
"He is the kind of person who will set back law enforcement, civil rights, the courts, and increase America's mass incarceration industry and erase 50 years of progress."
Romero expressed the hope that the Senate would carefully scrutinize these positions and comments.
Richard Cohen, president of the Southern Poverty Law Center in Montgomery, Alabama, offered praise for Sessions, calling him "extremely helpful" to the center's work fighting for justice for the family of Michael Donald, a black man lynched by the Ku Klux Klan in 1981.
But Cohen said the Center could not support Sessions nomination due to his opposition to immigration reform and ties to anti-immigrant groups.
"Senator Sessions not only has been a leading opponent of sensible, comprehensive immigration reform, he has associated with anti-immigrant groups we consider to be deeply racist, including the Federation for American Immigration Reform and the Center for Security Policy," Cohen added.
Rep. Luis Gutierrez (D-Ill.), a leading champion of comprehensive immigration reform and a member of the House Judiciary Committee, also cited Sessions' unyielding resistance to reform in a statement condemning his nomination.
"If you have nostalgia for the days when blacks kept quiet, gays were in the closet, immigrants were invisible and women stayed in the kitchen, Senator Jefferson Beauregard Sessions is your man," Gutierrez said.
Gutierrez's use of of Sessions' full name mocks him for a name that pays homage to Confederacy President Jefferson Davis and Confederate General P.G.T. Beauregard.
"No senator has fought harder against the hopes and aspirations of Latinos, immigrants, and people of color than Sen. Sessions. He is a staunch opponent of legal immigration and someone who has blocked every effort to improve, modernize, and humanize our immigration system, which is two or three decades out-of-date," Gutierrez said.
"He is the kind of person who will set back law enforcement, civil rights, the courts, and increase America's mass incarceration industry and erase 50 years of progress," he added.
Steph Sherer, executive director of Americans for Safe Access, a medical marijuana advocacy group, issued a statement calling Sessions' selection a "tremendous cause for concern for medical marijuana patients and their families" because of the senator's harsh criticism of marijuana users.
Trump claimed during his presidential campaign that he would respect states' rights to form their own medical marijuana laws, Sherer noted.
"We urge President-elect Trump to continue his support for medical cannabis by encouraging Sessions to act in the best interest of medical cannabis users nationwide and respect state medical cannabis programs," she said.
It is not yet clear whether the criticism will affect Sessions' Senate colleagues' willingness to confirm him. Sen. Charles Grassley (R-Iowa), chairman of the Senate Judiciary Committee, indicated the panel would allow Sessions' nomination to move forward for a floor vote.
This article has been updated to include comment from Wade Henderson.
Before You Go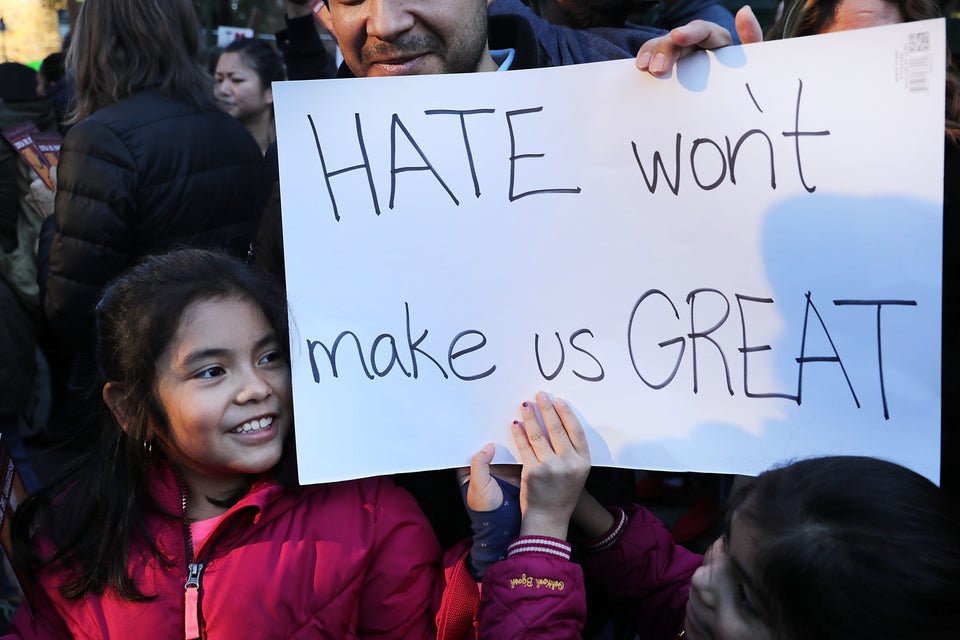 Kids At Post-Election Demonstrations
Popular in the Community