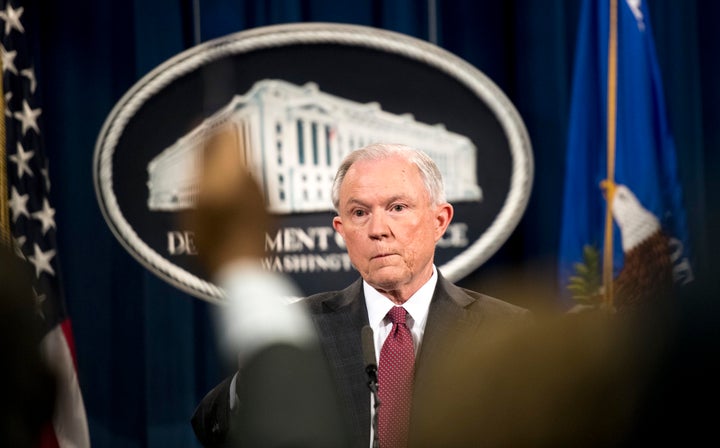 I recently joined five other civil rights leaders as we met for about an hour with Attorney General Jeff Sessions at the Department of Justice to discuss an array of issues. All of us had opposed his confirmation in light of his position on certain subjects and matters that arose, but at the same time, we understood that there were immediate concerns that had to be dealt with.
As the top law enforcement official in the country, he sets the tone for the rest of the nation to follow. With continuing concern around police reform, a rise in hate crimes impacting many communities and a host of other challenges, we cannot allow protections designed to help the most vulnerable to be stripped away or altered. We need an Attorney General that will stand by and enforce legislation that we fought so tirelessly for; in other words, we need an AG that will do his job.
Sessions has unfortunately already given a pretty clear indication of the direction he plans to take the DOJ, which is why our meeting was so urgent and necessary.
There's the DOJ's reversal on a lawsuit against Texas' discriminatory strict voter ID law (one of the harshest in the country) that the NAACP Legal Defense Fund was helping to fight (Sherrilyn Ifill was in this meeting with Sessions). There's the ongoing fight around policing where Sessions has come out against consent decrees and against reform.
After cities like Baltimore and elsewhere actively marched to get police scrutinized and held accountable, and then won implementation of changes under a consent decree, this AG is opposed to such progress. We must simultaneously ask what will happen to the federal charges against the officer accused of killing Walter Scott? Or the ongoing federal case against the officer charged with killing Eric Garner?
Let's also keep in mind that there are laws designed to protect the transgender community that Sessions is opposed to. What will he and the DOJ do to ensure LGBTQ rights? And of course, we must not forget one of the most glaring issues before us: Why hasn't the AG been leading the charge on hate crimes?
From threats to Jewish community centers/synagogues and the desecration of graves at Jewish cemeteries to attacks on Muslims/mosques and attacks on African Americans, Latinos, Asians, immigrants and more, the need for an AG to take the lead on denouncing and investigating hate crimes is urgent and past due.
According to the Southern Poverty Law Center, the number of hate groups rose for the second year in a row in 2016 as "the radical right was energized by the candidacy of Donald Trump". Those are their exact words – not mine. And according to the FBI, hate crimes against Muslims grew 67% in 2015, and in New York City alone, anti-Semitic hate crime surged 94% in just one year according to the NYPD. We need an AG and a DOJ that will fight for everyone's protection and assure us that those who violate the law will be prosecuted to the fullest extent.
The Trump Administration released its revised travel ban this week that still temporarily bans people from six majority-Muslim countries. This ban will lead to profiling and will likely have people that look other than white stopped and harassed without grounds to suspect that they are involved in any sort of terroristic activity. And at the same time, domestic terrorists like Dylann Roof (Charleston Church shooting), Adam Lanza (Newtown), Wade Michael Page (Sikh temple shooter in Wisconsin) and others would simply be ignored or overlooked. This is no way to protect the citizens of this country. All this does is simply divide us further and create a false sense of security.
Countless Americans fought to get laws and protections on the books so that we may achieve greater equality and fairness ― those laws must still be enforced. It is extremely vital that we understand that the DOJ must uphold the law no matter what party is in office. Those of us that met with Sessions may not have high expectations, but our concerns must not be marginalized and our obligation is to not let them off the hook. This may have been a civil meeting, but it was not a kumbaya moment, and it is important that the resistance must not in any way be sidelined or lose its energy.
We must continue to march and push for our collective rights – many we already secured and those we still seek. Hate crimes and attacks must be called out loudly until Sessions and the entire administration take steps to safeguard all Americans – including those that didn't vote for Trump.
BEFORE YOU GO