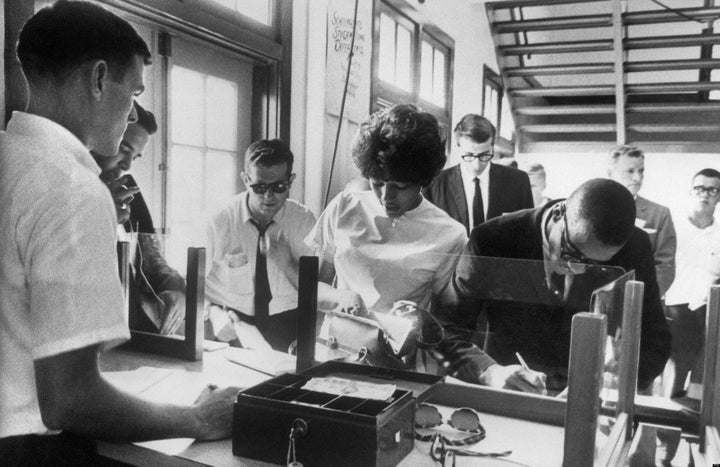 Along with many other Americans, I spent much of Martin Luther King week watching documentaries on television about the civil rights leader. The one that had me glued to the set detailed Alabama Governor George Wallace's "Stand in the Schoolhouse Door," which was meant to stop integration at the University of Alabama in Tuscaloosa in June of 1963. Why such interest? Because during that smoldering hot summer day of 1963, I was there in the crowd, standing right across the street, witnessing the whole thing. To this day, I remember it vividly.

Moreover, just recently I finished Kathryn Stockett's novel, "The Help," about the complex relationships between whites and blacks in Jackson, Miss. in 1962. This book has inspired me to write about my own experiences growing up in the South. Admittedly, I come from a lily-white family, English on both sides. However, as a psychoanalyst who writes about trauma, I believe that a person doesn't have to be black to feel the effects of racism -- a point that Kathryn Stockett makes very well.

I didn't grow up on a tree-lined street in a small town with a nuclear family. In the early 1940's, there were no Howard Johnson's or chain hotels, and as people were beginning to travel more by car, there was a growing need for accommodations. My father and mother, both from the North, decided to build and run a motor court, large restaurant and diner on a highway in the scenic North Carolina mountains. As a result, I was born into a world that seemed very exciting. It was a lively environment full of family, cooks, maids, entertainers and caretakers, as well as guests coming and going -- and sometimes returning. Some of the workers even lived in quarters in the motor court or restaurant, which added to the feeling of extended family.

With all of the activity and excitement, the only shadow was the knowledge that my energetic and charismatic father, who had a massive heart attack when I was six months old, would probably die with his next one. This ongoing sense of foreboding colored my experience, which was why it was important for me to have a best friend -- someone I could talk to about anything.

My first best friend was Elisabeth Darity. I have an old, black and white photograph of the two of us, dated September 1943, when I was six months old. Nestled in Elisabeth's lap, I'm resting my tiny white hand on her large and comforting black one. My memories of Elisabeth begin when my older brother and sister went to school, and I felt left behind and lonely. Elisabeth was chosen to look after me, and I had no idea that I was her job -- I thought she was my friend who came to play. She was the first person who listened to me and took what I said seriously. My brother and sister, being older, would laugh at me, run away from me and call me a "crybaby." Elisabeth empowered me by pointing out that my siblings actually needed me as a third person to play most games. If they ran away from me, then I wouldn't play with them anymore. It worked!

I remember that Elisabeth's and my favorite game was to lie on our backs and gaze up at the clouds, waiting for imaginary pictures to form. Then the best part of all would be the stories we'd make up about what we saw. She encouraged my imagination, and I could make her laugh. However, when I was serious, she would always listen carefully. Elisabeth told the world's best ghost stories -- just vivid enough not to scare me too much. We would entertain ourselves for hours, lying on a grassy knoll surrounded by trees, munching on the delicious green apples from a tree that my father had grafted. When I was five years old, I remember telling Elisabeth my very important secrets. I knew I could trust her to keep them. When I was older and went to school, Elisabeth went back to her old duties, but to me she was always my special person.

I have written about the traumatic impact of my father's death when I was eight years old. Everything in our world changed, seemingly overnight. The restaurant and diner were sold, and my mother could no longer employ many people. Not only was my father gone, but also our extended family went away. I have no clear memory of when they left -- especially Elisabeth. I can only imagine how helpful she could have been to me during this difficult time. I could have talked to her about my sadness and my fear and she would have understood. Instead of the vibrant, exciting life full of people that we had so enjoyed when my father was alive, our lives had come to a standstill; we were living on an isolated highway in the middle of nowhere. Because we had lived too far out of town for the school bus to pick us up, my father had always driven us to school. After he died, we began to ride the Greyhound Bus.

I remember the first day that I saw Elisabeth from the bus window when we stopped at her little town of Brickton, where most of the local black families lived. As we pulled up beside her, I could tell that she saw me, and I felt overjoyed! I hadn't seen her for several years, and I was so excited to show her how tall I was and how long my braids were. I smiled expectantly as she approached my row. There was a seat right by me, and of course she would sit next to me. And then the unimaginable happened: Elisabeth stared right past me as she made her way to the back of the bus. Her gaze was focused straight ahead, and her body language screamed, "Don't touch me." I knew that I shouldn't follow her, but I didn't know why. I felt heartbroken. Didn't she remember me? Didn't she love me anymore?

I saw Elisabeth quite a few times on the bus after that. Eventually, I gave up hoping she would talk to me, but I always suspected that she was sneaking looks at me. I don't think I ever discussed this with my mother, but it was around this time that I began to pay more attention to the bathrooms and drinking fountains "for colored only." This was North Carolina in the early 1950's, and the rules had been made long before I was born. Elisabeth knew those rules, and I'm sure she also knew I was very confused. In our insulated world of the Davey Motor Court, Restaurant and Diner, everyone was safe. My family had never instilled in me the systemic racial prejudice prevalent in the South at that time. However, out here in the larger world, both Elisabeth and I were trapped in a system not of our own making. In "The Help," Stockett's character Skeeter feels devastated by the loss of her best friend -- her Elisabeth -- and reading the novel allowed my memories to come tumbling back.

Meanwhile, my family struggled to adjust to life without my father. I went to an all-white school, with no occasion to meet people of other races and cultures. After one year at a girl's college in South Carolina, I chose to follow my sister to the University of Alabama. It was the fall of 1962. I didn't comprehend at the time that I had landed right in the heart of the deep South just before its racial issues were to explode on the national scene. The next year's headlines were full of stories about "Bull" Connor, the Birmingham police commissioner rumored to belong to the Ku Klux Klan, who saw to it that civil rights marchers were turned back with police attack dogs and fire hoses. The atmosphere in Alabama was heating up and it was palpable. Despite that, I decided to attend summer school in Tuscaloosa in the summer of 1963.

What I remember most clearly about June 11, 1963, was the blazing hot Alabama sun beating down on those of us who gathered midday at Foster Auditorium on the University campus in Tuscaloosa. Governor Wallace had made a campaign promise vowing, "Segregation now, segregation tomorrow and segregation forever." His intention was to physically place himself between the schoolhouse door and any attempt to integrate Alabama's all-white public schools.

That day the campus was crawling with media and federalized Alabama National Guard troops who had been called in by President Kennedy. The atmosphere felt extremely menacing and foreboding, like nothing I had ever experienced before. Ultimately, Wallace stepped aside from the doorway and two black students were registered. However, rumors were rampant about how active the Ku Klux Klan was in Tuscaloosa. As if to prove the point, the next day, June 12, Medgar Evers was murdered in Jackson, Miss. by a member of the KKK. Things were getting seriously scary.

Vivian Malone, the lone female black student who was battling segregation at the University, lived in my dorm that summer, which became like an armed camp. Alabama National Guard Troops were all around. It was a summer filled with death threats, and all of us students entering the dorm were checked for guns or bombs. Most disturbing of all to me was when members of the National Guard would whisper, "I hope you have a gun," or, "I hope you have a bomb."

Vivian was given an entire floor all by herself. Knowing how creepy those dorms can seem with nobody in them, I worried about how she would feel having that huge, silent space all to herself. I never liked being in those empty bathrooms by myself in the middle of the night, where every sound reverberated -- like they do in horror films. Vivian was on my mind the entire summer, but I had no classes with her, and never passed her coming and going at the dorm. I often wondered how she could possibly tolerate the pressure; the black male student who had also enrolled dropped out because he said he wanted to avoid "a complete mental and physical breakdown."

Several years ago, I decided to get in touch with Vivian, just to let her know how much I had admired her courage. As with Elisabeth, I wanted to reach out to this woman, but felt confused and helpless at the time as to how to do that. To my sad surprise, I read that she had died a few years before. I was too late, as I had also been with Elisabeth -- who died many years ago. But I was happy to read about her life, which seemed very successful and full. Apparently, she married a man from Stillman College who had chauffeured her during her time in Tuscaloosa. I love this part of the story. He later became a doctor, and Vivian went on to have a successful career working for the Justice Department in its civil rights division and with the Environmental Protection Agency. Her brother-in-law is our current Attorney General, Eric Holder. And in 1996, George Wallace presented Vivian with the Lurleen B. Wallace Award for Courage, named for his late wife, admitting that he made a mistake 33 years earlier and that he admired her. I wonder how she felt about that.

As I made my way out into the world after college and became a Pan Am stewardess, both Elisabeth and Vivian would occasionally come into my mind, especially when I began flying Africa trips in the late 1960s. At our last Pan Am station before we flew into Johannesburg, all the black passengers had to move to the back and all the whites to the front. I felt I was once again back in the segregated south, witnessing anew the humiliation and division that results from racial discrimination. On the airplane, I would look around, wishing there would be a Vivian Malone to take a stand, but it never happened.

In my travels, I saw magnificent cloud formations all over the world. I would stare out of airplane windows, mesmerized. Elisabeth had taught me to appreciate their beauty, and I wished that she could see them too. I would feel once again like that little girl who held hands with her best friend, looking at the sky, telling her my stories. I like to think that I saw it for both of us.