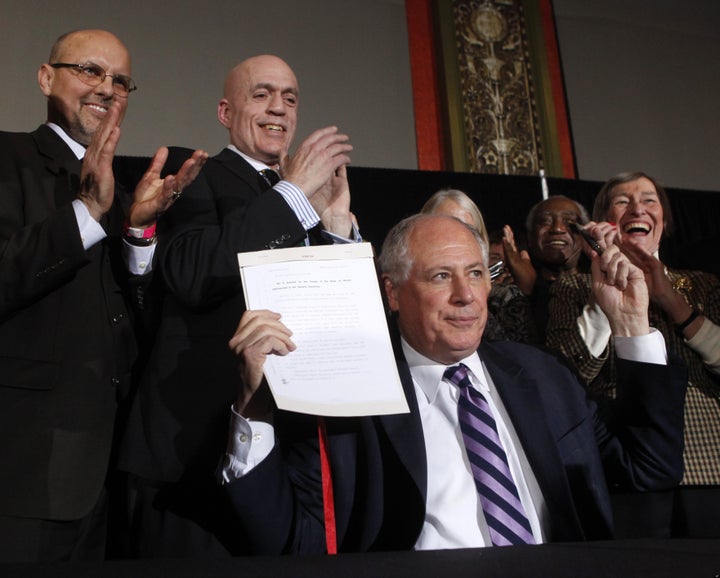 Illinois Governor Pat Quinn signed civil unions into law on Monday to a packed house of over one thousand attendees at the Chicago Cultural Center. The bill, which takes effect on June 1, grants same-sex couples some 650 state-level rights and recognitions that married opposite-sex couples take for granted, Illinois Attorney General Lisa Madigan told the crowd. Those rights include hospital visitation, end of life care & decision making, and property inheritance rights. The signing comes after the Illinois House passed the bill by a 61-52 vote in December and the state Senate passed it at 32-24.
Many state officials were in attendance and spoke about the historic day for Illinois, including State Representative Greg Harris, openly gay sponsor of Civil Union Bill in the house and its longtime champion. State Senator Dave Koehler, who co-sponsored the bill in the Senate, spoke about how important this was for him so his daughter and her same-sex partner could have the same rights as his heterosexual daughter, saying "Justice looks a little better in Illinois today." Illinois' only openly lesbian State Representative, Rep. Deb Mell, also spoke of the importance of family, thanking her father for his support and the community for its efforts.
Yet while there was an air of celebration in the room at the step forward for equality in the state, there was also a definite feeling of healthy impatience for full equality and relationship recognition. This was perhaps best summed up by new Lieutenant Governor Sheila Simon, who reminded the crowd that "it's a milestone, but not the finish line."
That kind of open recognition of the inherent inequity in civil unions is what struck me the most, as every speaker and state leader echoed the sentiments that this was just a start on the road to full marriage rights. It was something that this newcomer to Illinois, having moved from a state that is moving backwards on equality for LGBT people, found most inspiring.
I am definitely of the mind that separate is never equal when it comes to the relationships and families of LGBT people. Civil unions create a lower class of recognition that, while providing much needed rights and protections, reinforce the idea that LGBT relationships are less than their heterosexual counterparts. Having civil unions as an end goal is not acceptable.
That's why the fiery and sincere rhetoric from many of the state leaders at the civil union signing struck me as hopeful, with a balance of recognizing political reality and inspiring to fight on and not accept half measures as the end goal.
Having moved to this state from Florida, where after the last election the newly elected Governor Rick Scott is stripping LGBT protections wherever he can and sending out signals he will fight to keep the ban on gays adopting, I understand the difference that political leadership can make. While that state is moving backwards in terms of equality, Illinois is moving forward, even though those steps may not be as big or complete as we like. The recognition of that by the leaders of Illinois is what makes it clear that this bill is but a step in the right direction, not their end goal. When compared to places like Florida, that makes all the difference in the world.
So while we celebrate the move forward and the work that went into it, we recognize that we have to keep pushing to gain the full measure of equality that we deserve. We use the momentum this gives us to keep moving and never settle.
All in all, moving forward is not a bad place to be.
Calling all HuffPost superfans!
Sign up for membership to become a founding member and help shape HuffPost's next chapter