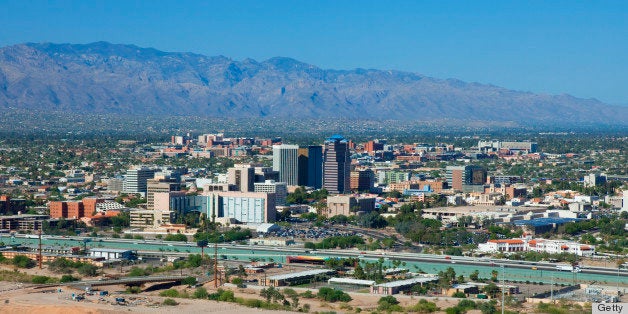 On Tuesday, June 18, 2013, the City Council of Tucson, Ariz., approved an ordinance allowing same-sex couples to register for civil unions in a unanimous 6-0 vote, making the city the second in the state to pass this historic decision.
After the ordinance passed, Councilwoman Karin Uhlich (D) said:
This was an important step for us to take and we're going to keep seeking steps to reinforce non-discrimination. I think there's been widespread support throughout the community and people are really pleased to see it pass. I hope the Supreme Court rules in the support of marriage equality and that the country starts to turn the corner on that form of discrimination.
Same-sex couples in Tucson will now have the right to file contracts for inheritance rights, power of attorney, living wills, and the ability to resolve break-up disputes, among others. This ordinance expands on the domestic partnership ordinance Tucson passed in 2003, allowing same-sex couples the right to hospital visits and recognizing same-sex partners as family members.
This is much more far-reaching. It provides a venue for folks in civil unions to officially record their union and all the agreements and contracts and intentions underlying that union. It provides an official record.
Bisexual Arizonan Halina Reed offered her opinion on the civil union ordinance, saying:
Arizona isn't the right-wing monolith many in our country imagine it to be; we're pretty "live and let live." It's nice to see the Tucson City Council honoring that ethos and furthering equal protection under the law.
Tucson architect Scott Neeley and his partner, Stephen Russell, have been together for more than 20 years. Neeley told Bi Magazine:
One of the main reasons we chose to live in Tucson is because it's a community that accommodates and encourages diversity. Moving from domestic partnerships to civil unions is an incremental step, but it's a step in the right direction, toward equality. It's consistent with Tucson's values and why we like it here.
Tucson local Jen Hoefle Olson said:
My partner and I have 1-year-old twins, and I have to say it is extremely vulnerable to live in a state that doesn't recognize our relationship or our family. I am sad to say that many of our close friends have left this state once they started their families. They leave because we are not protected here, and our families are not protected here, and for that reason, it is particularly meaningful for the City of Tucson to recognize our relationships as much as they can. It gives me hope for the state of Arizona.
Bisexual Arizonan Coco Nicole Estef said:
I believe in equality because we are all the same human race and, really, our gender doesn't choose who to fall for. It's rather more of a science of our brain chemicals that leads to attraction and attachment. Marriage is a civil matter. There's no difference in homosexual couples getting married. In the end, they are getting married to who they love and who loves them back.
Long-time Tucson resident and gay rights advocate Stephanie Bader said:
All progress toward legal recognition is wonderful, and it does my heart good to see Tucson take this significant step. But civil union does not come with the legal marital rights that make our family whole. My wife (we married in Washington state this spring) and I have been together for almost 37 years and have seen much positive change in our society, but we still lack such basic civil rights as next-of-kin decision making, inheritance protection, survivor's benefits, tax breaks and all the other benefits that are currently accorded only to the straight married population. I see this as a significant milestone along a journey with much road left to travel.
Doug Noffsinger and Roger Funk have been partners for 48 years and joined the domestic partnership registry as soon as Tucson passed it a decade ago. Nuffsinger says:
Although the City of Tucson is greatly constrained by Arizona law/regulation, its new effort to expand the scope of the registry is a welcome sign of its support of same-sex partners and provides some useful avenues for domestic partners to record legal documents that help define their relationships. We await the day when the officials do same-sex weddings on the steps of City Hall. It is coming.
It was last month, on June 4, that another town in Arizona, the town of Bisbee, became the first in the state to grant civil unions to same-sex couples, in a 5-2 vote. LGBTQ Nation reports that in the first version of Bisbee's ordinance, "couples in a civil union would have the same responsibilities and benefits as married couples." This wording led Arizona Attorney General Tom Horne to threaten to sue the town, saying that such a stipulation was in conflict with state law. The approved version instead lays out the specifics that same-sex couples in civil unions in Bisbee "could file contractual statements spelling out their agreed-upon 'rights, obligations and expectations' in matters such as inheritances, property ownership and children."
Tempe, Ariz., may be next in line to allow for civil union ordinances. In April Councilman Kolby Granville (D) said, "Tempe tends to be a leader in issues of civil rights. And to me, equality based on sexual orientation is one of those very same civil rights." Granville was referring to the 1999 approval of health-care benefits for same-sex domestic partners in the city.
Additionally, Phoenix and Flagstaff both have domestic partner registries, under which rights vary. In Phoenix, those who apply are granted hospital visitation rights. In Flagstaff, hospital visitation is granted, along with spousal recognition at city facilities, including public libraries and pools.
The state of Arizona as a whole has in place a ban on same-sex marriage. In 2008 Arizona Proposition 102 amended the state constitution to add Article 30, stipulating, "Only a union of one man and one woman shall be valid or recognized as a marriage in this state."
A version of this blog post originally appeared in Bi Magazine.
Calling all HuffPost superfans!
Sign up for membership to become a founding member and help shape HuffPost's next chapter