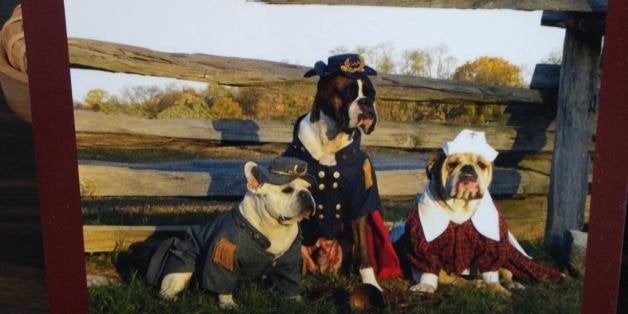 Stephanie Honodel designs her hand-made Civil War clothes for dogs to be as historically accurate as possible. But some deviations are unavoidable.
"They are based on historic pictures from the Civil War, but they are not what I would call historically correct, since they didn't dress the dogs then," she says.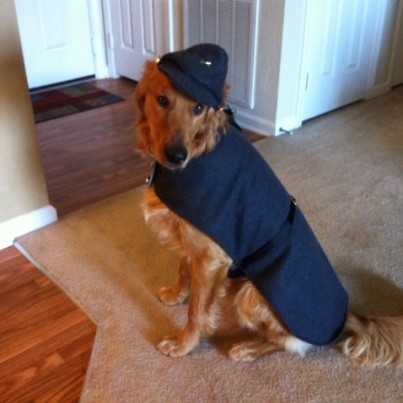 A golden retriever named Jackson is dressed like a Union general. (Photo: Dogs of Gettysburg)
Honodel started off making fleecy coats for her own hard-to-fit Chihuahua about 15 years ago.
"He was always cold. I went looking for something to keep him warm," she says. "If I got the right size, it was too short. I'd get the size that was long enough and it was too big." Folks began asking if she'd make clothes for their pets, "and it turned into a business."
The Civil War pet clothing business got off the ground some five years later, when a historical re-enactor asked about making a Confederate general outfit for his miniature pinscher named Chester.
"They sent me his measurements and I made a pattern after researching Civil War photos," she says.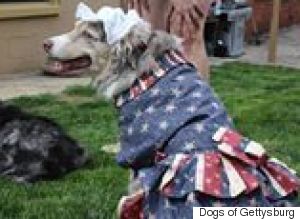 Ruby Red wears a patriotic dress. (Photo: Dogs of Gettysburg)
In the years since, Honodel estimates, she's created a hundred more such ensembles -- many of these for other re-enactors, but also for "people who just love the history part," she says.
Honodel and her business partner Diana Guy recently moved a little closer to the (152-year-old) action, opening a brick-and-mortar store called Dogs of Gettysburg, right near that famous battlefield.
Dogs of Gettysburg carries a line of ready-to-wear Civil War duds for dogs -- like hats, and frock coats in both wool and cotton -- on top of treats, beds, patriotic and flag-themed toys and tea towels emblazoned with non-political, pro-cat slogans like this one:
Honodel is also still taking orders for her custom-made goods. She's hoping someone will commission a Civil War-era ball gown and hat -- hint hint. (Get in touch through the Dogs of Gettysburg Facebook page; prices range from around $50-300.)
It doesn't have to be for a dog. Honodel also works with pigs, snakes, tortoises, cats -- "If you're willing to dress it, I'm willing to make it," she told the Evening Sun.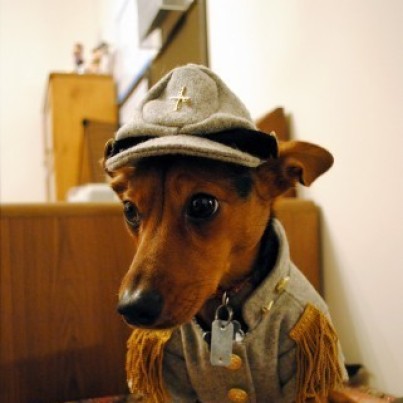 Harper is a Confederate general. (Photo: Dogs of Gettysburg)
If Civil War re-enactors consorting with festively attired snakes does present something of a goofy mental image, it's all anchored in what Honodel sees as a most perfect union of United States history and personal history.
"My family liked visiting Gettysburg and watching the re-enactments," she says. "We always had dogs and a Shetland pony, so we were animal lovers. I love meeting new people and creating something they want for their pets that is made with quality fabrics and skillfully. "
Yes, these bespoke Civil War clothes for dogs can be thought of as a manifestation of the very contemporary thing that unites so many of us: really, really loving our pets. And dressing them in elaborate getups for our amusement.
But of course, we do still have our differences. So Honodel makes both Confederate and Union clothes for animals. While the Union was victorious in the actual Civil War, Honodel says that she's noticing a certain trend as far as her orders go: General Lee, folks still seem to prefer the getups of -- we'll say it -- the wrong side.
Perhaps it's just fun dressing a dog as a villain. Perhaps there are just more canine fashion enthusiasts south of the Mason-Dixon. Whatever the cause, when it comes to dog costumes, "Hands down," Honodel says, "the Confederacy wins."
Related
Before You Go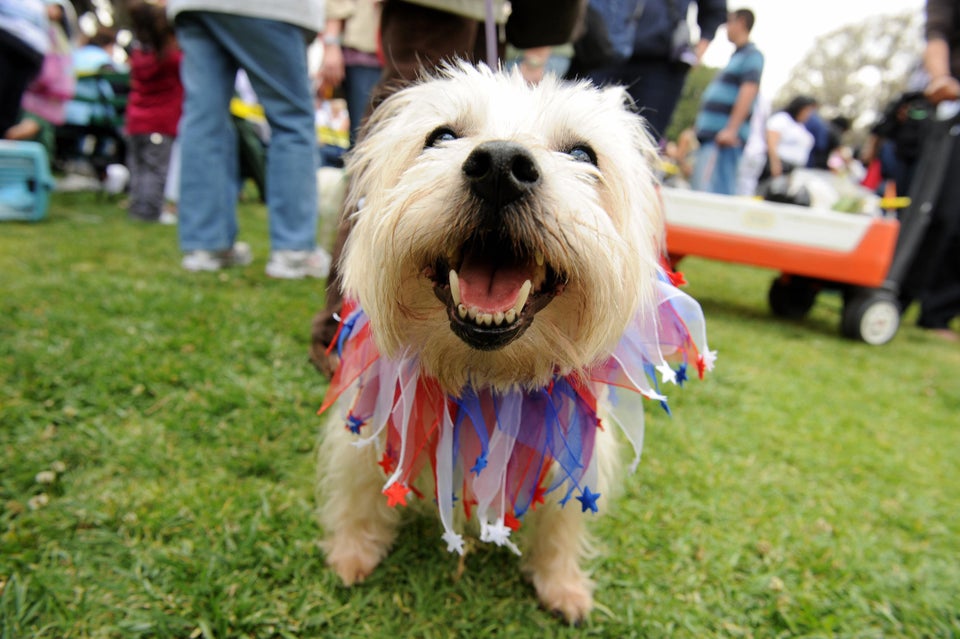 Patriotic Pets
Popular in the Community