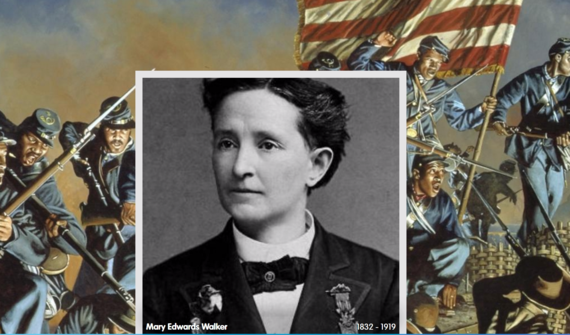 By U.S. Library of Medicine
Dr. Mary Edwards Walker, an outspoken advocate for women's rights, was the first woman ever awarded the Congressional Medal of Honor.
Two years later, the medal was revoked. Congress changed the Medal of Honor criteria to include only "actual combat with the enemy," and honors bestowed upon some 911 others who served the military in other capacities -- such as medical care for the wounded -- were voided.
Undaunted by this, as she was in the face of other slights in her life, Walker wore the medal every day till the day she died.
Not until 112 years later was the award to her restored -- posthumously -- by President Jimmy Carter.
Mary Walker was born in Oswego, in upstate New York, in 1832. She was the fifth daughter of Alvah and Vesta Whitcomb Walker, and all children were encouraged to pursue their education.
She and her sisters originally went into teaching after completing their studies, but Mary Walker enrolled in Syracuse Medical College at the end of her teenage years. She graduated with a doctor of medicine degree in 1855.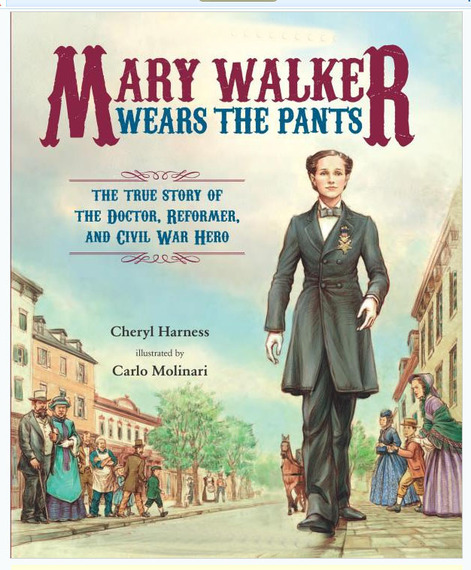 Dr. Walker went into private practice and married Albert Miller, also a physician, and the couple moved to Rome, New York. At the beginning of the Civil War, she volunteered for the Union Army as a civilian. The U.S. Army had no female surgeons, and at first she was only allowed to practice as anurse.
During this period, she served at the First Battle of Bull Run (Manassas), July 21, 1861, and at the Patent Office Hospital in Washington,D.C. She worked as an unpaid field surgeon near the Union front lines, including at the Battle of Fredericksburg and in Chattanooga after the Battle of Chickamauga.
As a suffragette, she was happy to see women serving as soldiers and alerted the press to the case of Frances Hook in Ward 2 of the Chattanooga hospital, a woman who served in the Union forces disguised as a man.
In September 1862, Walker wrote to the War Department requesting employment as a spy, but her proposal was declined. In September 1863, she was employed as a "Contract Acting Assistant Surgeon (civilian)" by the Army of the Cumberland, becoming the first female surgeon employed by the U.S. Army. Walker was later appointed assistant surgeon of the 52nd Ohio Infantry. During her service, she frequently crossed battle lines and treated civilians.
On April 10, 1864, she was captured by Confederate troops and arrested as a spy, just after she finished helping a Confederate doctor perform an amputation. She was sent to Castle Thunder in Richmond, Virginia, and remained there until August 12, 1864. She was released as part of a prisoner exchange.
While she was imprisoned, she refused to wear the clothes provided because, she was told, they were more "becoming of her sex". Walker was exchanged for a Confederate surgeon from Tennessee on August 12, 1864.
She went on to serve during the Battle of Atlanta and later as supervisor of a female prison in Louisville, Kentucky, and as the head of an orphanage in Tennessee.
In 1865 Dr. Walker was awarded the Congressional Medal of Honor for her bravery during the Civil War. Her name was removed from the honor list of awardees in 1917, along with others, when the terms used to designate eligibility for the award were reappraised. She refused to surrender the medal.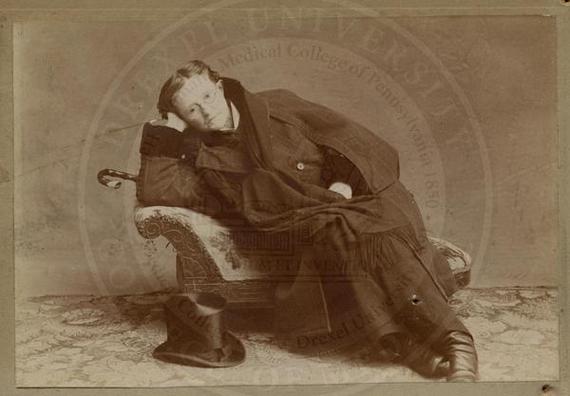 In the mid-nineteenth century, as women were campaigning for a more public and professional role in society, clothing became a central issue in the struggle for women's rights. Feminists argued that tight corsets and long heavy skirts were bad for women's health and even designed to limit the possible activities that women could undertake.
By 1861, her typical ensemble of choice included trousers with suspenders under a knee-length dress with a tight waist and a full skirt. She was arrested for impersonating a man several times, although she argued that Congress had awarded her special permission to dress in this way.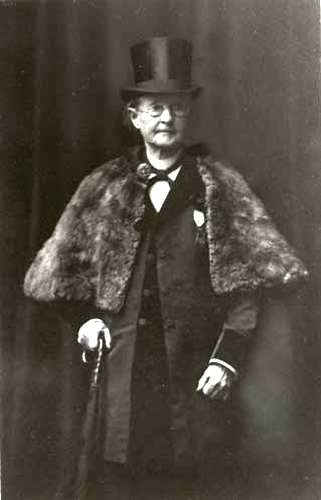 Despite the controversy surrounding her career and her politics, Dr. Mary Walker was proud of her accomplishments as a physician and an advocate for women's rights. As she concluded in 1897,
"I am the original new woman... Why, before Lucy Stone, Mrs. Bloomer, Elizabeth Cady Stanton and Susan B. Anthony were -- before they were, I am. In the early '40's, when they began their work in dress reform, I was already wearing pants ... I have made it possible for the bicycle girl to wear the abbreviated skirt, and I have prepared the way for the girl in knickerbockers."

(To read about the two-time Congressional Medal of Honor winner who became a vocal war critic, click here).
Collect and save for future generations the special moments in your own life. Go to OurPaths.com.
Calling all HuffPost superfans!
Sign up for membership to become a founding member and help shape HuffPost's next chapter