Those myopic media who somehow take delight in declaring the end of French haute cuisine in New York have obviously not dined recently at Restaurant Daniel, Le Bernardin, Jean-Georges, or La Grenouille, not to mention so many more casual French restaurants around town doing stellar French cuisine. Anyone craving the cherished, proven classics of the genre need only book a table at Le Perigord (405 East 52nd Street; 212-755-6244), which, under Georges Briguet and his son Christopher, sails on, through culinary fashion, drawing a faithful clientele who have become friends of the family and could not imagine a world without beloved dishes like Dover sole à la meunière, quenelles of pike in sauce Nantua, and oeufs a la neige.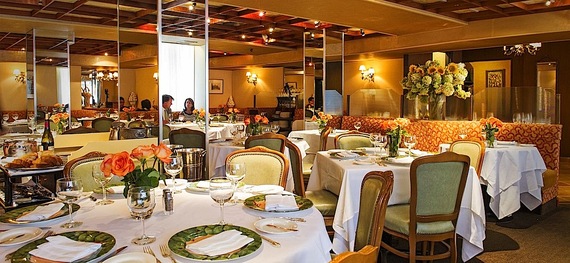 Located next to the United Nations and Sutton Place, Le Périgord has always been a draw for ambassadors on a culinary mission, and the affable Messrs. Briquet and their veteran service staff keeps everything the way it has been since the restaurant opened in 50 years ago. Chef Joel Benjamin has been in the kitchen for several years now, so consistency is taken very seriously while new ideas adhere to the precision of French classicism.
The 250 label wine list is remarkably well-priced, especially among older vintages of illustrious French wines.
When you walk in the first thing you see is a buffet table laden with cold appetizers, from smoked salmon and poached asparagus to pâtés, terrines and cold shellfish with mayonnaise -- a selection is $22 at dinner. This is in addition to the menu starters, which include a rich, but light lobster bisque, one of the best foie gras terrines with glistening Sauternes gelée in the city, equally fine fresh foie gras is quickly seared and served with seasonal fruits and warm brioche, a salad of sweetbreads is spiced with harissa and a pepper emulsion, which one evening served to block the subtle flavor of the sweetbreads.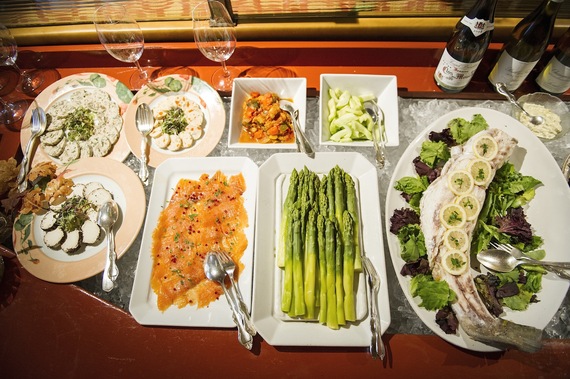 There are always specials at Le Périgord, on one recent night superb venison with a good gamey flavor and a wonderful sauce reduction au Grand Véneur. If you like -- and miss -- quenelles of pike in sauce Nantua, Le Périgord still makes them on a regular basis and they are puffy and delicious. Good old-fashioned duck à l'orange, so often a pre-cooked, cloying mess, is here done right--crisp, sizzling skin, and tender, flavorful meat beneath a silken bittersweet orange sauce., the bird itself carved tableside with a dexterity Le Périgord's captain and waiters perfected long ago.
Dover sole has, thankfully, not receded in popularity in fine restaurants around New York, but Le Périgord's is textbook perfect -- fat, with firm texture, lightly dusted with flour and sautéed in plenty of good butter, so that the flesh comes cleanly away from the bones.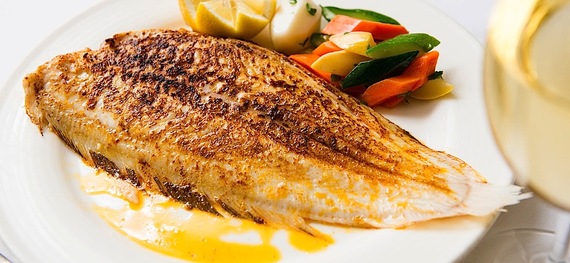 Another rarely seen dish was a special one night at Le Périgord -- filet of beef Wellington, which comes packed with truffles and foie gras and is then wrapped in puff pastry with sauce Périgourd and black truffle sauce. It's a difficult dish to pull off because there is the prospect the meat will steam rather than roast, and the pastry may get soggy. The beef that night was well rendered but the pastry was, indeed, soggy.
This being a proper French restaurant, there is a fine selection of ripe cheeses, but it is pretty difficult not to be swayed by the panoply of desserts, which include one of my very favorites, oeufs à la neige, or floating island, composed of meringue egg whites bobbing in a rich, vanilla-flavored crème anglaise.
If you've longed for chocolate mousse, here is where you'll find a most splendid example, and the pastries and fruit tarts are exemplary, too. Ask for a little of this and a dollop of that, and you will not be refused.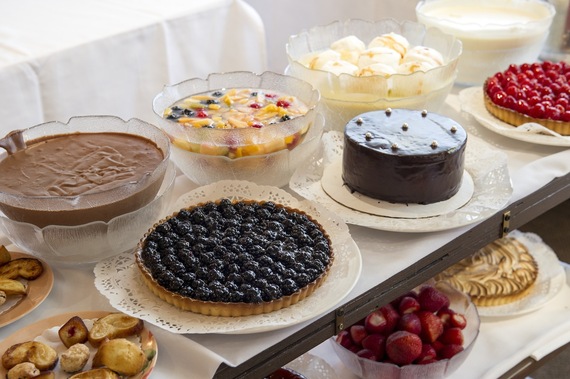 As remarkable as everything else that Le Périgord does with such finesse is the price of a meal here, which comes in considerably below its competitors. A prix fixe lunch is just $32 and dinner $68 (with à la carte options, too).
The restaurant also carries on the admirable tradition of being open on Sundays for dinner, which gives it the familial ambience of those for whom it has become a ritual. The Briguets try hard to provide that sense to their clients, for this is a family-run restaurant that takes pride in its longevity and in its commitment to upholding standards of cuisine and hospitality that are far from gone in New York and a reminder of what civilized dining truly means.
REAL LIFE. REAL NEWS. REAL VOICES.
Help us tell more of the stories that matter from voices that too often remain unheard.