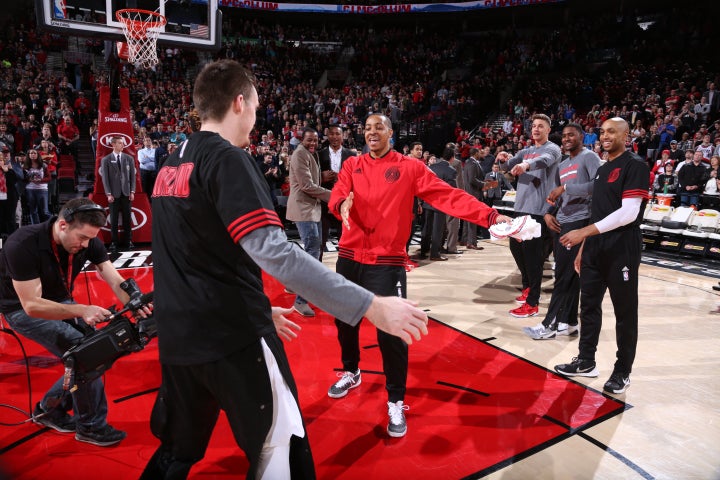 Lehigh University isn't exactly a breeding ground for NBA talent. Then again, 5-foot-2, 108-lb. high school freshmen generally don't get blue chip college recruiters buzzing, let alone Division 1 basketball programs.
"I was always thinking NBA," McCollum tells The Huffington Post.
Entering the league, McCollum was coming off a broken left foot, a devastating injury and arduous recovery that forced him to miss most of his senior campaign. Portland, meanwhile, was a talented team on the cusp of success, which meant it didn't need its high-profile rookie to instantly become a crucial contributor.
"When you watch, you get more hungry," McCollum, a journalism major who served as an editor for the Lehigh school paper, says of the experience.
Preparation and his patented late-night workouts have become the fulcrum to McCollum's success. They have provided him with the upper hand over other young players forced to overhaul their studying habits once they reach the league.
"That's the thing that really sets him apart," says Ryan Krueger, current D-League assistant coach and one of the Lehigh assistants during part of McCollum's tenure. "He's the one guy that I felt like worked like a pro while he was in college. The guy just absolutely lived in the gym. He wore out my phone -- Friday night, Sunday morning."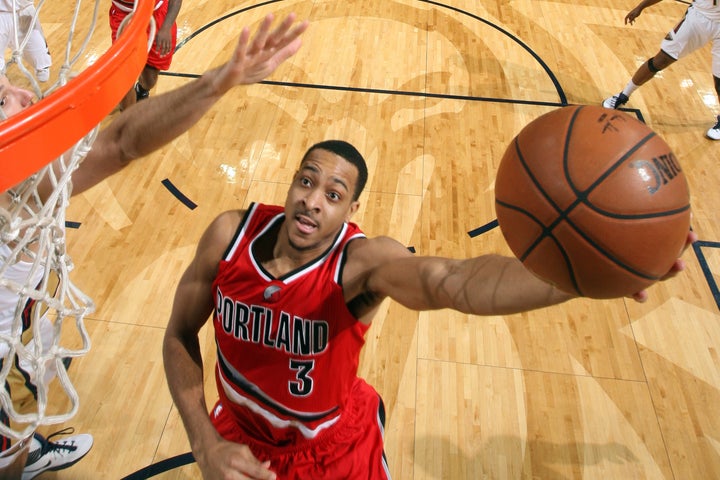 The 24-year-old McCollum, who talks about his finishing ability as "a work in progress," isn't satisfied with his game yet. He savors the process as much as the result, because of the skills and confidence it affords him come game time. Such a consistent work ethic was instilled by his older brother Errick, who this year earned All-Eurocup honors playing for Turkey's Galatasaray, and who hounded C.J. even when the NBA seemed like an unreachable goal.
"He preached the fundamentals," McCollum says. "To understand that the only thing I am going to get out of it is what I put into it, so I just obsessed over it."
Current Whitworth College head coach Matt Logie -- who himself enjoyed a standout career at Lehigh and still owns the school's all-time 3-point record -- was a Lehigh assistant during McCollum's collegiate years. Logie says he's never seen relentless dedication to the craft like McCollum's. "He lives and breathes basketball," Logie tells HuffPost.
"He was always in the gym," he said. "He made basketball his priority -- along with school -- and there was nobody that worked harder."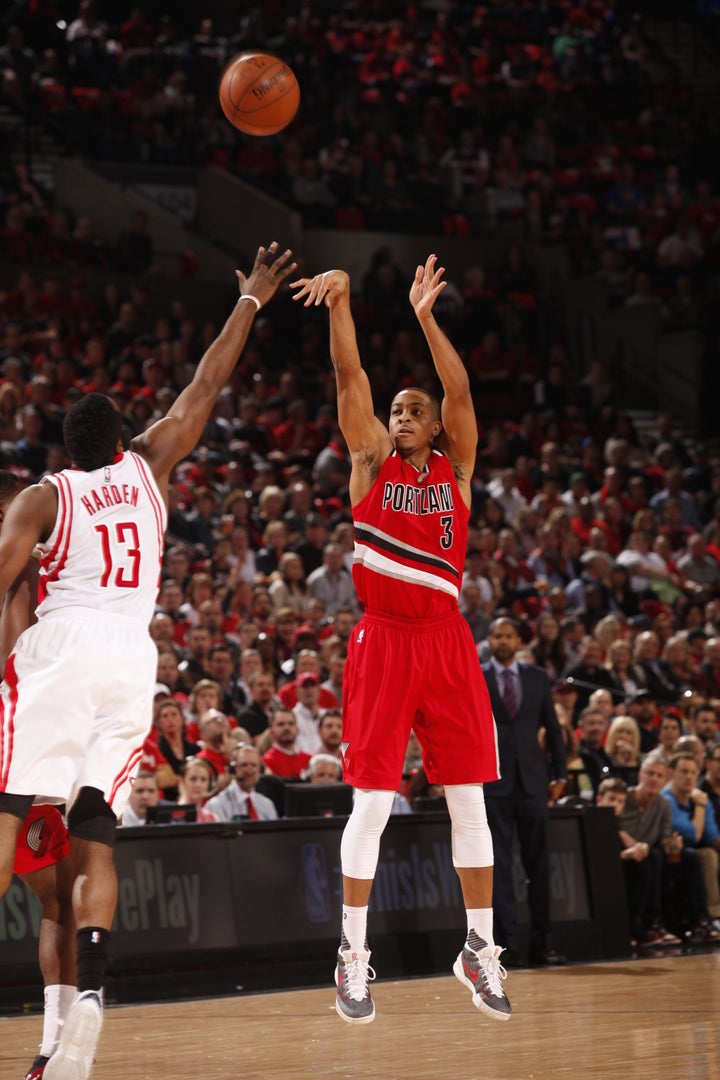 Teeming with confidence and coaches for gym time, the 6-foot-4, 200 lb. McCollum has continued to work, albeit differently, at the pro level. "Efficient workouts," he believes, have been the difference, including understanding "that you're gonna be getting guarded by a bigger guy."
"I just try and work on mastering the shots I have -- step-backs, floaters, having a different arsenal, that way I can always get to that shot," he says. 
Despite playing admirably in a first-round playoff defeat to rugged Memphis and perennial All-NBA defender Tony Allen last season -- he averaged over 17 points on a stellar 48 percent 3-point shooting -- a hardly satisfied McCollum entered the summer upset, feeling he was too one-dimensional. 
"One of the things that stuck with me was that I didn't distribute the ball and make people around me better," he says. The result became an offseason spent tirelessly working on his creativity: "How can I create shots for others" became a daily mindset.
"You're gonna attract attention as a scorer, but it's what do you do with that attention," McCollum adds.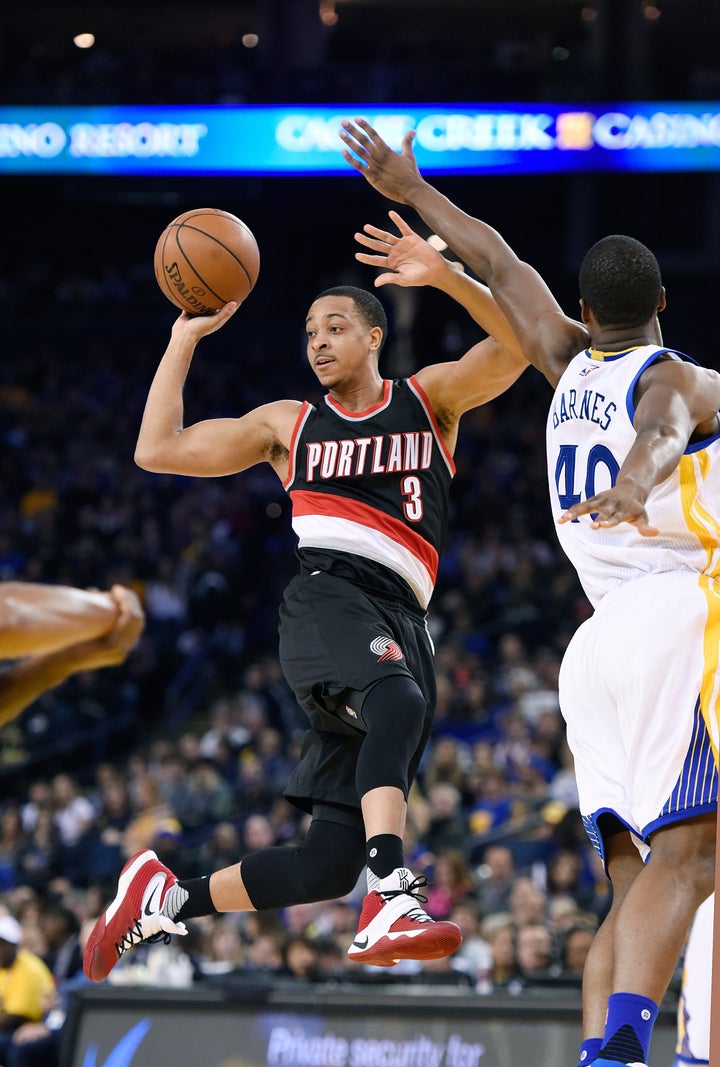 McCollum's newfound emphasis on expanding his offensive repertoire has paid dividends. No player in the league has made a larger jump in scoring (6.8 to 20.8), but he is even prouder of his 4.3 assists, up from just 1 per game last year, and the fact that he's more than doubled his rebounding output. And just as importantly, he has done it efficiently, precisely as he planned for.
While consistently drawing top-notch perimeter defensive assignments, McCollum has become an elite long-distance sniper, converting 42 percent from deep. In fact, he is one of only six NBA players to attempt more than 300 3-pointers, while making over 40 percent.
McCollum has never shot it better from the floor or the free-throw line either, and the Blazers' offense -- despite the loss of free agent All-NBA power forward LaMarcus Aldridge to the Spurs, along with starting wings Wesley Matthews and Nicolas Batum -- has been the beneficiary, boasting an improved offensive efficiency, true shooting percentage and effective field goal clip.
Aiding his progression has been watching film, the foundation of everything he does on the basketball court. If in college it was more about his game and specific NBA sets, McCollum now emulates specific moves and footwork.
"I gotta over-consume myself with as much information as possible," he says, "and be able to go into the NBA and understand different teams' systems, be able to understand spacing, understand angles."
"I think one of the biggest things that helped me was just asking questions," he continues. "Talking to [Chris Paul], when I was college, 'What did you work on and how many shots do you shoot.'"
Watch enough of McCollum and it may not come as a surprise that his favorite moves include Tony Parker's finishing ability, Isaiah Thomas, Rip Hamilton staggers and pin-downs, Allen Iverson zipper cuts, George Hill, Goran Dragic, James Harden, Kyrie Irving, "LeBron's left-handed hooks and finishes, or all of Steph Curry's right-hand, right-leg scoops."
And perhaps not surprisingly either, it was also during college that McCollum learned how to watch film.
"He's got a special sense of the game," Krueger says. "We watched every single [collegiate] game he was ever a part of — we would talk about why certain things didn't happen. When guys bug you and ask you for film, you really feel like you're accomplishing something. He wanted practice clips, game clips and he wanted to watch them together."
When McCollum came to Lehigh as a freshman in 2009, the moribund Mountain Hawks had reached a measly three NCAA Tournaments in program history. After leading the conference in scoring while earning Patriot League Player of the Year honors, he propelled the school back to the dance. Naturally, the tenor of the program began to change. It wasn't quite the Steph Curry-Davidson effect, but it had a similar tone.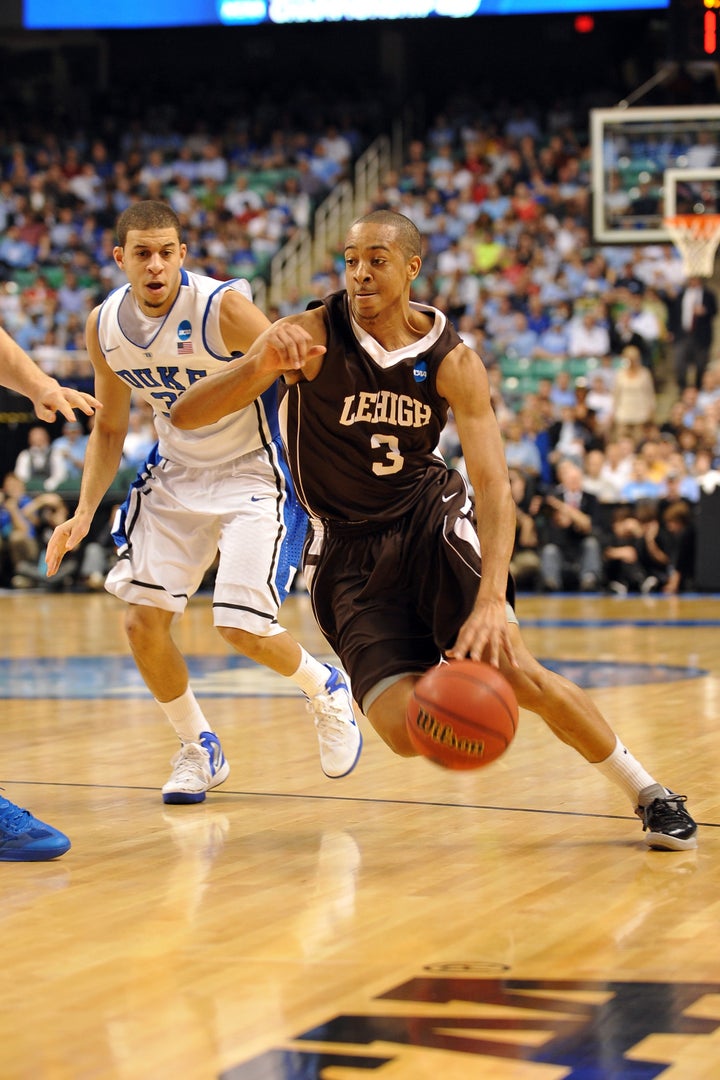 "One of the reasons he came to Lehigh was he wanted to be different," Logie says. "When we got to the NCAA Tournament his freshman year, he was like, 'OK, this is my time.'"
Logie was right. Despite losing to a 1-seeded Kansas team, McCollum contributed 26 points and 7 rebounds, displaying on a national stage what his teammates and coaches knew all along: He was a budding superstar.
Fast-forward to 2012, and McCollum enjoyed his marquee March Madness moment, spearheading a massive upset over heavily favored Duke -- the first and only tournament win in program history. The junior posted a game-high 30 points, 6 rebounds and 6 assists, including a late-game 3-point dagger just when it seemed Coach K's crew might come back.
McCollum, who also hosts a radio show and writes for The Players' Tribune, has plenty he wants to accomplish aside from hoops. He's particularly interested in helping provide writing opportunities for Oregon youth, and earlier this year developed a journalism mentorship program, CJ's Press Pass, in partnership with a local high school.
"I am trying to give back what I can, when I can," McCollum says. "I have to take advantage of the platform."
He has also purchased 40 tickets per game for local youth organizations like the Boys and Girls Club, SMART (Start Making A Reader Today) and Friends of the Children, so they can join "CJ.'s Crew" and attend home games.
Few people have been around the NBA game more than Earl Watson, a former teammate of McCollum's in Portland who is currently the Phoenix Suns' interim head coach.
"C.J. has always had to prove himself," Watson tells HuffPost. "He is the perfect role model of resilience."
He added: "You must know he will never stop."
Calling all HuffPost superfans!
Sign up for membership to become a founding member and help shape HuffPost's next chapter