She is young, dynamic and driven. Yet when she stopped by my studio in the summer to look at my work, she was kind and generous as well. I could tell that she appreciated the work I was doing in trying to tell particularly female stories, even as she pointed out that women artists today are exploring all sorts of stories -- that they are telling not only "female" ones. "Nuanced" was the word I think we both settled on.
I knew then, in the moments we sat and talked in my studio, that hers was a story I wanted to hear more of, and a story I wanted to tell. The truth is, I was fascinated by Claire Gilman and wanted to know how such a young woman ended up being the curator at one of the most prestigious art institutions in the U.S.: The Drawing Center. What advice could she offer female artists and curators as we try to make our way and find our place in today's demanding and challenging art world?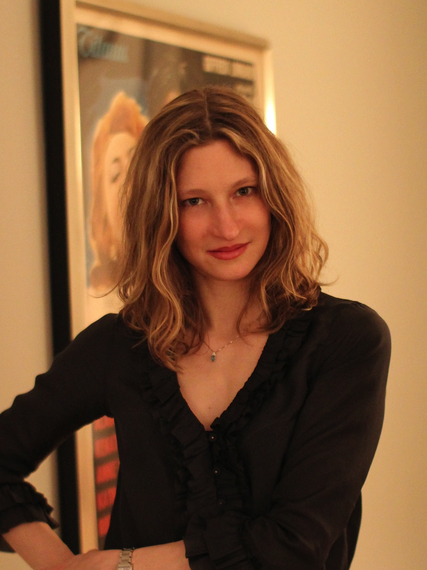 Gilman was born, and has lived most of her life, in New York City. From a very young age, she knew she wanted to work in the visual arts. Curating was always her interest, and though she has more than flirted with academia -- she holds a PhD in Art History from Columbia University -- time and time again she would find herself returning to curating. While Gilman would not recommend getting a PhD to others wanting to enter the field of curating -- "getting a PhD is demanding and all-consuming" -- she however believes getting a PhD has been beneficial to her career. "In the long run," Gilman told me, "it opened up a lot more doors for me insofar as jobs were concerned. It helped a lot when I was doing independent work. I got asked to do catalogue essays, teaching, and independent curating. So for me, getting a PhD was very useful."
But, if you are like me, by now you are wondering how she ended up being the curator at the Drawing Center. "I have always loved the intimacy of the Drawing Center," Gilman explained. "I have always preferred working in small institutions where everyone knows everyone else. So much more gets done at small institutions where it is easier to cut through the red tape and get things done faster. Drawing was a medium I especially loved. I find drawing to be a really expansive medium, a medium I can handle without feeling stifled, and so when I was asked to apply for the position of curator at the Drawing Center, I jumped at the chance."
By then she had cut her teeth on curating shows at the Miriam and Ira D. Wallach Gallery at Columbia University; working as a research assistant at the Whitney; and for three years being a curatorial assistant at MoMA, all the while forging an independent writing and curating career, as well. She was therefore well placed to assume the position of curator at the Drawing Center.
Naturally, I wanted to know what her definition of drawing is. "In a sense," she said, "every show that we put on seeks to answer the question of what drawing is. In every show we are asking the same question, while providing very different answers. We are always trying, in our shows, to test the boundaries of what is immediately apprehensible as drawing. I have a more intuitive sense of what drawing is, but I would say that more than anything else it has to do with a line, with passage from one place to another. Whereas painting is more concerned with being an all-over composition on a contained surface, drawing is about the linear path from one place to another."
She sees her role as curator at the Drawing Center as "trying to get people to rethink the medium of drawing -- what drawing is and what drawing can be."
I wondered about her placement as a female curator at the Drawing Center, and if she believes that women hold an unequal position in the art world as curators and as visual artists. "Maybe in the past this was so," Gilman answered candidly, "but things have changed a lot in the last twenty years. It is true that there might be a lingering tendency to show more men than women in an older generation of artists, but I don't believe that to any longer be the case. Not for a younger generation of artists."
"When it comes to the world of curating," she continued, "there are at least equal numbers of male curators to female curators, if not slightly more female curators. And many of those female curators have taken on the job of even showing the work of an older generation of women who had been obscured by their better-known male counterparts. So things have changed a lot, and continue to change a lot, for women in the art world."
Gilman's advice to female artists is: "Try to get your work out there and seen as much as possible. Once you have done that, let the work speak for itself. The most important thing is to get people to see your work."
REAL LIFE. REAL NEWS. REAL VOICES.
Help us tell more of the stories that matter from voices that too often remain unheard.