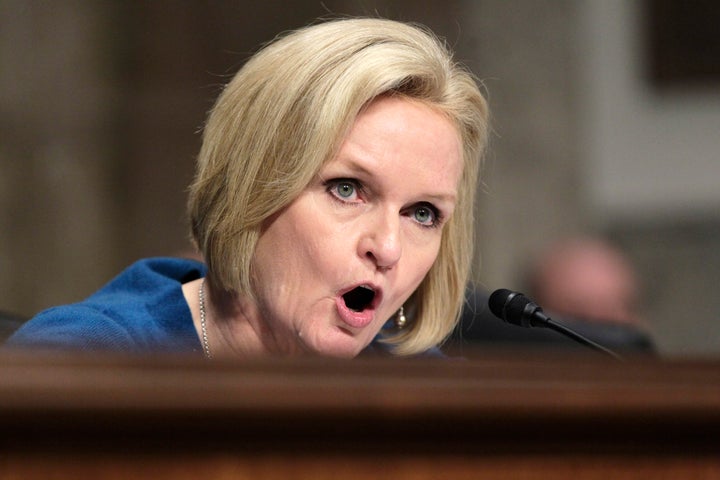 WASHINGTON -- Sen. Claire McCaskill (D-Mo.) is introducing an amendment to the defense authorization bill that would shift funds from troubled Afghanistan infrastructure programs to the Transportation Department so that the money could instead be spent on U.S. infrastructure.
"This is a very small percentage of the money we're spending in Afghanistan," McCaskill said in an interview with The Huffington Post. "The majority of the money we're spending is to support our troops on the ground, to train the Afghan army and to integrate and train the Afghan police so that there can be rule of law and stability in these communities. Taking this money away doesn't have any impact on any of those activities. It's just saying, we probably ... need to take that money and build some roads in the United States, where we don't have to hire security to keep people from getting shot who are building them."
The amendment is geared toward two large pots of money controlled by the Defense Department to spend on infrastructure-related projects: the Commander's Emergency Response Program and the Afghanistan Infrastructure Fund.
CERP has been around since 2004 in both Iraq and Afghanistan and has been subject to significant amounts of criticism. The program's intent was to allow commanders on the ground to have discretionary funds they could use to build trust within communities on small-scale projects -- like fixing broken windows -- ranging from tens of dollars to thousands of dollars. The program, however, spiraled out of control and was being used to build projects like electrical grids. Congress put caps on spending for individual items, but last year, spending was still nearly $1 billion. At its height in 2009, U.S. taxpayers paid $1.5 billion on this program.
Pentagon officials have countered that CERP is a "critical" tool for counterinsurgency operations and argued its management has "evolved significantly over time as lessons learned have been incorporated into guidance and procedures."
The newer program is AIF. It's similar to CERP -- McCaskill referred to it as "son of CERP" -- but there are no caps and funds can be used for expensive infrastructure projects. AIF is supposed to have more checks in place to make sure the money is not abused and Afghans can sustain the projects built with U.S. funds. This Pentagon-run fund is being used to build electrical grids in Kandahar and highways in Helmand Province.
Still, McCaskill has consistently raised doubts about AIF, questioning why the Pentagon is funding large construction projects that normally would be done by the State Department.
"While I still support the mission in Afghanistan, I don't think we should be using American money at this point to build these large infrastructure projects, particularly within the military budget," she said. "This has never occurred before. When I saw that they had put that into the budget this year -- something called the Afghanistan Reconstruction Fund -- this is brand new and unprecedented. It is a $400 million line item. It has never been done like this before."
The current National Defense Authorization Act authorizes $800 million for CERP and AIF for FY 2012. McCaskill's amendment would prohibit directing any funds to CERP or AIF for construction or infrastructure projects that exceed $50,000. All remaining funds would go to the Secretary of Transportation.
The Pentagon declined to comment on McCaskill's amendment since it is still pending.
There's little indication that these programs are working. A report by the International Security Assistance Force's Counterinsurgency Advisory and Assistance Team found "no persuasive evidence that the Commander's Emergency Response Program (CERP) has fostered improved interdependent relationships between the host government and the population -- arguably the key indicator of counterinsurgency success."
In January, The Washington Post reported on a Baghdad water park created in 2008 by Gen. David Petraeus with CERP funds. But now, the park "is nearly waterless, more than two years after a U.S. military inauguration ceremony that included a marching band and water-scooter rides. Much of the compound is in ruins, swing sets have become piles of twisted steel, and the personal watercraft's engines have been gutted for spare parts."
CORRECTION:An earlier version of this story incorrectly quoted an estimate that $2 billion is needed to rebuild U.S. infrastructure, and has been changed to reflect the correct estimate of $2 trillion.

Popular in the Community