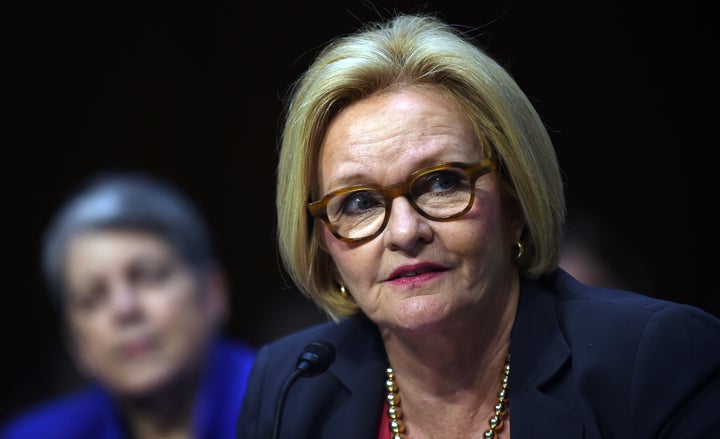 Sen. Claire McCaskill (D-Mo.) sent letters to the presidents of three fraternities at the University of Missouri to note how "concerned" she is with their national offices' lobbying efforts on campus rape.
McCaskill sent them last week to the student leaders of Kappa Alpha Order, Sigma Nu and Alpha Tau Omega at the university. Those three fraternities, along with the North American Interfraternity Conference and the National Panhellenic Conference, have collectively spent $210,000 so far in 2015 lobbying in support of the Safe Campus Act.
"I am deeply concerned that this legislation will not keep campuses safe and may actually further exacerbate the issue of sexual assault facing our students," McCaskill wrote. "And I am disappointed to hear that your parent organization is working in support of it." 
Asked if he had any opinion on the national office's lobbying effort, the president of Mizzou's Sigma Nu chapter said HuffPost should redirect the question to the national office.
The Mizzou chapter presidents of Kappa Alpha and Alpha Tau Omega did not respond to requests for comment. 
McCaskill and Sen. Kirstin Gillibrand (D-N.Y.) held a conference call last week to chastise the national fraternity and sorority lobbying efforts supporting the Safe Campus Act. 
"Their bill would worsen our understanding of a violent crime that is already drastically underreported, and their bill would reduce the school's ability to properly fight sexual assault," Gillibrand said to reporters. 
NIC responded Thursday saying there are "misconceptions in the Senators' letter regarding Safe Campus and Fair Campus that we are eager to correct." NIC and NPC did not respond to requests for comment about what those misconceptions are.
McCaskill's letters invited the student fraternity leaders to discuss her own bill, the Campus Accountability and Safety Act, introduced in the Senate with Gillibrand. Including McCaskill and Gillibrand, the bill has 34 co-sponsors, while the Safe Campus Act has five. 
Read the letters from Sen. Claire McCaskill to local fraternities in Missouri:
Calling all HuffPost superfans!
Sign up for membership to become a founding member and help shape HuffPost's next chapter