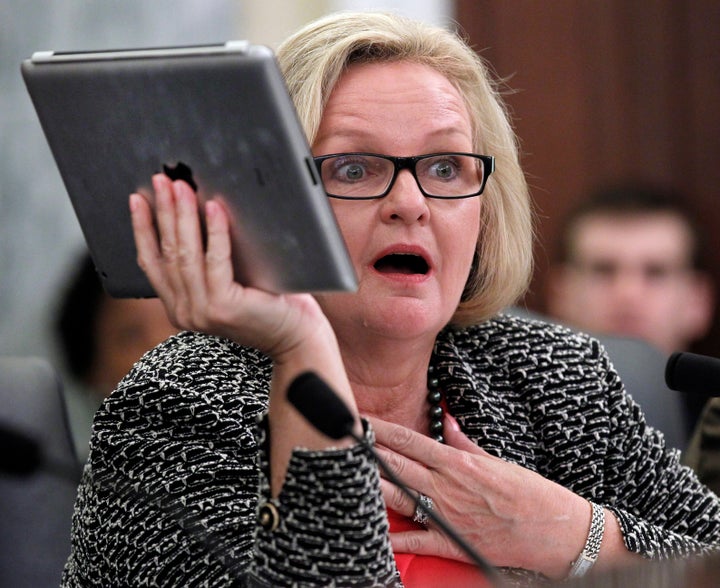 During a Tuesday visit to a factory in St. Charles, Mo., Democratic Sen. Claire McCaskill said she opposed extending federal unemployment benefits.
"I'm not for extending the unemployment benefits any further," McCaskill said in response to a question from local TV station KMOV before saying she would support a continued payroll tax cut.
It's not clear from McCaskill's statement whether she is opposed to giving the unemployed additional weeks of benefits or if she opposes renewing the existing extra weeks of aid. Members of Congress have frequently been confused on unemployment legislation. McCaskill's office did not immediately respond to a request for clarification.
[UPDATE: McCaskill's office says additional context omitted from KMOV's report would show that she was responding to a question about giving the unemployed extra weeks of benefits. Her office said she supports preserving the existing extended benefits.
"Claire continues to fully support unemployment benefits for people who have lost their jobs by no fault of their own as a result of the struggling economy. This includes up to 99 weeks of unemployment benefits. Unfortunately, expanding benefits beyond 99 weeks -- as some suggest -- is unaffordable and unrealistic because of staunch opposition in the House."]
Further extensions of unemployment insurance for the long-term jobless will need all the congressional support they can get. The federal benefits, which can last up to 73 weeks for workers who exhaust the standard 26 weeks of state benefits, are scheduled to expire at the beginning of 2012. Republicans oppose keeping the benefits because of their significant cost to the government -- as much as $60 billion a year.
President Obama has said he wants Congress to reauthorize the benefits and also a Social Security payroll tax cut, both of which were included in a December deal that preserved Bush-era tax cuts for two years. The unemployment benefits were included in the failed so-called Grand Bargain Obama crafted with House Speaker John Boehner (R-Ohio), but they were left out of the debt deal Congress passed earlier this month.
Under current law, people who've lost their jobs after July 1 are ineligible for extra weeks of benefits because their state aid will run out after the federal benefits expire in January. Nearly 4 million unemployed currently receive federal benefits.
McCaskill said she supported keeping the tax cuts: "The payroll tax cuts -- I'm always for tax cuts for working folks because I think that helps our consuming economy."
The progressive Economic Policy Institute has estimated that dropping the payroll tax cut and the extended unemployment insurance as planned in 2012 would cost the economy more than a million jobs next year, as the two policies are rated by economists as among the most stimulative.
Popular in the Community