WASHINGTON -- The Senate passed a sweeping overhaul on Tuesday of the U.S. government's wartime contracting procedures, the largest such reform in decades. Sen. Claire McCaskill's (D-Mo.) amendment, included in the national defense bill, is aimed at improving oversight and cracking down on the rampant waste, fraud and abuse of taxpayer dollars in contracting practices.
"While these wars wind down, we can't lose the urgency to correct these mistakes and prevent them from being repeated in the future," said McCaskill in a statement. "Protecting taxpayer dollars isn't the flashiest issue. But it's a promise I made to Missourians, and it's something I pledge to continue fighting for, with dogged determination, until this legislation is signed into law."
Wartime contracting was not the headline issue in McCaskill's recent Senate race, where she spoke out on the reproductive rights of women after her opponent, Rep. Todd Akin (R-Mo.), made his infamous remark about "legitimate rape." But the topic is near and dear to the heart of McCaskill, who was previously Missouri state auditor.
McCaskill has been leading a six-year effort to crack down on wartime contracting abuses. For example, there was the $345 million spent on health centers in Iraq that went largely unused. There was also the $300 million the United States spent on building the Tarakhil Power Plant in Afghanistan, without considering whether the country would be able to afford the expensive fuel to run the plant.
Last year, the Commission on Wartime Contracting in Iraq and Afghanistan -- which was created by McCaskill and Sen. Jim Webb (D-Va.) in 2007 -- concluded that up to $60 billion in U.S. taxpayer money has been squandered in contract waste and fraud in the wars in Iraq and Afghanistan. The committee cited "ill-conceived" projects, "poor planning and oversight" by the government, "poor performance" by contractors, as well as "criminal behavior and blatant corruption."
McCaskill's amendment builds on recommendations from the commission, giving additional oversight responsibilities to the inspectors general overseeing Iraq and Afghanistan reconstruction and instituting additional provisions to hold contractors accountable for U.S. taxpayer money. It would also require the U.S. government to ensure that projects can be sustained by the host country.
"Some of the highlights are a new framework that will require, before contracts are entered into, that we know which agency is responsible for that contract," said McCaskill on Wednesday in a call with reporters. "We found abundant finger-pointing after some of the gross incompetence of contracting in Iraq, where the State Department was pointing at the Defense Department that was pointing at [U.S.] AID. It was a circular firing squad; no one was hitting anyone. We've now made sure that agencies have to take primary responsibility for the contract."
The new rules would also crack down on excessive "pass-through" contracts, where contractors dole out work to subcontractors, making it more difficult to pinpoint the origin of problems.
McCaskill's amendment was not included in the House's version of the National Defense Authorization Act, so it will now head to conference committee negotiations, where representatives from the two legislative chambers will hammer out what goes into the final bill. McCaskill said she is working hard to urge negotiators to include her bill, mostly working with conferee Sen. Carl Levin (D-Mich.), who is chairman of the Armed Services Committee.
"This is solid bipartisan reform that will save real money," McCaskill said. "As all of us are searching every corner to try to find savings as we work on our fiscal imbalance. I would think that unless contractors get to them -- which I would not put past them -- this is just solid good government reform that I would think could enjoy a lot of bipartisan support."
When asked whether she heard from the Pentagon or the White House on her amendment, McCaskill said she has always "gotten encouragement from the White House" on the work she's done on the issue.
"Anyone who says we can't cut money at the Pentagon doesn't understand what's going on with contracting at the Pentagon," she added.
McCaskill's amendment is a small part of the defense bill, which provides $526 billion for the base defense budget and about $88 billion for the war in Afghanistan. The Senate approved it in a 98-0 vote on Tuesday, despite a veto threat from the White House over a provision that would make it harder for the administration to transfer detainees to Guantanamo Bay.
Before You Go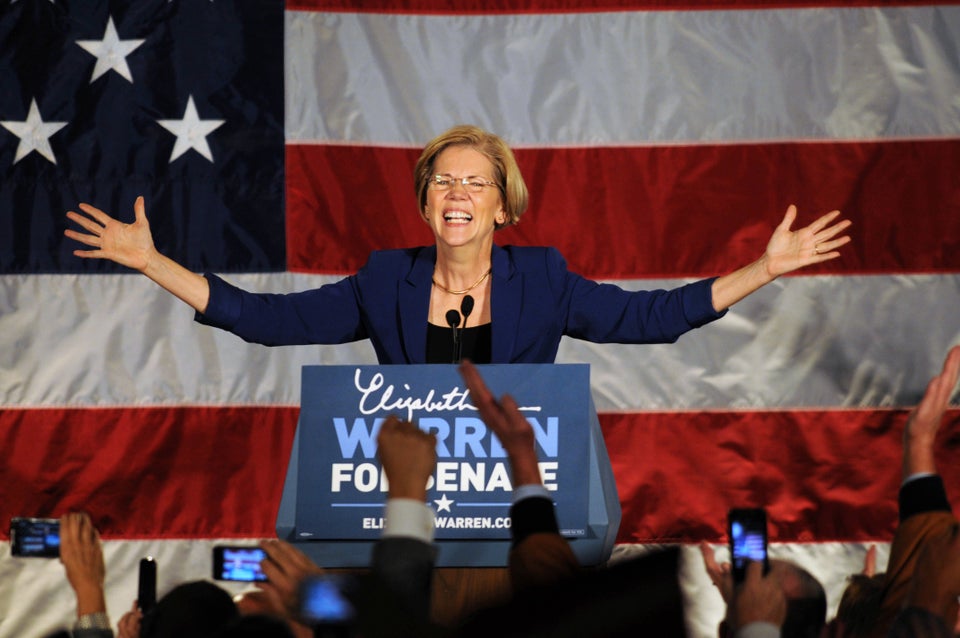 Women In The U.S. Senate
Popular in the Community