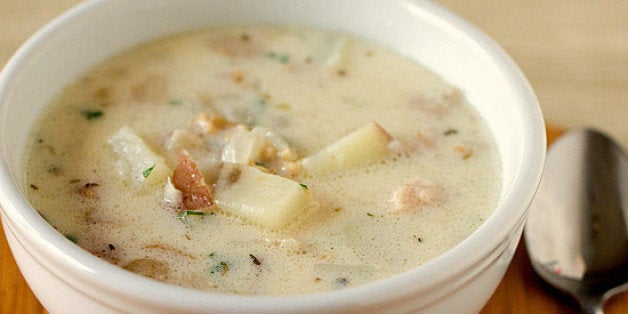 Soup isn't the most controversial of foods. People may like soup. They may even love it. But it's not a food that causes strong emotional attachments or defensive feelings, unless you're talking about one particular soup that has deep, regional roots. We're referring of course, to clam chowder.
There are two famous camps of chowder: New England and Manhattan. New England clam chowder (or chowdah) is milk- or cream-based, and can be quite thick, often made with potatoes and onions. Manhattan clam chowder is tomato-based and typically much thinner than its New England counterpart. New Englanders feel strongly that tomatoes have no place in their chowdah. They feel so strongly, in fact, that in Maine in 1939, a bill was proposed to officially ban the use of tomatoes in the soup. As TODAY.com senior editor Amy DiLuna puts it, "Unless it's in a bloody Mary, please keep your tomatoes away from my clams."
New England and Manhattan clam chowders aren't the only varieties of this beloved, and contested soup. Rhode Island clam chowder has a clear broth -- as opposed to a white or red broth -- and is made with hard clams, or quahogs, and often bacon as well. It gets a little confusing, however, with a red version of Rhode Island clam chowder. This version isn't like Manhattan -- there are no actual tomatoes and no added vegetables, like the carrots or celery you might find in that variety. It's simply made with tomato purée.
Naturally New Jersey has its own version. This one falls into the red category, with the addition of tomatoes, and also includes Old Bay spice. Hatteras clam chowder from North Carolina is made with celery, carrots, potatoes and onions, which are cooked in clam juice, making it a lighter variety of the white New England version. Menorken Clam Chowder, hailing all the way from Florida, is another tomato-based chowder, and it's made with datil peppers, which are supposed to be "hotter than jalapeño or Tabasco peppers but not quite as hot as habeneros."
Clam chowder varieties aren't confined to the East Coast, either. In San Francisco and Seattle, clam chowder comes in a bread bowl. We have a hard time arguing with that.
No matter what kind of chowder you favor, there's one thing all varieties have in common -- in addition to clams, of course. All preparations have the option including of bacon or salt pork. Now that's a common denominator we can all agree on.
For recipes for the three most talked-about kinds of clam chowder, see below.