If you hadn't heard, Dallas Opera put the Dallas Cowboys to shame on Nov 6 during a performance of Donizetti's Desperate Housewives role model opera, Anna Bolena, at year-old Winspear Opera House, when Denyce Graves, suffering an early-pregnancy miscarriage which necessitated an hour-long intermission, continued on stage for the second act singing her entire role brilliantly (she was allowed to omit an exhausting solo aria).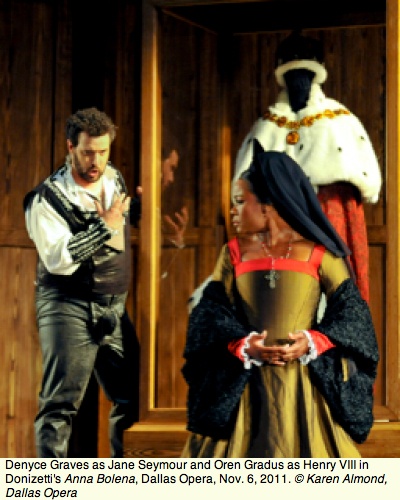 It was obvious that something was wrong in the first act; Graves was more out of sorts than out of tune and the cast seemed shaken. After a 45-minute intermission which the audience waited out very patiently, and during which I was entertained by the chatter between a mom and her exceedingly sophisticated (like the girls in Henry Orient) 10-year old daughter, an announcement was made that Ms Graves was ill but soldiering on. The audience applauded warmly, and the performance proceeded to ascend to a world-class level with teamwork that the Cowboys so clearly lack. Each of the leads sprang to vivid, immortal heights, at least for the night. It was like the Lisbon Traviata. An instant operatic legend, literally overnight.
Mozart's musical Don Giovanni the night before wasn't chopped liver, either. It was directed by John Pascoe to combustible levels of comedy and danger, starred a cast of unusually strong singers and spirited actors, and was held together by some amazing work from conductor Nicolae Moldoveanu. Somehow director Pascoe shifted the focus from Don Giovanni and Donna Anna to Paulo Szot's Don Giovanni (a handsome and totally authentic sexual rouge) and Georgia Jarman's seductive Donna Elvira with babe in arms. It was Don Giovanni as Mozart must have first imagined it, with laughter and romantic intensity that roamed at will, uproariously and raunchily over designer Pascoe's kaleidoscopic stage settings.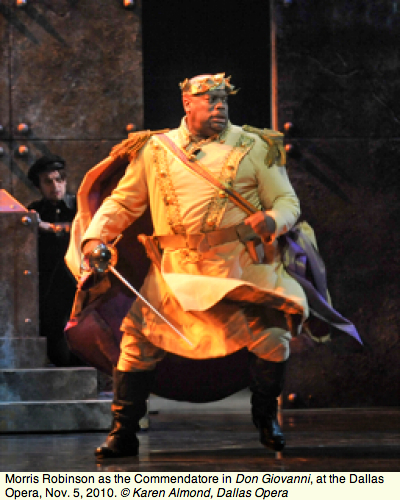 Dallas Opera, which flew me in for the weekend, put me up at the historic Magnolia Hotel downtown, which looks like it could be the setting for a Dallas crime show à la Law & Order. There was a lot happening in and around Dallas that weekend. In Denton, 30 miles up the road, North Texas State (perhaps the greatest band school in the country) was opening its new hall. At Meyerson Hall, next to the Opera House, hot young Mexican conductor Alondra de la Parra was conducting the Dallas Symphony (whose new Dutch music director Hans van Zweden is pushing Dallas into the Top 10).
The Dallas Opera season resumes on Feb 13, 2011 with Gounod's steamy Faust. As the Dallas Opera says tersely, "from beginning to untimely end." The cast includes the hero of LA Opera's Il Postino, Charley Castronovo. (That same weekend, van Zweden will be conducting the Symphony in "Love Themes" with pianist Jean-Paul Thibaudet.)
Dresden Music Festival 2011
It's never too late to start planning to go to the Dresden Music Festival. It will run May 18-June 5 in 2011, and could be one of the best investments you make in your classical music portfolio. We were there for the final week in June this year and experienced a cornucopia of unforgettable moments including:
• A concert performance at the magnificent Semper Opera House of Tchaikovsky's opera, Iolanthe with fabulous Bolshoi Opera forces flown in for the occasion from Moscow, signaling the rise of Vassily Sinaisky as the Bolshoi's new music director and the ascendancy of the Bolshoi Opeara Orchestra as Russia's greatest orchestra, eclipsing even Valeri Gergiev's famed Mariinsky Theatre orchestra.
The passionate music, amazing voices--clear, rich, joyful, and full of emotions--brought the opera house alive as though we had been transported back in time. The performance was timeless, everything was perfect, and every note, movement, and visual was a treasure, just like the Faberge box of musical jewelry that Tchaikovsky intended.
• A concert by the WDR Sinfonieorchester conducted by Semyon Bychkov with a brilliant performance of Richard Strauss's Til Eulenspiegel and one of the first performances of Tigran Mansurian's new cello concerto, "Ubi Est Abel Frater Tuus" (Where is your brother Abel?), which depicts the story of an Armenian family during the 1915 Turkish massacres, dedicated to Jan Vogler and Bychkov.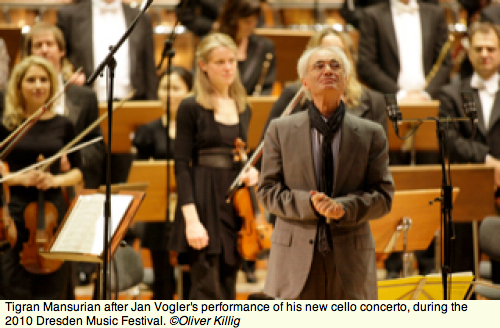 • A hugely-entertaining, highly theatrical performance of Vivaldi's Four Seasons and Jean-Fery Rebel's Les Elemens which had violin soloist Midori Seiler doing all sorts of acrobatics with the Berlin Academy for Old Music. The venue was VW's stunning glass-walled Dresden manufacturing facility where they make their luxury Phaeton model.
• An open-air concert featuring David Krakauer's "Klezmer Madness!"
• A side trip to Teplice where Beethoven went to heal his hearing, wrote his Immortal Beloved letter and rejected Goethe for fawning before royalty, all in one fell swoop
Classical Underground Dec. 13 2010, at an industrial park in Torrance
This is where impresario Alexey Steele, a combination of Jonny Depp and Captain Hook, holds sway. He has flowing locks and a flowing mustache, too, along with an "ack!-ack!" laugh that devastates classical music pretentiousness. Last year, when the Vienna Philharmonic was in town, about 10 Russian musicians played for the customary SRO crowd. The demographic mix is what LA Phyl would kill for. Every monthly classical music event at Classical Underground is a laboratory for classical music marketing schemes. It is a hatching ground for new stars on the classical music scene. Classical Underground is where classical music needs to be seen.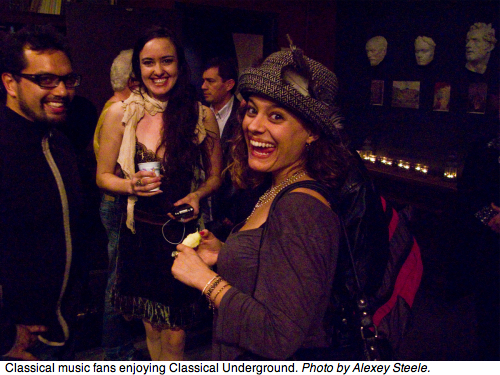 Here's what went on last time (Oct. 25):
It was a clear, cool night. The audience was more impossibly beautiful than ever. Moni Simeonov played Bach's D minor Chaconne that he had played the day before at the First Congregational Church for the LA Bach Festival. Where Simeonov had stood in the church choir, unseen, in the church, disembodied and a little sad, at Alexey Steele's place, with young pretty girls sitting around (including a pair of adorable identical blonde twins), Simeonov's Bach was more visceral, more contemporary, and the screaming girls were a great additional pleasure.
Stig Pettersson presented a few enchanting parts of his Dream Play and gave the first performance of songs from his slowly borning new Romeo and Juliet. Harout Senekeremian played dazzling etudes by Marc-Andre Hamelin and Michael Oganes played his own brilliant transcription of Mussorgsky's Night on Bald Mountain. Ben Lulich wowed 'em with Carnival of Venice, and Natalia Margulis (principal cello of the Madrid Royal Opera) and Armen Ksajikian (principal cello of the Los Angeles Chamber Orchestra) made a joint late-night appearance with some charming duets.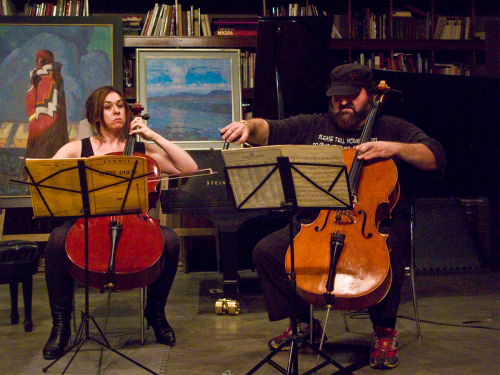 To cap off the evening, 6 hands and 30 flying fingers on one Steinway keyboard, one piano bench and a half, and pianists Pepi Pilibossian, Mikael Oganes and Harout Senekeremian, had the crowd going wild in a Rossini grand finale starting with the "Lone Ranger" music from William Tell.
Next on the schedule is December 13. If you sign up you get a chance to be first online for rsvp-ing which is a must. As usual, no one knows except Alexey, and Olga Vlassova, his beautiful consort and his wife, who will be playing, and what, on Dec. 13. They'll let you know when the tickets go on sale, around Dec. 10 (my birthday).
Truth in advertising: I occasionally join Alexey on stage to remind the audience that classical music is neither a woman's nor man's fool.

During Friday's LA Phil Casual Concert at Mouse Hall Friday night at 8, Nov. 12, when the audience clapped between movements of a Mozart violin concerto, both the beautiful young conductor Susanna Malkki (totally a female clone of Esa-Pekka Salonen) and soloist Martin Chalifour graciously paused a half a nano-second to acknowledge (i.e., suffer graciously) the applause. I don't see what's wrong with just clenching fists to show how much energy musicians get from the audience, the way tennis players do. However, when the audience started clapping at a strategically placed (by the composer) extra-long pause in Richard Strauss's Thus Spoke Zarathustra, the black tuniced and long legged-in-stonewashed-dark-blue-jeans clad Finnish conductor held up her hand for silence. She should have found a way to play of their energy. Incidentally, Esa-Pekka will be in town next weekend to conduct LA Phil in difficult modern Swedish (Magnus Lindberg) and difficult hoary Hungarian (Bela Bartok). The weekend after that he will conduct excerpts from Wagner's operas and one of the greatest most delightful 20th century works you may have never heard: Paul Hindemith's take on Carl Maria von Weber called Symphonic Metamorphosis. I predict that tickets will be impossible to find.
Written with Larisa Vittes.
Popular in the Community