Photographer Clare Benson comes from a long line of hunters. Growing up in northern Michigan, she remembers her father, now 82 years old, winning archery championships and reminiscing about his time as a hunting guide in the Alaskan wilderness. For her, the tradition of hunting -- and the rugged northern landscape that serves as its backdrop -- represents themes of memory and mortality, ones she's managed to weave in and out of her work for some time.
Her series "The Shepherd's Daughter" addresses her connection to hunting most directly. The images show Benson, her sister and her father trekking through snow-covered scenes, respectfully carrying the spoils of hunting trips past. She pointedly juxtaposes portraits of her family members lounging in contemplation with photographs of the animals they hunt, skin, cook and eat. Set in a vast world unfamiliar to most urban dwellers, Benson paints a picture of a hunting tradition we don't often encounter.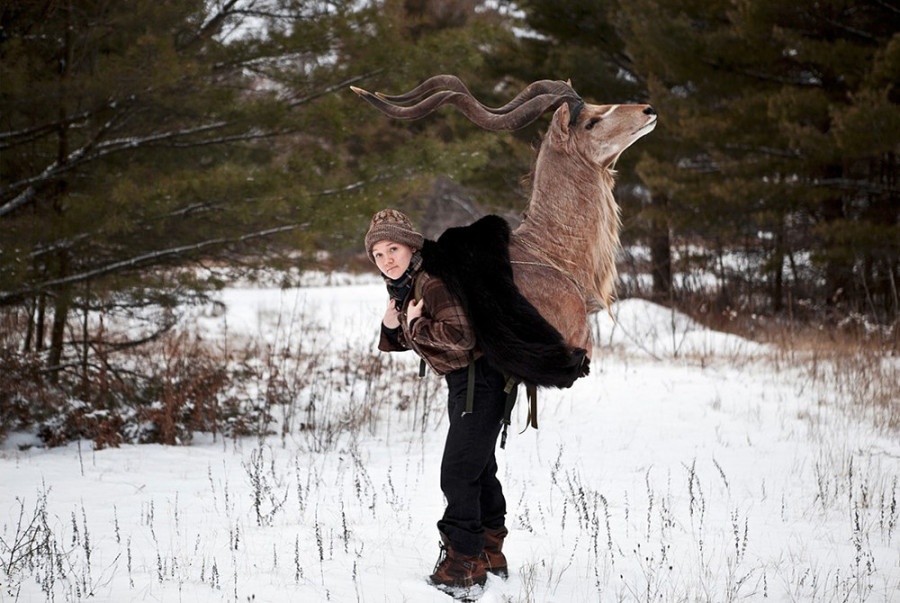 The Shepherd's Daughter, 2012
The project, she explained in an email interview, grew out of a fascination with her family history. "My mother died when I was eleven, and as I grew older I became interested in solving the mysteries of who she was. I didn't have the chance to know her as an adult. The work evolved to be more about my father, my upbringing in northern Michigan, and my connection to this landscape where generations of ancestors have lived; ancestors whose stories are unknown to me, yet so connected to the world that I was born into."
Benson's father is the "shepherd," of course, guiding the photographer through a world she seems born into, but not wholly a part of. She is an active observer, enmeshed in the routine, but separated at the very least by a camera lens. Notably, there are no weapons present in any of the photographs, instead the viewer is drawn to this physical relationship between man and animal and wilderness.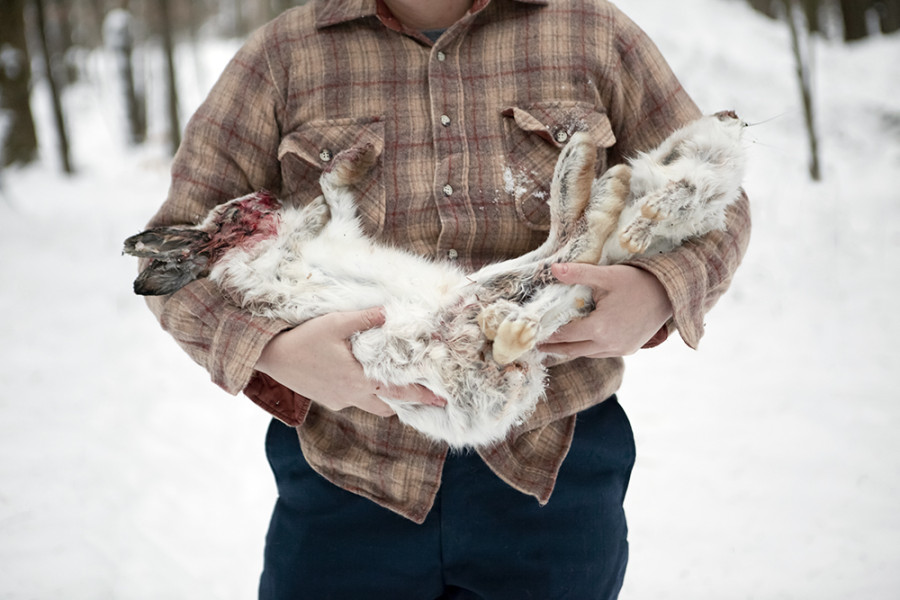 Pieta II, 2013
Michigan institutes a strict hunting calendar, as well as a lottery system that governs limited-license game like bears and elk. Therefore many of the pelts owned by Benson's family stand as very physical testaments of time, stringing one generation's totems to another. Benson and her sister battle the weather and the elements to honor this tradition, and while the viewer never can never quite grasp the thoughts expressed in each subject's face, a sense of deep reverence resonates with each photo.
Calling all HuffPost superfans!
Sign up for membership to become a founding member and help shape HuffPost's next chapter
BEFORE YOU GO
PHOTO GALLERY
Moving Image 2013: The Year's Best Photos