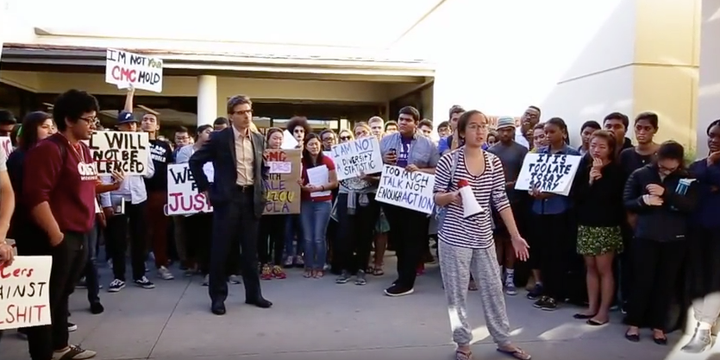 The Claremont McKenna College dean of students resigned Thursday following criticism over her response to student complaints of racism.
Mary Spellman, who had been the focus of protests this week calling for her resignation, said in a statement that she was stepping down "with sadness beyond words."
Students had accused Spellman and her office of failing to effectively respond to multiple incidents of racism and hate speech in recent years at the liberal arts school's campus outside Los Angeles. At least one student had begun a hunger strike, demanding Spellman's ouster.
The activism came to a head this month after Spellman sent an email to a Latina student, Lisette Espinosa, promising to better serve students "who don't fit our CMC mold." Spellman later apologized, but the email circulated widely and added to simmering tension. Spellman couldn't be reached for comment after her resignation.
A photo posted on Facebook over the weekend of students wearing offensive Halloween costumes -- after an extensive campaign advising students not to do so -- fueled demonstrations and demands for action at a student government meeting on Sunday.
In response, CMC President Hiram Chodosh on Wednesday announced steps to address concerns, including two new leadership positions on diversity, a review of the student affairs office, plans to facilitate forums on race and the creation of "programming space to support campus climate (identity, diversity, and free speech)."
But students said Chodosh promised eight months ago to create a hub for marginalized students, and nothing happened.
"There is a lot of distrust among marginalized students and the administration," senior Jincy Varughese told The Huffington Post.
Taylor Lemmons, a junior who announced Wednesday afternoon that she would go on a hunger strike until Spellman resigned, described bias on campus as "unavoidable." In classrooms, for example, Lemmons said there's often a fear of "not being sure if your voice is being heard or valued as much as someone else because of the color of your skin or economic background."
The Halloween picture was posted on Facebook by Casey Garcelon, a student who said she was offended by the costumes attempting to caricaturing Mexican culture worn by women in the photo. One of the women in the photo contacted Garcelon to apologize and ask that the picture be taken down, but Garcelon declined. An article in the CMC Forum, a student news outlet, said a college administrator also tried unsuccessfully to persuade Garcelon to remove the photo.
The junior class president, Kris Brackmann, who was among four other students in the photo, but wasn't wearing a poncho, apologized for associating herself with disrespectful costumes and resigned her office.
The photo provided further basis for students of color to talk publicly about hostility they said they experience on campus.
"The case before was it was largely happening behind closed doors, in spaces that were limited to the groups that were being affected," said Chris Humphries, a sophomore.
Students demonstrated on Wednesday to repeat demands that administrators address earlier incidents, including photos of slaves in Facebook invitations to a pirate-themed party, complaints by students of color that they were spat at and peed on at parties, vandalism of Queer Resource Center posters with anti-gay language, vandalism of Black Lives Matter posters, and a student activist's contention he was called a "cockroach" by a professor.
Despite the college president's pledge to address the concerns, students said they'll remain skeptical until they see that steps are being actually taken.
Related
Popular in the Community