If you haven't discovered Claremont yet, the perfect opportunity is just around the corner. For eight nights, July 9-16, the "City of Trees," in the East San Gabriel Valley, will host its first-ever Claremont Restaurant Week to showcase the local cuisine. More than 80 locally owned dining establishments will participate by offering prix fixe lunch and dinner specials.
The weeklong event "will showcase the stellar chefs, delicious menus and outstanding restaurants that make up the Claremont culinary scene," says Claremont Chamber of Commerce CEO Maureen Aldridge.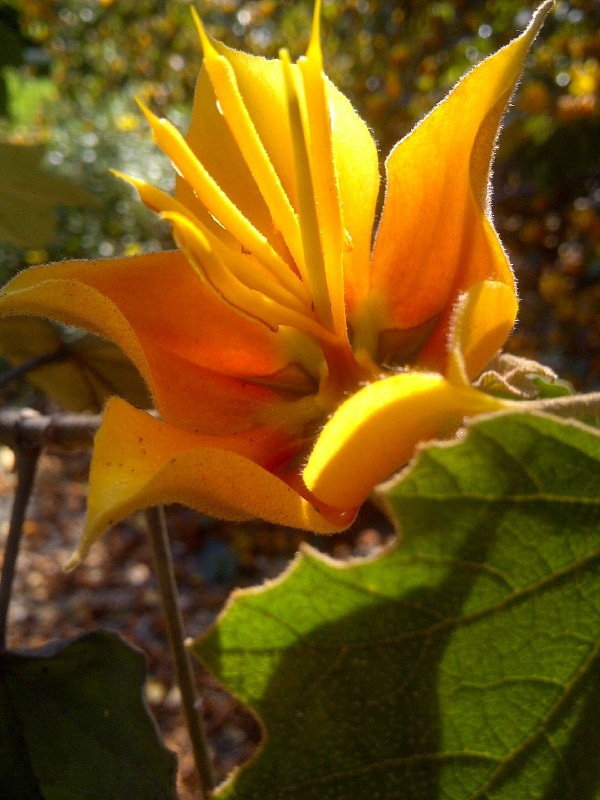 In 2007, Claremont was rated the fifth-best place to live in America by CNN Money. (Photo by Scott Bridges)
The hidden gem, a mere 30 minutes from downtown L.A., is unlike any other city in the area. It's renowned for its colleges, and features a historic downtown village and native botanical gardens.
"This town is like a little island," says La Parolaccia Osteria Italiana General Manager Mario Guterrez.
I visited recently to check out some of the eateries that will be participating in restaurant week. Below are a few of my favorite dining locations, followed by a few fun things to do while you're in town.
One of the hottest new joints in town, the dishes are more European-inspired than just Mediterranean-inspired, with a wine list as cosmopolitan. The chef comes from L.A.'s Le Cordon Bleu and the wood-fired oven comes from Naples, and between the two, you'll find some of the best pizzas around.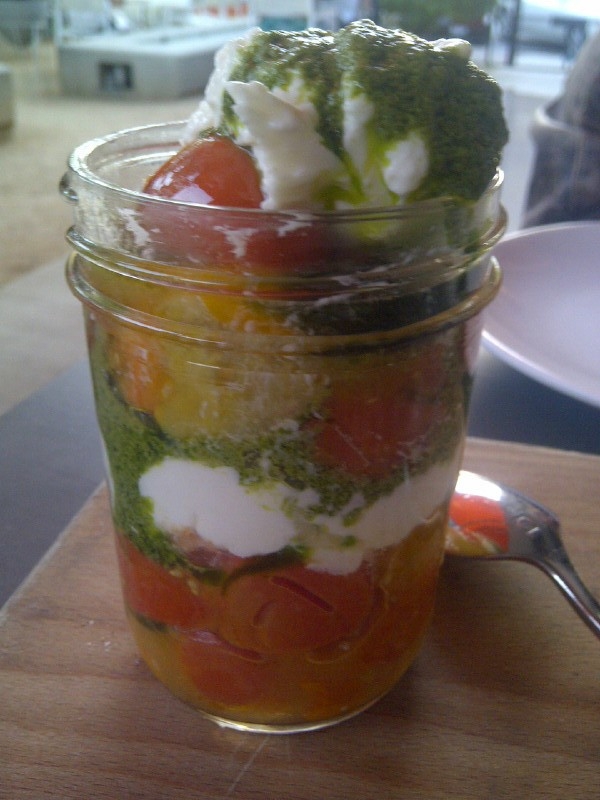 The Mason Jar at Union on Yale. (Photo by Scott Bridges)
The restaurant's design is Mid-Century, with an outdoor patio, fire pits and regulation bocce ball court. The menu is creative, with an array of small plates, entrées and dinner dishes designed for up to four people.
My favorite dishes: Mason Jar, which features layers of roasted cherry tomatoes, burrata and basil oil; Peter Piper pizza, with pickled cherry peppers, large slices of pepperoni, mozzarella and prison garlic; fresh oysters on the half-shell; house-made charcuterie plate; Two Little Burgers -- sun-dried tomato tarragon burgers with comte cheese, and scallions on a multi-grain brioche; Lyon Wings made of Jidori chicken, prison garlic and espelette vinegar butter; Niman Ranch Hanger Steak; Boudin Blanc Sausage au Pistou; Portuguese Beef Pot Roast; Pasta Bolognese; and Cottage Pie with beef, mashed taters and Irish cheddar.
More than 100 bottles have been carefully selected from all over Europe -- France, Spain, Italy and Germany -- as well a strong list of California wines. And each of the menu's entrées includes a suggested wine pairing.
The name of the restaurant translates as "the bad language." Why they named the restaurant that, I have no idea. But I did find myself uttering some salty talk after the first bite of cannelloni, to the effect of "@#%*, that's some good @#%*ing cannelloni."

La Parolaccia makes some of the best desserts in town. (Photo by Scott Bridges)
The walls of the dining room are filled with Italian memorabilia, while brick and dark woods resonate throughout, and is as traditional and authentic an Italian restaurant as you'll find anywhere in Los Angeles (in fact, there's a Long Beach location, as well).
My favorite dishes: Carpaccio Ponte Milvio: paper-thin raw beef tenderloin topped with shaved asiago and parmesan, capers, arugula, extra virgin olive oil and lemon; Carcio Fritti: fried artichoke hearts with grilled tomatoes, topped with goat cheese and shaved parmesan; Cannelloni Cristina, with rolled pasta filled with roasted chicken, mozzarella and parmesan, and blended veggies in a béchamel sauce; and the Totti -- half pizza, half calzone, with tomato sauce, mozzarella, salami, sausage, mushrooms and arugula.
Most decadent of all are the desserts. Meanwhile, Beer and wine are available, and there's a bar to enjoy both. The wine list is brief, but includes some affordable nuggets from both California and Italy.
Generations of Claremont residents have associated Walter's with their downtown village. Forty years ago, Nangy and Fahima Ghafarshad took over the former diner and converted it into a Zagat-rated fine-dining establishment for every occasion. The space, capable of holding up to 300 people, plays host to events ranging from entire class graduation parties and large wedding receptions to intimate anniversaries and first dates to office parties and client meetings.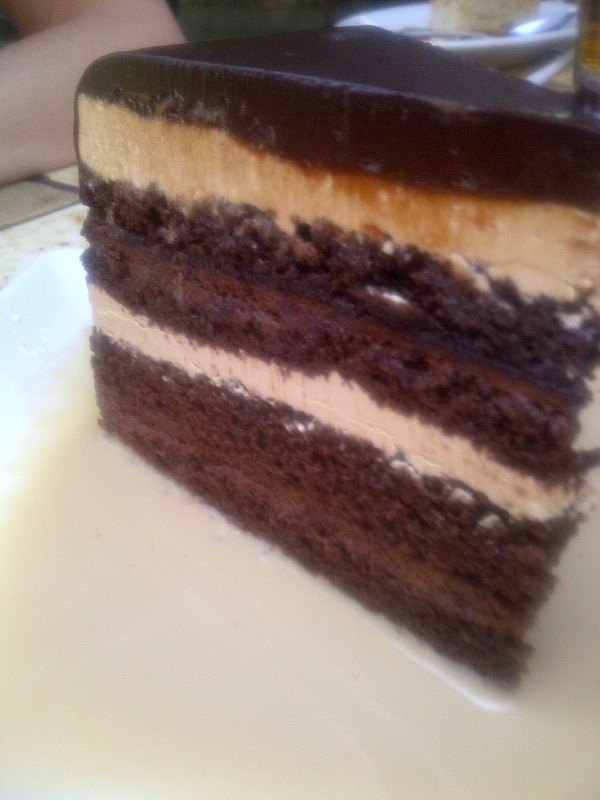 Fahima's Gateau Opera Cake at Walter's (Photo by Scott Bridges)
The extensive menu is an ensemble of American and Mediterranean classics, as well as favorites from the Ghafarshad's native Afghanistan. In fact, Fahima is an experienced pastry chef, and her desserts are not to be missed. (Aside: Nangy, too, has an interesting side, and recently authored a book chronicling his experiences visiting his native country as an envoy of the U.S. Government).
My favorite dishes: Lamb Stew, made with lamb shank, peas, potatoes and carrots; Chicken Piccata; Bowlanies -- ground beef, potatoes and onions stuffed in a thin dough, deep-fried and served with a yogurt sauce; Fettuccini with Lobster and Pasta with Lamb and Wild Mushrooms in Red Wine Sacue; Veal Piccata, Beef Stroganoff, Kabuli Pilaf -- sauced lamb chunks covered with rice pilaf, carrots and raisins, served with grilled eggplant, tomato and yogurt sauce; and Lola Kabob -- ground beef mixed with green peppers, onions and spices, and topped with grilled onion and tomato.
The desserts are all made in-house by Fahima, like Gateau Opera Cake -- chocolate cake layered with chocolate mousse and espresso butter cream, with espresso sauce. And in addition to a full bar, there's also a strong wine list.
From the dim lighting in the upscale space to the diners in sport coats or dresses, Tutti Mangia has the feel of a classic steakhouse. Chef Jose Ruiz's specialty is grilled meats, as well as fresh seafood and pasta. Inland Empire magazine has called it Best Restaurant in Claremont.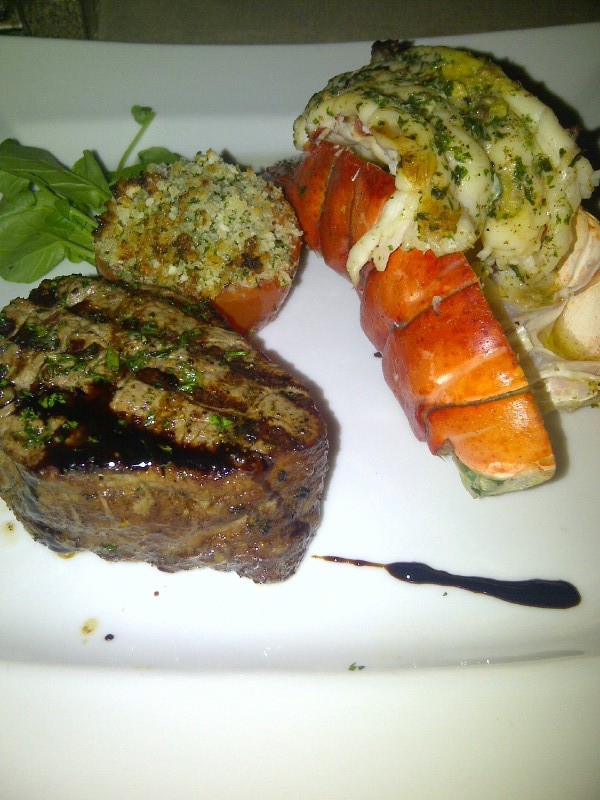 Tutti Mangia is renowned for its Surf n' Turf. (Photo by Scott Bridges)
If you're looking for a surefire dining experience near the county line, this is it. The menu is a showcase of the classics, the ambience is classy and the service is first-rate.
My favorite dishes: Barbietole, with roasted heirloom beets, burricotta cheese, toasted pistachios, micro greens, aged balsamic and turri herb oil; Branzino Acqua Pazza is unbeatable: pan-seared sea bass in a delicate sauce of white wine and garlic. It's served with teardrop tomatoes and winter veggies; Surf n' Turf -- a six-ounce petite Filet Mignon with the choice of prosciutto-wrapped Maryland blue crab stuffed shrimp or lobster tail.
Between 2003 and 2010, the wine list earned Tutti Mangia Wine Spectator's Award of Excellence. On that list are more than 250 wines, with something for every palate and every pocketbook.
The night life in Claremont is best found at Hip Kitty, where a diverse crowd gathers for dinner and a show, highlighted by live jazz, drink good cocktails and fondue.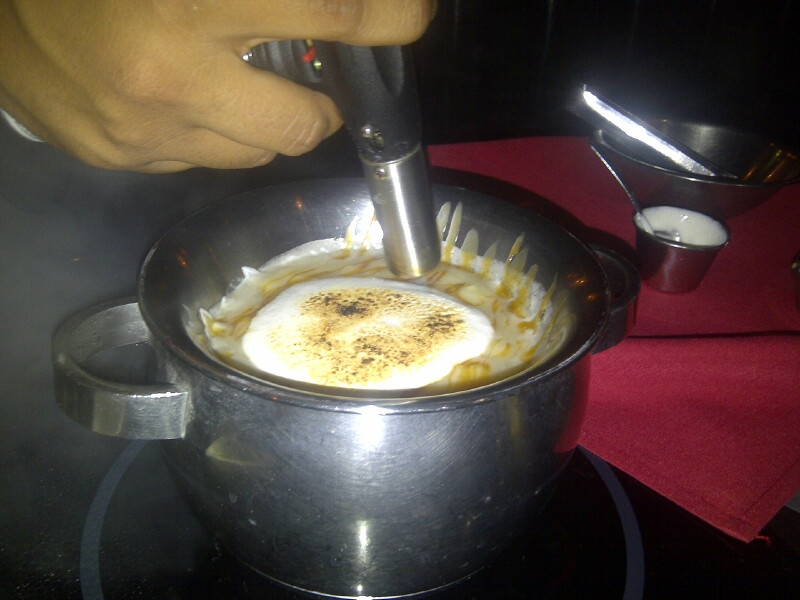 Hip Kitty's the place for jazz and fondue. (Photo by Scott Bridges)
Tucked into a Jazz Age packing house, the nightclub has a speakeasy feel to it. Live music plays six nights a week. There's a large outdoor patio with private cabanas and a fire pit. And the highlight: the wide variety of sweet and savory fondues served tableside -- cheeses for starters, entrees of meats and seafood, and chocolate for dessert. (And if you really want to spoil yourself, try the Lobster & Manchego Mac n' Cheese.)
In the same area of historic downtown Claremont, you'll also find laughs at Flappers Comedy Club, some of the best cocktails in town at the lounge and patio at Casa 425, Friday night belly dancing at Casablanca, and dinner theater at Candlelight Pavilion.
Also located in the heart of historic Claremont is a wine store/restaurant to rival any in the county. Packing House Wine Merchants features a wide array of wines for every budget and every palate.

Live music at Packing House Wine Merchants. (Photo by Scott Bridges)
Owner Sal Medina has curated a cellar that Wine Spectator honored with a Best of Excellence award. He shares his passion for wine with his guests and patrons, helping them discover new wines and expand their tastes.
Any bottle can be purchased and opened for a $10 corkage fee, and if you choose to open one from your own collection to enjoy with dinner, it's a $15 corkage.
The store is a pleasant environment in which to spend an evening, featuring acoustic music most nights, as well as a restaurant helmed by a Le Cordon Bleu-trained chef from Duane's four-diamond steakhouse at the historic Mission Inn in Riverside. The restaurant features everything from artisanal cheeses to gastropub-style small bites to steak and seafood entrées.
For some natural beauty, head to the Rancho Santa Ana Botanic Garden. The garden sits amid the much-heralded colleges of Claremont, and is conveniently just blocks away from the DoubleTree Claremont for those wishing to absorb the city for a whole weekend.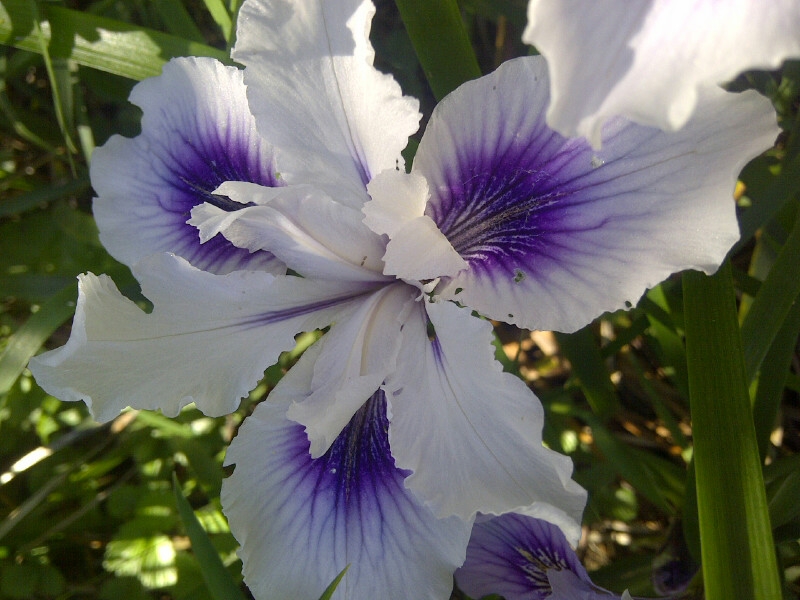 The beauty of California is on display at RSABG. (Photo by Scott Bridges)
This little piece of paradise features a stunning variety of native California flora, and now includes a recently opened butterfly pavilion, which houses hundreds of butterflies and caterpillars that visitors can walk among.
Events are constantly taking place at the 86-acre garden, from yoga and tai chi to wildflower and bird walks to music festivals (the 30th annual Claremont Folk Festival will be held Saturday, June 15).
And after you discover a little of the local beauty, visit the on-site Grow Native Nursery to purchase plants for your own garden. The nonprofit retail nursery supports the RSABG's conservation, education, horticulture and research efforts.
Calling all HuffPost superfans!
Sign up for membership to become a founding member and help shape HuffPost's next chapter