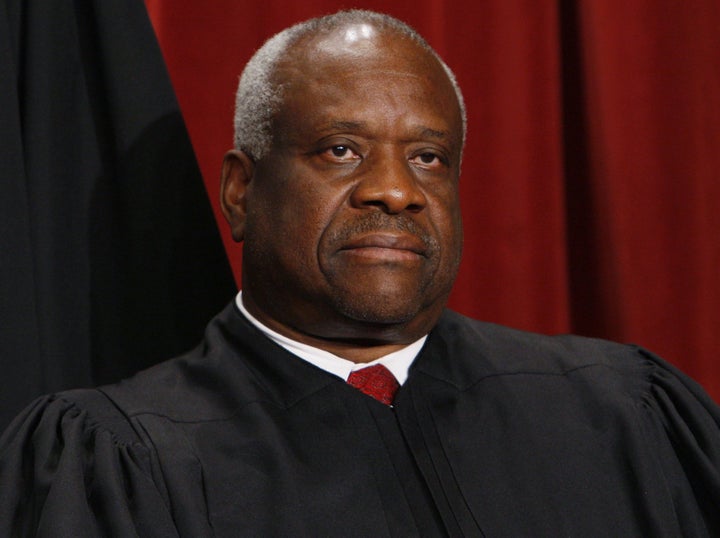 While the Supreme Court started its summer recess last week, watchdog group Common Cause is keeping the heat on Justice Clarence Thomas. In two separate actions on Thursday, July 7, Common Cause has drawn further scrutiny to an already embattled judge. Sitting in a lifetime appointment on the highest court of the land, the controversial behavior of Clarence Thomas is drawing increased calls for the Supreme Court to be held to the same code of conduct as all federal judges.
Americans are concerned, and rightfully so, over mounting evidence that our highest court is operating outside the ethical standards that apply to other federal judges," said Common Cause President Bob Edgar. "We are seeking records from the Marshals Service, which typically provides security for justices traveling outside Washington, to clarify whether Justice Thomas has violated federal ethics laws. We hope to engage the legal community in a larger effort to bring ethical accountability to the full court.
In another attention-getting move, Common Cause took the need for the judicial code of conduct to the professionals that abide by it -- the American Bar Association. In a letter to ABA President Stephen Zack, Common Cause president Bob Edgar urged the largest association of lawyers to take a position on Justice Thomas's potential conflicts of interest, and to help persuade the highest court to embrace the code of conduct adhered to by all other federal justices.
In his letter to Zack, Edgar wrote:
Our system of justice depends on public confidence that those administering the laws are also following them -- in letter and spirit. While the Supreme Court is at the pinnacle of the justice system, and only it can enforce the rules on its members, it is vital that respected, legal organizations such as the ABA make their views publicly known on such critical matters as these.
Common Cause recently submitted a letter to Congress signed by 135 law professors urging the adoption of a comprehensive code of judicial ethics applicable to the Supreme Court. Common Cause even wrote Chief Justice John Roberts, known to fancy himself an umpire calling fair and foul, to seek his opinion about judicial ethics.
Common Cause has been pressing the issue of judicial impunity since ThinkProgress reported a leaked invitation to an annual conservative retreat by Charles Koch advertising that Supreme Court Justices Clarence Thomas and Antonin Scalia had been past presenters.
Further investigation into Clarence Thomas's financial records revealed that he had neglected to report his wife's additional income from conservative groups that stood to benefit from cases before the court. In a report by Politico, Harlan Crow was identified as the donor of $500,000 to Ginni Thomas's political group, Liberty Central. Crow also reportedly spent $174,000 to add a wing named for Justice Thomas to a library in Savannah and put down $1.5 million to purchase an abandoned cannery where Thomas' mother once worked in Pin Point, GA, to build a museum about the cannery.
Edgar notes that Justice Thomas has acknowledged failing to properly disclose his wife's sources of income over a 21-year span, a violation of the Ethics in Government Act. "Now, there's evidence that the justice also may have failed to report, or misreported, travel paid for by a wealthy friend," Edgar said. "This is a serious matter. The Ethics in Government Act provides both civil and criminal penalties for willfully falsifying or failing to report required information on annual financial disclosures.The reports are the only way lawyers, litigants and the public can check to be sure that the justices and lower court judges are not taking part in cases in which they may have a conflict of interest."
In a statement, Common Cause chronicled a timeline of Thomas's travel surrounding his interaction with Crow, pointing out legal requirements to disclose such gifts.
The Times also raised questions about whether Thomas has traveled on Crow's corporate jet and yacht without reporting it on financial disclosure forms. Federal flight records indicate that a Crow-owned jet flew in April 2008 from Dallas to Washington DC and after a brief stop went on to Savannah, where Crow's yacht was docked. During that same week, an item appeared in a South Carolina publication noting Thomas' arrival aboard Crow's yacht in Charleston, SC, a few hours north of Savannah. Thomas reported no gifts or travel reimbursements in that time period.



The Times noted two other instances in which Justice Thomas's travels corresponded to flights of a Crow-owned plane. Justice Thomas was in Savannah in early 2010 for the dedication of a building in his honor. On the day of that event, Crow's plane flew from Washington to Savannah and returned to Washington the next day. Justice Thomas reported in his financial disclosure that his travel had been paid for by the Savannah College of Art and Design, which owned the building.



In a 2009 financial disclosure, Justice Thomas reported that Southern Methodist University in Dallas had paid for him to travel to its campus for a speech on Sept. 30. Flight records show that Crow's plane flew from Washington to Dallas that day.



In reviewing flight records, Common Cause discovered four additional trips in which a Crow-owned plane traveled from Dallas to Washington and after a brief stop went on to Savannah. In three of those trips, the plane then reversed its route to return to Dallas, again stopping briefly at Dulles International Airport in the Washington suburbs. On one trip, the plane returned straight to Dallas.
Federal law requires that Supreme Court Justices, like all federal officials, disclose who pays for their travel; intentional misreporting is a violation of both the Ethics in Government Act (5 USC 104) and 28 USC 1001.
John Wellington Ennis is following the politicization of the Supreme Court for his upcoming documentary PAY 2 PLAY.

Popular in the Community