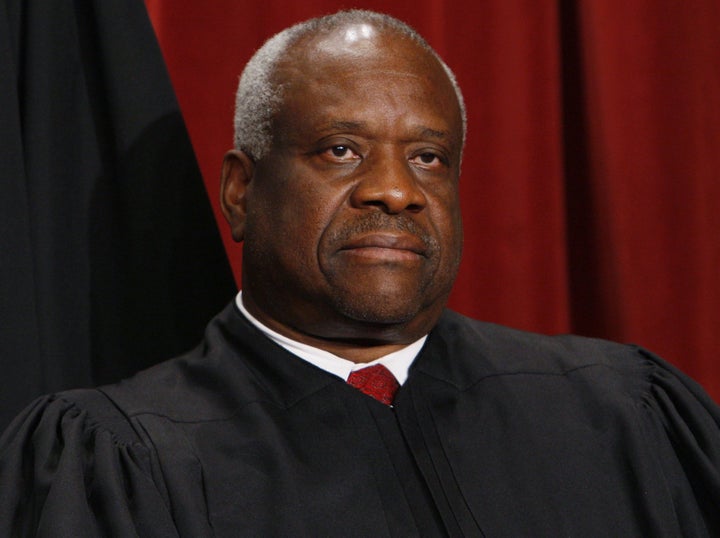 Rep. Anthony Weiner (D-NY) and a group of Congressional Democrats are said to be drafting demands that Associate Supreme Court Justice Clarence Thomas be disbarred in Missouri for perjury, and investigated by the Department of Justice for bribery, according to House Judiciary Committee aides.
The perjury allegations stem from Justice Thomas' years-long failure to disclose his wife's non-investment income as required by law -- something he's now all but admitted. The accusations of bribery are connected to a $100,000 ad campaign, made during Thomas' 1991 confirmation hearings by the conservative Citizens United group, the allegation being that Justice Thomas repaid Citizens United for helping him get confirmed by ruling in their favor in the 2010 Citizens United v. FEC case.
These Congressional actions, which would likely be released before Congress goes into recess next week, bring to three the number of serious -- and official -- accusations being leveled against Justice Thomas.
Watchdog group Common Cause sent a letter to the Judicial Conference of the U.S. on January 21 asking it to determine if Justice Thomas had violated the Ethics in Government Act when he failed to disclose his wife's income from 2003 to 2009, and refer the matter to the Attorney General's Office if it found the allegation to be true.
Justice Thomas wrote to the Committee on Financial Disclosure the same day and explained that he didn't disclose his wife's substantial income "...due to a misunderstanding of the filing instructions." Some lawyers say this amounts to a confession of perjury, and add that the filing instructions merely ask if the filer is married, and if so, if the spouse had any non-investment income.
Then, on February 23rd, a progressive activist group, Protect Our Elections, made a formal complaint covering the same allegations -- and more -- about Thomas' actions to the Missouri Supreme Court; allegations -- especially the allegations of perjury -- that could potentially lead to Justice Thomas' disbarment in that state, where he's licensed to practice law.
"If someone confessed to 13 years of perjury that could certainly be a violation of the Missouri Code of Professional Conduct, [and] it would not be unusual for a disbarment to flow from that," says Barbara Glesner Fines, associate dean of the University of Missouri Law School in Kansas City, Mo.
Whether being disbarred would necessarily lead to Thomas' formal removal from the bench through impeachment is a matter of opinion and by no means an assured fact. The Constitution only says that "The Judges, both of the supreme and inferior Courts, shall hold their Offices during good Behavior" (Article III Section 1), and doesn't define said behavior, so theoretically, a Federal judge could be disbarred and keep his or her job.
Whether it would be politically possible for Justice Thomas to remain on the bench during the run-up to the 2012 elections while he was under investigation is another matter. The Missouri Office of Disciplinary Counsel says complaints like those made by Protect Our Elections typically take about six months, followed by a hearing before the state Supreme Court, if the accused requests one.
And a procedural mistake may delay resolution of the proceedings in any event, because an office called the Judicial Commission typically handles complaints about judges, explains Alan Pratzel, spokesman for the Office of Disciplinary Counsel. Deciding which office has jurisdiction in the matter could stretch out the proceedings.
That wouldn't oppress Kevin Zeese, the Maryland attorney who filed the complaint for Protect Our Elections. "We see it as a multi-year effort, and I'm sure more issues will come out," he says.
That, of course, would probably be fine for House Democrats, since Republicans have a majority on the House Judiciary Committee and would unlikely to even consider a motion to impeach Justice Thomas -- election year or not.
Mounds of complaints and legal maneuvers, on the other hand, would keep the issue before the voters through most if not all the 2012 election cycle, allowing Democrats to paint Republicans as hypocrites -- if they defend Justice Thomas for voluntarily committing an offense for years that Bill Clinton had to be trapped into committing once -- or as unprincipled and power-hungry if they abandon him.
And if Justice Thomas is prevailed upon to resign the bench, the Republicans lose their voting block on the Court.
If Rep. Weiner does head up the House Democrats' effort, he seems well-suited, since he's been eager to take on conservatives since the 2008 elections, and in a way that many progressives say they wish President Obama would. A good example: His now-famous shouting match with Fox News' Megyn Kelly on March 2nd.
Calls to Democratic members of the House Judiciary Committee referred this reporter to Rep. Weiner as "the guy who's taking point on this." When asked to confirm the reports, Congressman Weiner's press representative, David Arnold, wanted to know who'd told us the Congressman was in fact leading the process, but didn't deny the reports were true. He later didn't respond to several requests for comment.
Visit Andrew Reinbach at www. Reinbachsobserver.com

Popular in the Community