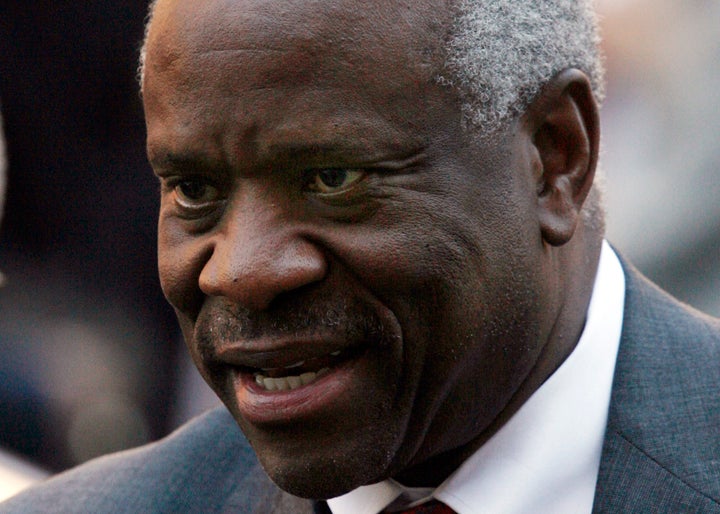 WASHINGTON -- A report suggesting Supreme Court Justice Clarence Thomas would soon step down has been soundly rejected by Thomas' wife.
Ginni Thomas summarily dismissed Sunday's lightly sourced report in the Washington Examiner, originally headlined, "End of conservative Supreme Court: Clarence Thomas may be next to leave." She also had choice words for the writer, columnist Paul Bedard, who cited unnamed "court watchers" for the suggestion that the justice is "mulling retirement after the presidential election."
"For all those who are contacting me about the possibility of my husband retiring, I say -- unsubscribe from those false news sources and carry on with your busy lives," Ginni Thomas wrote on Facebook hours after the article appeared. "IT. IS. BOGUS! Paul Bedard needs to find a phone in his life and unnamed sources are worth as much as their transparency is."
In a comment under her post, Ginni Thomas added: "Distracting Click-Bait by desperate people who want clicks.....disgusting of Paul Bedard and more now."
The Examiner article said the justice "has been considering retirement for a while and never planned to stay until he died," citing a mysterious "they" as the source.
Following Ginni Thomas' retort, the Examiner amended the article online -- changing the headline and adding Ginni Thomas' rejoinder, but without noting the article had been updated. The new headline: "Wife of Clarence Thomas dismisses justice's retirement talk as 'bogus.'"
Bedard on Monday stood by his sources, but did not say when his article had been changed to reflect Ginni Thomas' comments.
"I respect my sources as well as Ginni and Justice Thomas," Bedard said in a statement to The Huffington Post, which he also provided to The Daily Mail. "Just the thought of him leaving has put the court's direction on the political front burner and conservatives are telling me today that they hope Ginni is right."
Lest anyone think Justice Thomas is slowing down, he's by far one of the court's most prolific justices in written output. So far in the current term, he's authored the most opinions of all the justices.
With major decisions likely before June's end on immigration, abortion -- and especially affirmative action -- we can expect much from Thomas in the coming days.
Popular in the Community