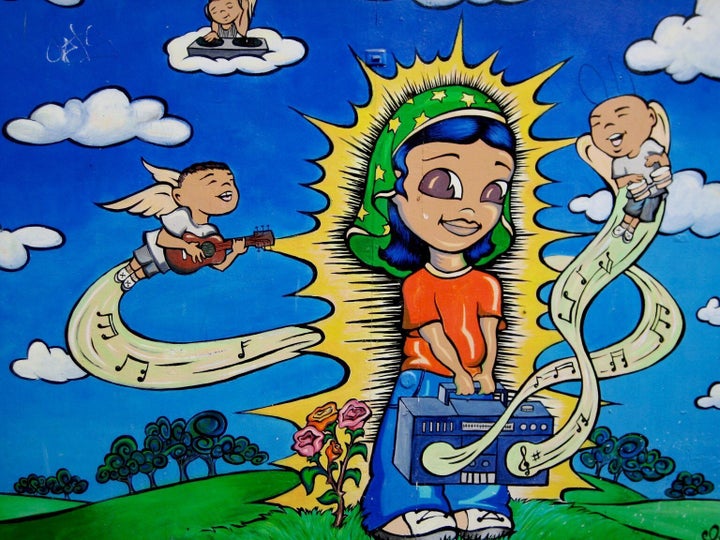 There's been a lot to celebrate this October. Halloween, more than one stretch of Indian summer, the best-looking group of baseball boys declaring victory in Detroit.
But it's not fair to overlook the smaller milestones just because San Francisco is swathed in a sea of orange and black. October also marked the 20th anniversary of our favorite local mural project, the Mission's Clarion Alley.
Described by some as "the last bastion of true art and street culture in the Mission," the Clarion Alley Mural Project was founded by a group of volunteer street artists in 1992 and has since flourished into a colorful destination for neighborhood residents and visitors alike.
At any given time, some 50 murals, ranging in tone from political-charged to solemn to irreverent to joyous, adorn the walls of the two-block stretch of street. Over the past two decades, the strip has transformed from a seedy, dangerous alleyway to a sought-after destination. (We even witnessed a wedding photo shoot there earlier this year!)
Artists span the gamut of ages and ethnicities and the artwork comes and goes fluidly, whenever a muralist (or tagger) is moved. Each October, a handful of new murals are painted during Clarion's annual block party.
Some pieces last longer than others. As SFist noted last week, Tanya Wischerath's groundbreaking design honoring transgendered activists was tagged just days after it was finished. Others, like Mats Stromberg's depiction of ghosts and the cityscape, endure for years. The legendary Banksy himself even added his magic touch a few years ago.
As Mission Local aptly observed, "It's all part of a constant evolution that's as much a metaphor for the Mission District as a product of the neighborhood itself."
Take a look at some images from the alley below, and be sure to take a stroll over there yourself if you haven't already (you'll find the entrance just south of 17th and Mission Streets):