A 10-year-old swimmer with sky-high dreams and a name to match them has toppled a record previously held by Olympian Michael Phelps.
Clark Kent Apuada, whose friends call him "Superman," swam the 100-meter butterfly in 1:09:38 at the Far Western Long Course Championship in his home state of California this Sunday.
That's more than a second faster than the record Phelps set at the Far Western swimming championship in 1995 with a time of 1:10.48 in the same category of boys 10 and under. Phelps' record in that meet hasn't been touched for 23 years.
Clark, a rising fifth-grader who is Filipino-American, told HuffPost he's been dreaming about breaking Phelps' record ever since he started swimming competitively at age 7.
"I was so motivated," Clark said about his win. "I was so happy and relieved that I was able to beat that record."
Phelps competed in his first Olympics at age 15. He went on to become the most decorated Olympian in history, with 28 medals overall.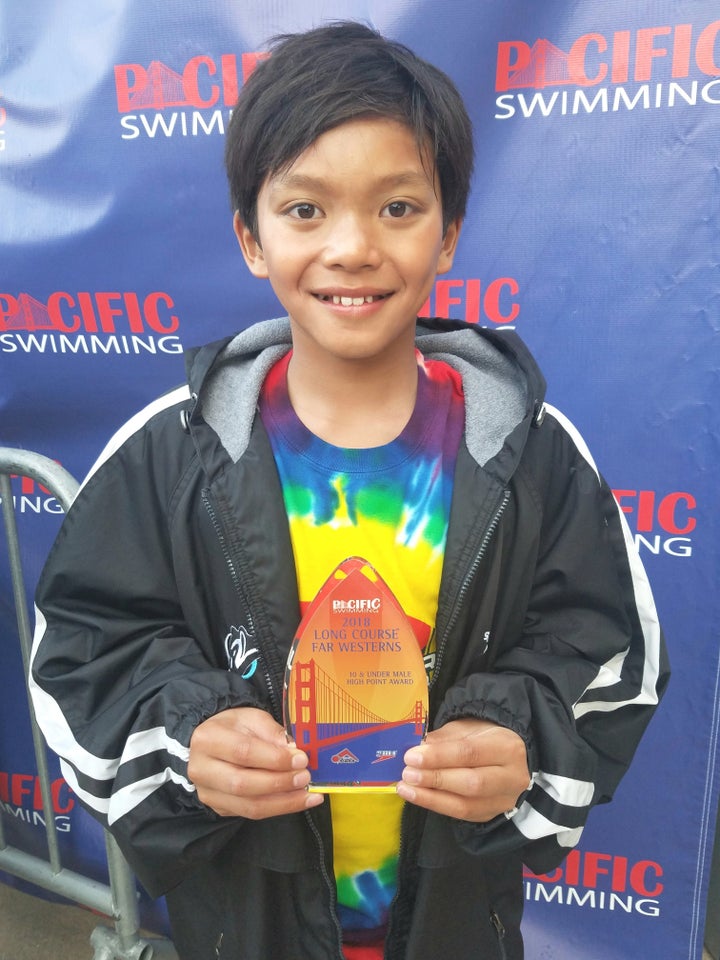 A representative for Pacific Swimming told HuffPost that Clark's record-breaking achievement was announced at the meet.
"Everyone in the crowd was thrilled when they realized what a special swim they had just witnessed when we announced the long standing record had been broken," Cindy Rowland, PacSwim's administrative director, wrote in an email.
Clark won first place for all the swimming events he competed in at this year's Far Western Championships, Rowland confirmed to HuffPost. Pacific Swimming or PacSwim, a regional association that is part of USA Swimming, organizes the Far Western Long Course Championship.
Cynthia Apuada, Clark's mother, said that her child seems to be "living by his name at this point."
Asked about the champion swimmer's unusual name, she said she'd always loved the name Clark. And her husband's favorite superhero just happened to be Superman. So when their child was born, they decided to give him the name "Clark Kent."
The nickname "Superman" emerged naturally.
"We're always just telling people his name is Clark. But when they realize his full name, people just call him Superman," Apuada said.
It fits, she said, since her son "is regarded as a superman in the water."
From an early age, Apuada said her son was extremely motivated about setting goals for himself. A few years ago, she said, Clark researched all the local swim clubs (the family lives in Salinas, California) and started memorizing the records other swimmers were setting.
"He's the one who said, 'Look, Mom, Michael Phelps has a record in the Far Western. I can beat that,'" Apuada recalled. "And he was just 7."
The family had been nervous about the international championship meet since Clark got sick in the week before the competition. But Apuada said her son's motivation helped pushed through.
When she saw the final score, "We were very glad and really rejoicing," she said.
The young champion isn't resting on his laurels, however. Clark said he has an even bigger goal in sight ― the Olympics.
"Paris 2024 or Los Angeles 2028," he said. "This record has motivated me to keep swimming, to keep striving and do everything I can to get to that elite level."
In the meantime, Clark said he's been training every day and holding on to his mantra.
"Never give up on your dreams," he said. "Never."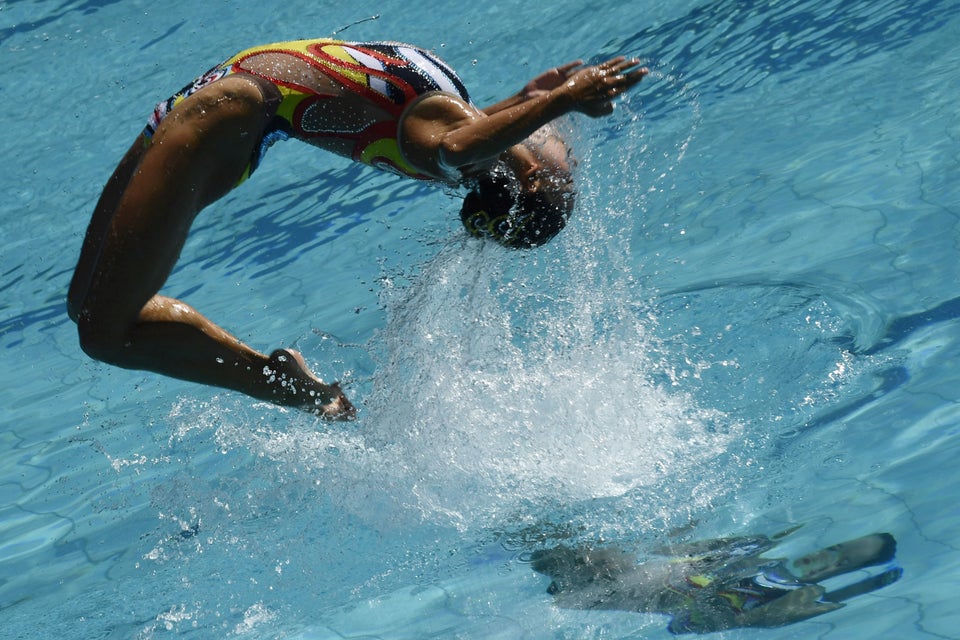 19 Photos That Show The Unbelievable Strength Of Synchronized Swimmers
Popular in the Community