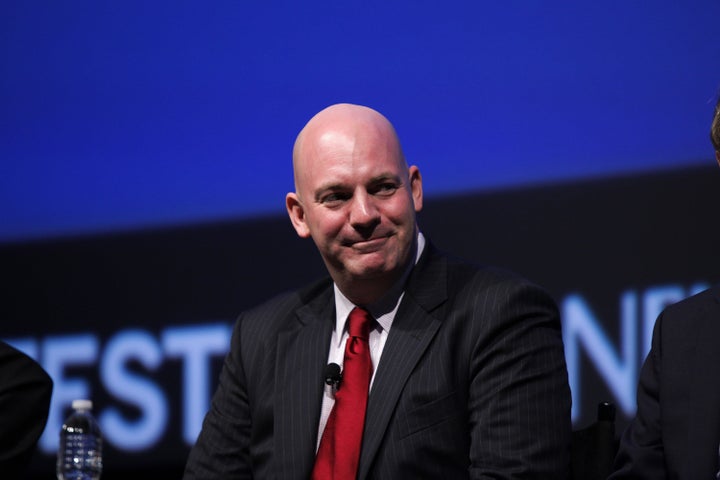 WASHINGTON -- R. Clarke Cooper, the head of the Log Cabin Republicans, is stepping down from his position at the end of the year after serving at the helm of the gay rights group for two election cycles.
While the group searches for a permanent replacement, Gregory T. Angelo, the chairman of Log Cabin Republicans of New York State, will be stepping in as the interim executive director.
"There has never been a more exciting and historic time to be a gay Republican-with the wind at our backs following four referendum victories for the freedom to marry last November and the United States Supreme Court soon to rule on marriage equality, 2013 could mark a turning point in the fight for equal rights for all," said Angelo in a statement.
Cooper took over as head of the organization in May 2010, after serving in the administrations of both former Florida Gov. Jeb Bush (R) and former President George W. Bush.
In an interview with The Huffington Post, Cooper said he let the national board of directors know of his decision to step down at its last meeting in October in Burbank, Calif. He notified Republican National Committee Chair Reince Priebus of his decision a week or two after the election.
One Log Cabin Republican member who requested anonymity to speak openly said chapter leaders were not notified in advance of Cooper's decision. Some people, however, had known about his intentions as early as August, when Cooper was reportedly discussing it at the Republican National Convention.
When asked what he is most proud of from his time at Log Cabin Republicans, Cooper -- without any hesitation -- cited the repeal of Don't Ask, Don't Tell, which barred gay men and women from serving openly in the military.
"I say that from a personal perspective, from a policy, organizational, institutional perspective, but also externally. I think probably the thing that ... really touched me the most in my time at Log Cabin is Bush administration colleagues and Army colleagues being so supportive ... and so congratulatory once the repeal succeeded," he said.
Log Cabin Republicans filed the lawsuit that eventually led to a federal judge declaring DADT unconstitutional. They were also instrumental in pressuring Republicans in Congress to support the law's repeal in 2010.
Charles Moran, chairman of the California Log Cabin Republicans, said that after the heavy GOP losses in the 2012 elections, the group had an even more important role to play in "continuing to be a strong voice of inclusion in the Republican Party."
"We are ready to move forward, and need the professional infrastructure and bold leadership to ensure we have the resources, position and message to take advantage of the 2014 mid-terms and a seat at the table so the Republican Party truly understands that inclusion wins," Moran said. "The grassroots is the backbone of the Republican Party and Log Cabin Republicans. It's time to get back to basics."
Cooper's announcement comes a day after the group placed a head-turning full-page ad in The New York Times opposing former Sen. Chuck Hagel's (R-Neb.) potential nomination as secretary of defense -- citing his record on LGBT rights, Iran and Israel.
Typically, such an ad can cost more than $100,000 -- a sum that many pointed out was out of reach for the group. Cooper said that the group received a hefty discount -- due to when the ad ran -- and raised funds from multiple donors in order to pay for it.
"This is being true fiscal conservatives. We're not paying full price. And honestly, if we had not raised the funds, we would not have run the ad," he said.
The group stirred up controversy in the 2012 election cycle with its decision to endorse Republican Mitt Romney for president, despite the former governor's opposition to marriage equality.
Going forward, Cooper said he wants to see more gay Republicans involved in politics.
"It's one thing to call for change, and it's another thing to step up. Walk the walk, not just talk the talk," he said. "Take a more active role in state and party politics. LCR has an important role as an ancillary group. But more importantly, LGBT Republicans need to take official roles in their state parties. They need to seek roles in the national party, and they need to run for office. That's where positive change will occur."
Cooper said he is currently considering a few other options as he figures out his next steps, although he declined to be more specific. He will, however, be fulfilling some of his obligations as a member of the U.S. Army Reserve that are required for promotion.
This article has been updated to include the comments of Charles Moran.
Calling all HuffPost superfans!
Sign up for membership to become a founding member and help shape HuffPost's next chapter