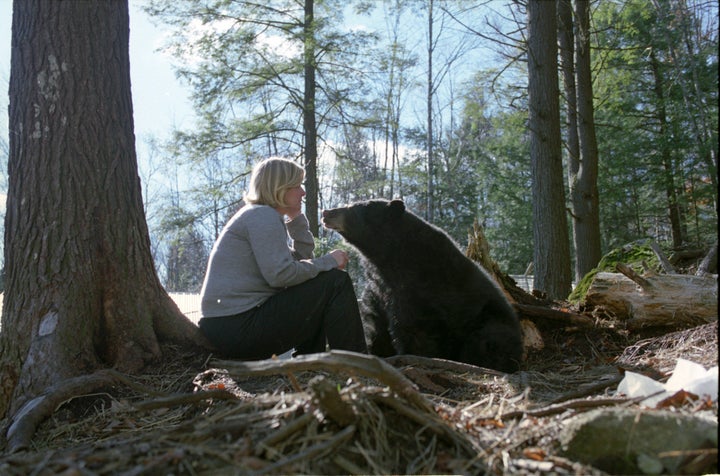 From where they sit on the platform at the center of the small enclosure, the bears can watch the traffic on Rt. 3: pickups carrying young men in workshirts, trucks bombing down from Canada and, come fall, cars full of cableknit foliage hunters. The reason the bears are here -- the original reason anyway -- is that the drivers and passengers can see them too, munching on their snacks and sniffing the brisk New Hampshire air for whatever it is that bears smell in the brisk New Hampshire air.
When black bears first took up residence at Clark's Trading Post in the 1930s, it seemed like part of a logical progression. The stop was then known as Ed Clark's Eskimo Sled Dog Ranch for the pack of purebred Labrador sled dogs Clark brought home from the Maritime Provinces following a sojourn punctuated by the 1918 Spanish Flu pandemic.
"The dogs were big animals anyway so it wasn't that huge a step to get a bear," says Maureen Clark, Ed's granddaughter. "In the 1930s a bear or a pack of sled dogs at a filling station was known as a 'stopper,' something a motorist might see as they were driving and could convince them to come in and buy some maple candy or an extra token."
Now the Post is a theme park of sorts, where passersby can buy fudge and enjoy the friendly intimacy of the Clark's little hamlet. There are bumper boats and a tchotchkes of all varieties, but people really come for the bears, many of which are rescued orphans.
Everybody loves the bears.
All these decades later, Maureen is finishing off her 25th season as the Trading Post's chief bear trainer. She works with nine animals, some of whom perform daily and some of whom have retired to an enclosure well away from the Trading Post, where they can splash about and sit under trees. Thanks in large part to her father, who started featuring the bears in performances in 1949, Maureen has spent most of her life in close proximity to bears and she talks about them as though they're family.
Ed Clark's sons Ed Jr. and Murray inherited the stop from their father, married two sisters and set about turning the place into the smallish theme park that now employs an ever growing community of "double cousins." The bear ring is at the center of the Post, but there is also a faux main street with a photo studio, candy parlor and museum, a small railroad and a "Wolfman" with a real beard who wanders around shouting at visitors for trespassing on his land.
Given that all but one of the bears actually has the last name Clark, calling them the Clark's bears might be inaccurate, but one could say this: The Clark's bears do exactly what they want to do.
"I've seen eastern European bears walking tightropes on their front paws but we can't get them to do that sort of thing or anything they don't want because they still have their teeth and their claws and they know how to use them," Maureen explains. "There isn't much sense trying to force them to do anything."
This situation is sometimes good for attendance. In early October, when Maureen is closing up the Post for the winter, she says locals like to come and laugh at her brother as he tries to coax a group of fat bears groggily awaiting their long winter siestas to "do anything at all by dancing around and such." Her brother is the ringmaster only in the sense that a substitute teacher is a ringmaster.
The same could have been said of her father, who performed for years alongside his beloved companion Jasper, a massive male bear that could have resolved any creative difference with a heavy paw. But Jasper liked to perform and Jasper's performances helped pay for food consumed by some of the bears that didn't take to the limelight, bears like Mischka, who wanted to play so badly he'd knock his sister Tula off barrels mid-trick.
The key to developing the shows, Maureen says, is finding things the bears do anyway, like waving, and rewarding them for the behavior. "Obviously, it is different with riding a scooter or something," she says. "You have to put their paws in the right place for that and they learn over time."
Maureen discusses her work with a Granite State reserve that only makes sense in the context of her family's history. She is in the thrall of the animals -- this is plainly visible in the care she takes in observing them -- but she isn't in awe of them. A
"Pemigewasset makes people laugh just by putting some hay in the corner of his mouth and moving his lips like he's a hayseed," she says of one of the performers, more enamored of his impishness than impressed by his improv chops. "Pemi is a natural and he loves it."
Entertainers and not, the bears look tired as the Trading Post shuts down for the night. They stare absentmindedly down the antiquey main street through chain links or perch on the platforms in their enclosure. A car pulls into the parking lot and two couples climb out, walk up to the fence and point at the bears. If they are impressed -- and they are impressed -- the bears aren't.
Tradition breeds comfort. This is just how it goes at Clark's.