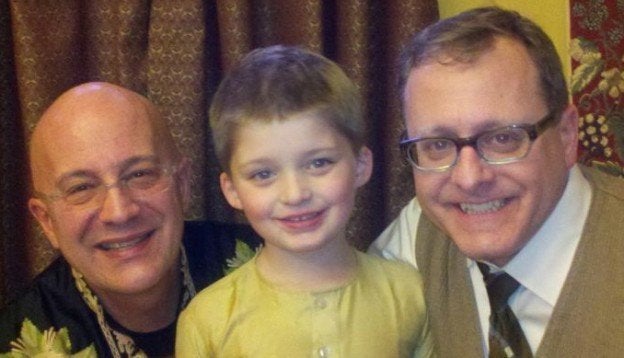 This is the fifth post of "30 Adoption Portraits in 30 Days," a series designed to give a voice to people with widely varying experiences, including birthparents, adoptees, adoptive parents, foster parents, waiting adoptive parents and others touched by adoption.
"Some people... go through life chattering and making a lot of noise with their mouth; they never really listen to anything... Therefore, my son, be of good cheer! Enjoy life; learn to fly! Eat well; drink well! Use your ears; use your eyes! And I promise that someday I will make it possible for you to use your voice." -- The father swan, from E. B. White's "The Trumpet of the Swan"
Our son, Clark, received "The Trumpet of the Swan" from one of our sitters on his first Christmas. It tells the story of a signet who cannot speak, his father's courageous but bungled effort to secure him a trumpet, and the young swan's plan to use his new voice to make everything right in the end.
I had never read "The Trumpet of the Swan," and I didn't do so until I started reading it with Clark when he was 5. By that time, my partner Greg and I were far along our own journey to help Clark find his voice.
On an evening after a very difficult day for Clark at kindergarten, I was reading to him the chapter in which Louis, the signet, as well as the reader, learns that he cannot speak. Clark had fallen asleep beside me before we finished the chapter, but I continued reading aloud for my own sake:
"It had been an unhappy morning for [Louis]. He felt frightened at being different from his brothers and sisters. It scared him to be different. He couldn't understand why he had come into the world without a voice. Everyone else seemed to have a voice... Then he remembered that his father had promised to help, and he felt better."
When Clark was about 15 months old, he tried out his first words: "dog, cat, dad." Within a month, he seemed to have lost those three words and was unable to produce any more. It was the loss of something learned that frightened me more than the idea of delayed speech development or the eventual determination of a motor planning deficit. In time we learned that Clark's fear of speaking -- an anxiety about being heard -- was an integral part of his silence.
We began assessments for early intervention services at about 18 months and both speech and developmental therapy a few months later. And we began our own task of helping Clark.
We started to learn a few words in American Sign Language (ASL), beginning with the words many parents learn to sign: more, milk, up, daddy. Progress seemed slow at first, but we knew Clark was finding his voice one afternoon at a local ice cream shop. When Greg gave him his first taste of a chocolate shake, Clark pounded out the sign for "more."
By his second birthday, he was easily picking up words that interested him, and he liked to sit down with me when I looked up ASL words on the Internet. The first time we did this together, I asked, "Let's see, should we learn how to sign 'squirrel'?"
I love this word: the index and middle fingers of each hand serve as the top and bottom teeth of a chattering squirrel. This sign served Clark not only as the word "squirrel" but also as "Let's look up more words."
And by this time, he had also started combining words into two-word phrases. A few weeks after his second birthday, we traveled to London with my parents. The first time we took the Tube, I told him we were on a train and signed the word "train," and he signed it back. At the next stop, when the doors opened and people started to get off, he looked a bit worried and signed "more train." He wanted a much longer train ride.
Among the requirements for prospective adoptive parents at The Cradle, an adoption agency in Evanston, Illinois, is a class about the risks associated with drug and alcohol exposure during pregnancy. Before being placed in the pool of prospective families, adoptive parents also complete a form in which they identify the risks they're willing to take.
One of the lessons of the class is that we can more or less trace a direct line from the presentation of fetal alcohol syndrome back to the mother's consumption of alcohol. The role of prenatal exposure to other drugs is a lot less clear. All we know is that it raises the risk for numerous developmental problems.
Certainly many children with no history of prenatal drug exposure experience delays in speech development. But Greg and I find it difficult to put this part of Clark's medical history out of our minds, especially because of other pieces of the story: the nonparallel tracking of his eyes (strabismus), early production of androgen hormones (premature adrenarche) that results in puberty-like physical attributes, notable anxiety in groups, and a difficulty with physical self-regulation that our therapist and we are still trying to understand.
The prenatal medical history, therefore, seems more like a specter, something waiting to reveal more in years to come. Every time I fill out another form -- for school enrollment, special education services, day camp, another medical specialist -- I dread the now familiar litany: no prenatal care; prenatal exposure to tobacco, marijuana, heroine, cocaine; low birth weight.
Biological parents cannot, of course, control everything about their children's development. I suppose a primary difference with adoption is learning to accept that loss of control before you even start parenting. It would be easy to blame Clark's birth mother for her choices, but she has her own conflicted story and troubling medical history that reaches far back into her own childhood.
Instead, I am often sad -- sad that he has to work so hard sometimes to do things that at least appear to come easily for other children and sad that, like Louis in "The Trumpet of the Swan,"he is aware of the difference.
I am also grateful -- grateful that Clark's birth mother made a courageous and loving choice to make an adoption plan for him and grateful that Greg, Clark, and I can address these challenges together as a family.
Before we became parents, I probably idealized the joy of reading books with our child more than anything else. I wanted our child to love books. I wanted bookcases packed with children's books. I imagined snuggling up with our child and reading favorite stories, favorites from my childhood and favorites I had carefully selected for nieces and nephews for years.
I won't pretend that our story times in the evening are pure bliss, but of all things I imagined about parenting, these moments are the closest to my naïve ideals.
About a year ago, Greg bought Clark an illustrated children's book about Helen Keller. Lately, this book is often among Clark's selection for bedtime reading. When we were reading it recently, Clark said, "I don't understand how they are talking."
I said, "Do you remember how we used to use our hands instead of our voices to talk? It's like that except that Annie is making a sign for each letter in a word, and Helen is feeling the signs with her own hands."
"I have a book about that," he said and ran off to his room to get the flip-chart book I bought for myself when we first started signing. He found the page with the alphabet.
After we had practiced several letters, he said, "OK. Let's try it."
"Let's try without seeing."
Clark closed his eyes, put both his hands on my right hand, and named the letters as I signed them.
"You're right. You're very good at this," I replied.
"OK. Now it's your turn."
In "The Trumpet of the Swan," a human boy, Sam, brings Louis to school, where the swan learns to read and write. Louis uses a slate and chalk to communicate with humans before he has a trumpet to communicate with other swans.
At the end of the story, Sam writes in his diary: "Tonight I heard Louis's horn... The wind was right, and I could hear the notes of taps, just as darkness fell. There is nothing in all the world I like better than the trumpet of the swan."
By the time we were learning signs such as "giraffe" or "red panda" -- great for trips to the zoo but not critical for life at home -- Clark was beginning to speak. And the signs quickly dropped away.
Memories of signed conversations are as important to me as his musings, or Clarkisms as we call them, that I frequently record. We took a long, challenging, creative journey to help Clark speak. There is nothing in all the world I like better than the sound of my son's voice.