Last month in the Detroit suburb of West Bloomfield, a cooking competition was held unlike the any of the various reality show-types you've seen on TV -- and it offers hope for the future.
Held at the stage kitchen at Henry Ford Hospital, the Clash of the Cooking Crews pitted students from four area middle schools in a cook-off to create healthy meals. At a time when juvenile obesity is at its zenith, and when America's schools have become ground zero for junk-food purveyors, a program like this presents a ray of hope into a desperate situation.

Young chefs at work in the kitchen. (Photo by Scott Bridges)
Teaching young people the benefits and ease of healthy eating is the mission of program founder John Prepolec, aka, Chef Johnny Prep. The author and TV cooking show host has devoted time and resources to eradicate a culture of bad eating habits, educating parents and children about the value of proper nutrition.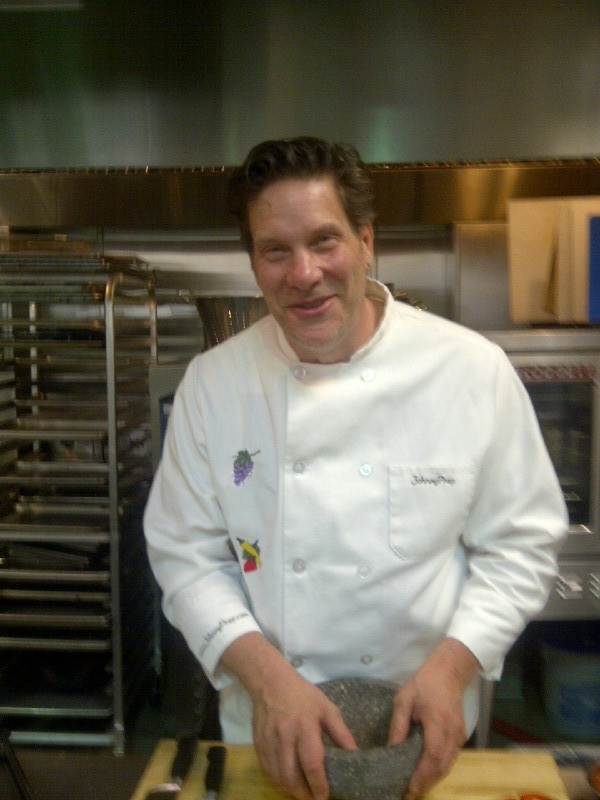 Chef Johnny Prep. (Photo by Scott Bridges)
The junior chefs from Swartz Creek Middle School, Bloomfield Hills Middle School, Waterford Pierce Middle School and Parker Middle School (Howell, MI), were coached by school officials and parents, and judged in three rounds on their breakfast (parfait), lunch (salad) and snack (chips and salsa) recipes.

The young chefs of Bloomfield Hills Middle School. (Photo by Scott Bridges)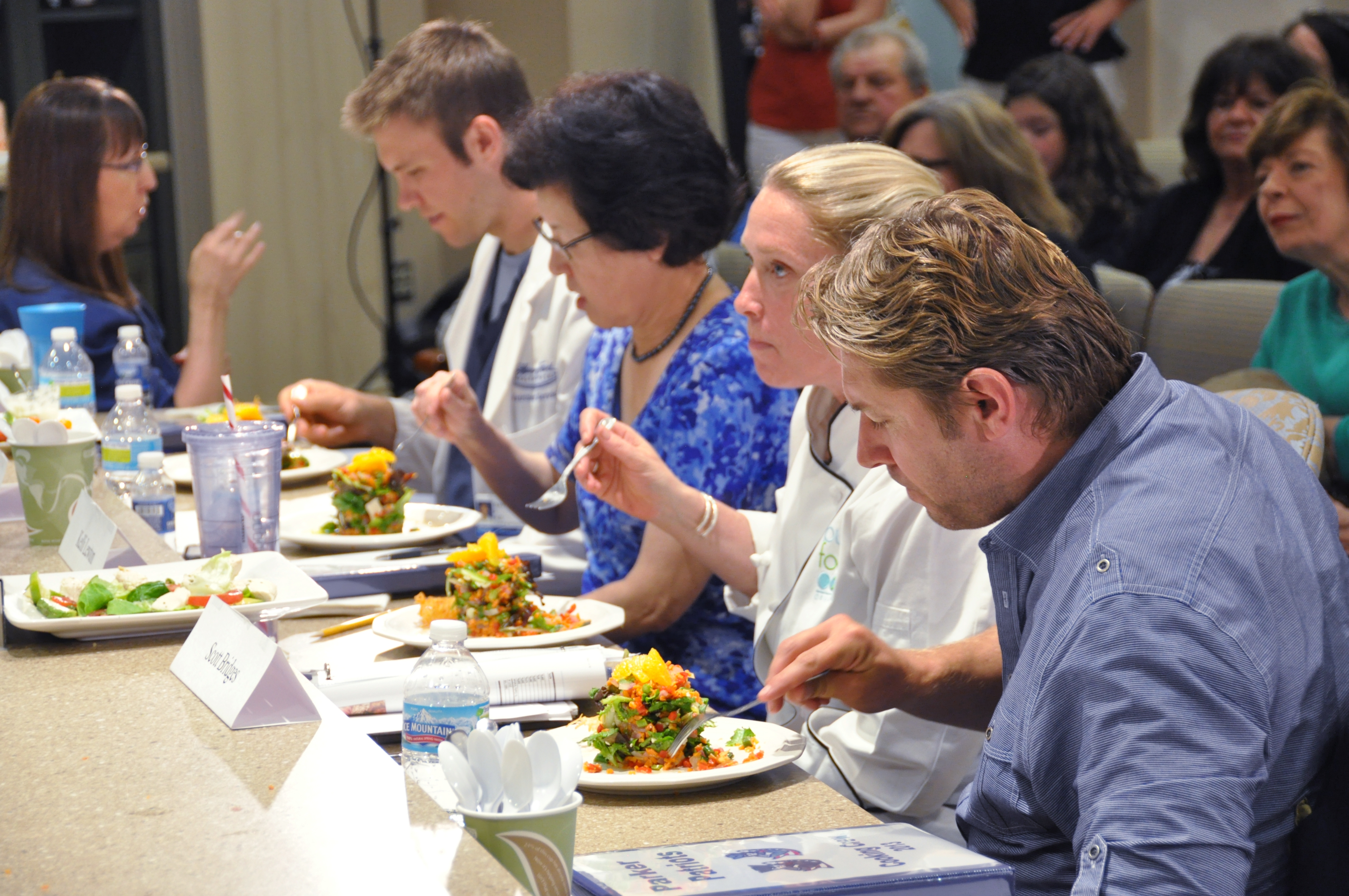 Judges (left to right): David Schwartz, Catherine Jen, Kelli Lewton, Scott Bridges. (Courtesy Photo)
Each recipe was graded on a 25-point scale, with 10 points available for the nutrition of the recipe; 10 points for taste, and five points possible for presentation.
The nutrition component was based on three areas -- USDA guidelines (450 calories or less for the parfait, 650 calories or less for the salad, and 300 calories or less for the chips and salsa); there could be no trans fats or high fructose corn syrup; and finally, all the main ingredients had to consist of fresh produce, proteins or dairy products.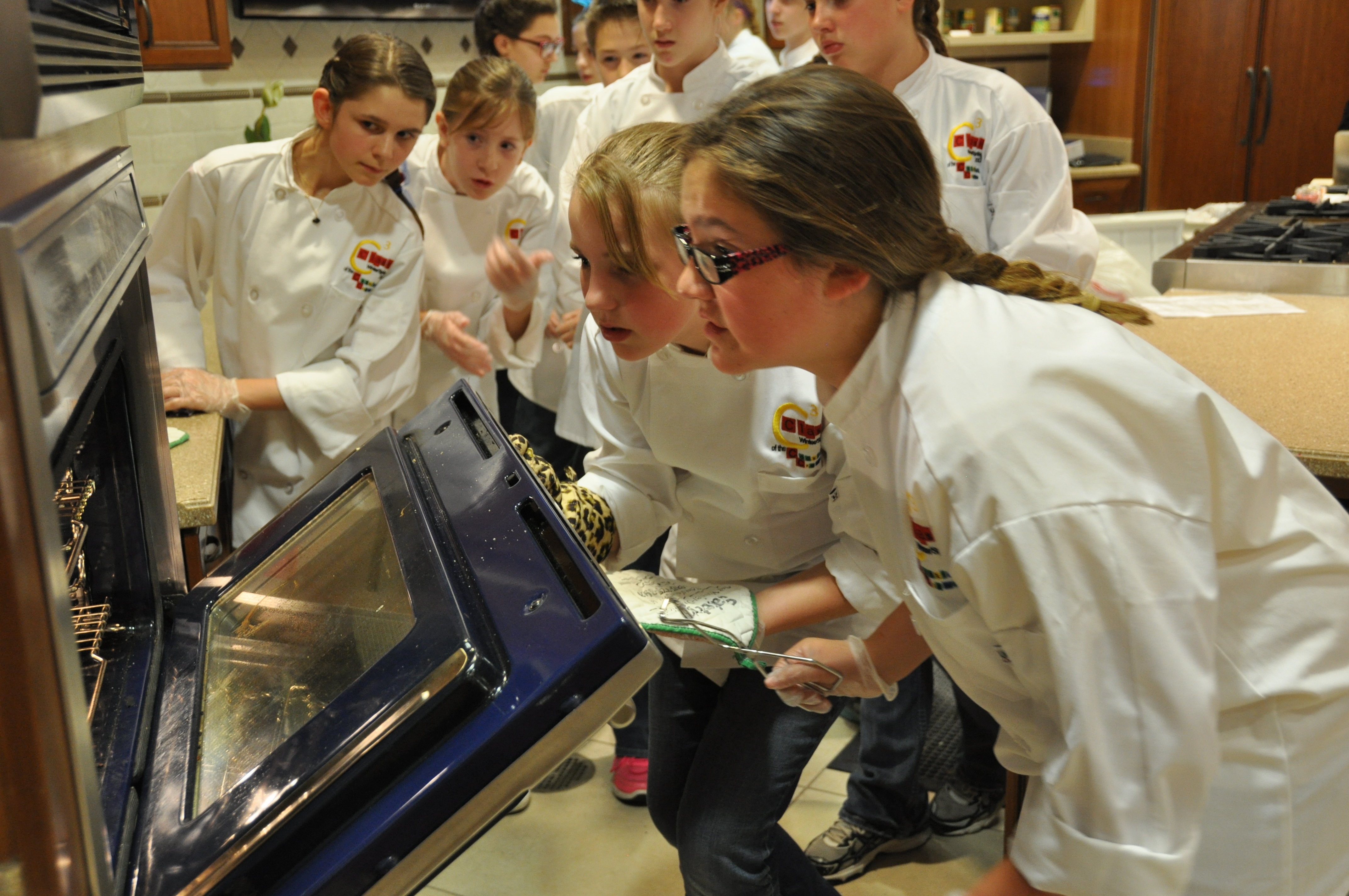 Baking homemade tortilla chips. (Photo by Scott Bridges)
It was a pleasure to witness hygienic food handling, proficient knife techniques and teamwork within the kitchen, but more reassuring was the passion and enthusiasm with which the students approached their tasks. And while few, if any, of these young people grow up to become professional chefs, all of them will likely be expected to cook for themselves or loved ones at some point.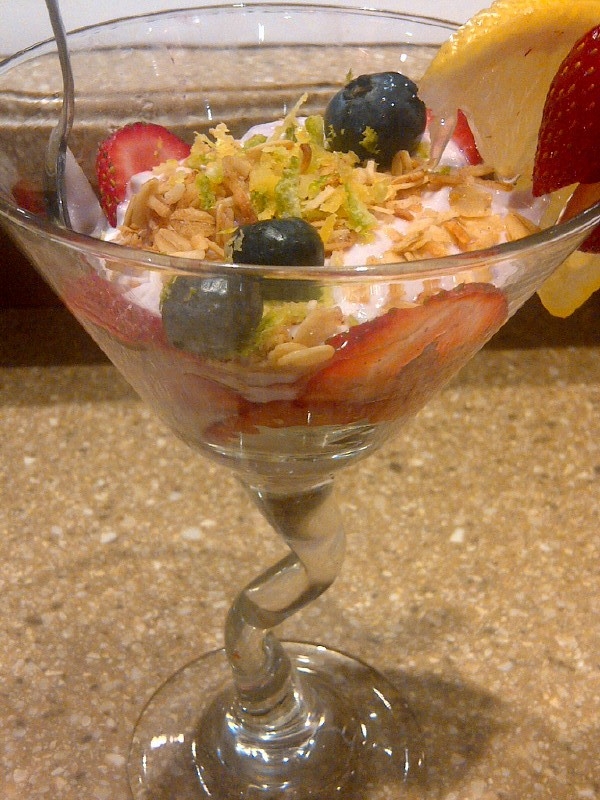 Parfait recipes were based off of Chef Johhny's base recipe. (Photo by Scott Bridges)
This is practical, life-altering education at work, and it's something that every young person in America should have access to as a basic right. And by creating a contest, Prepolec has made the process not only palatable, but downright fun. And while every school showed their pride fervently competing for the prize, only one could be crowned champion.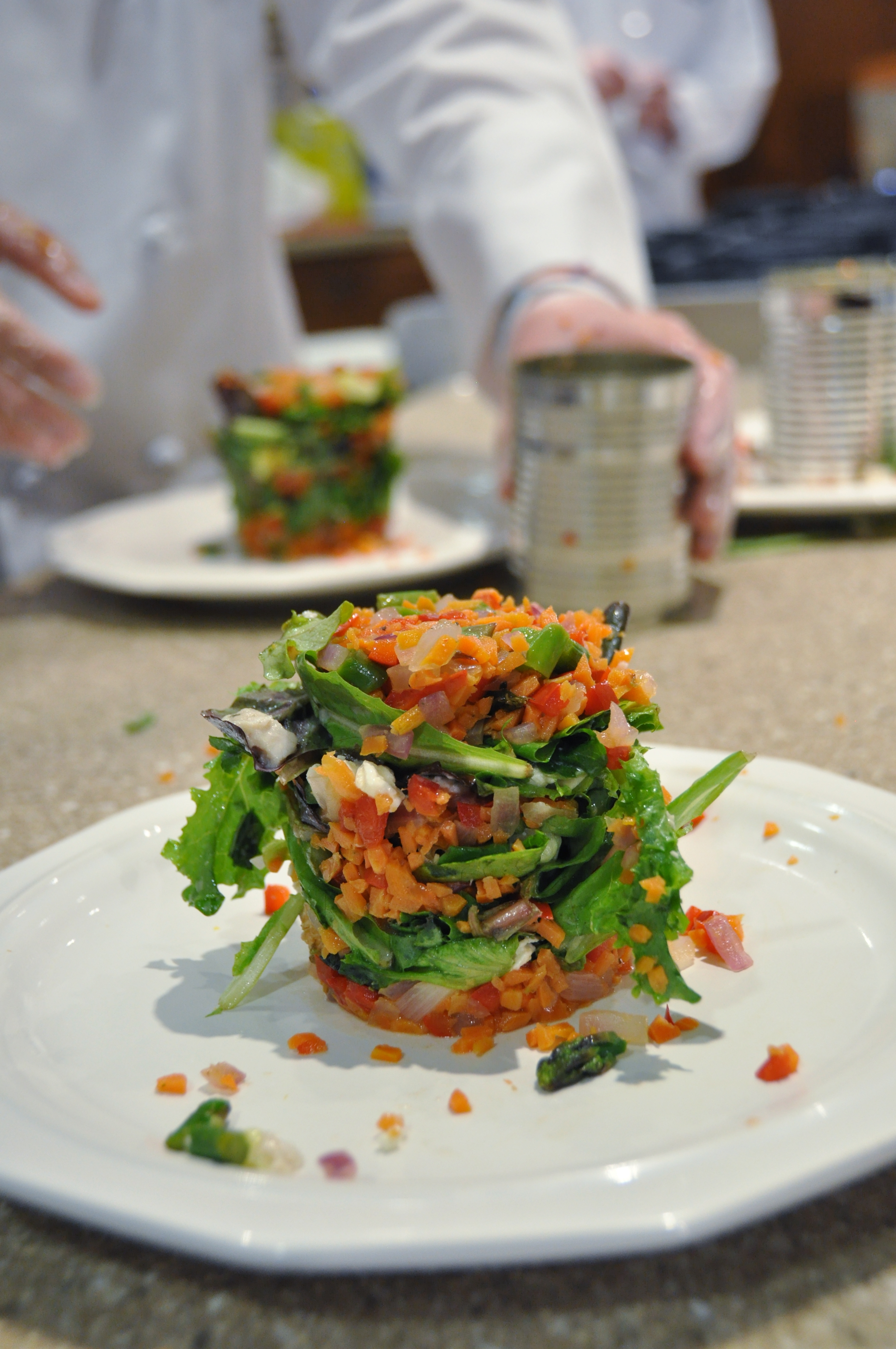 The winning salad. (Courtesy photo)
And the winner was (insert drum roll here) ... Parker Middle School. The youngsters functioned like a well-oiled machine, working like a single entity with professionalism and humility. The team scored first in all three phases -- breakfast, lunch and snack.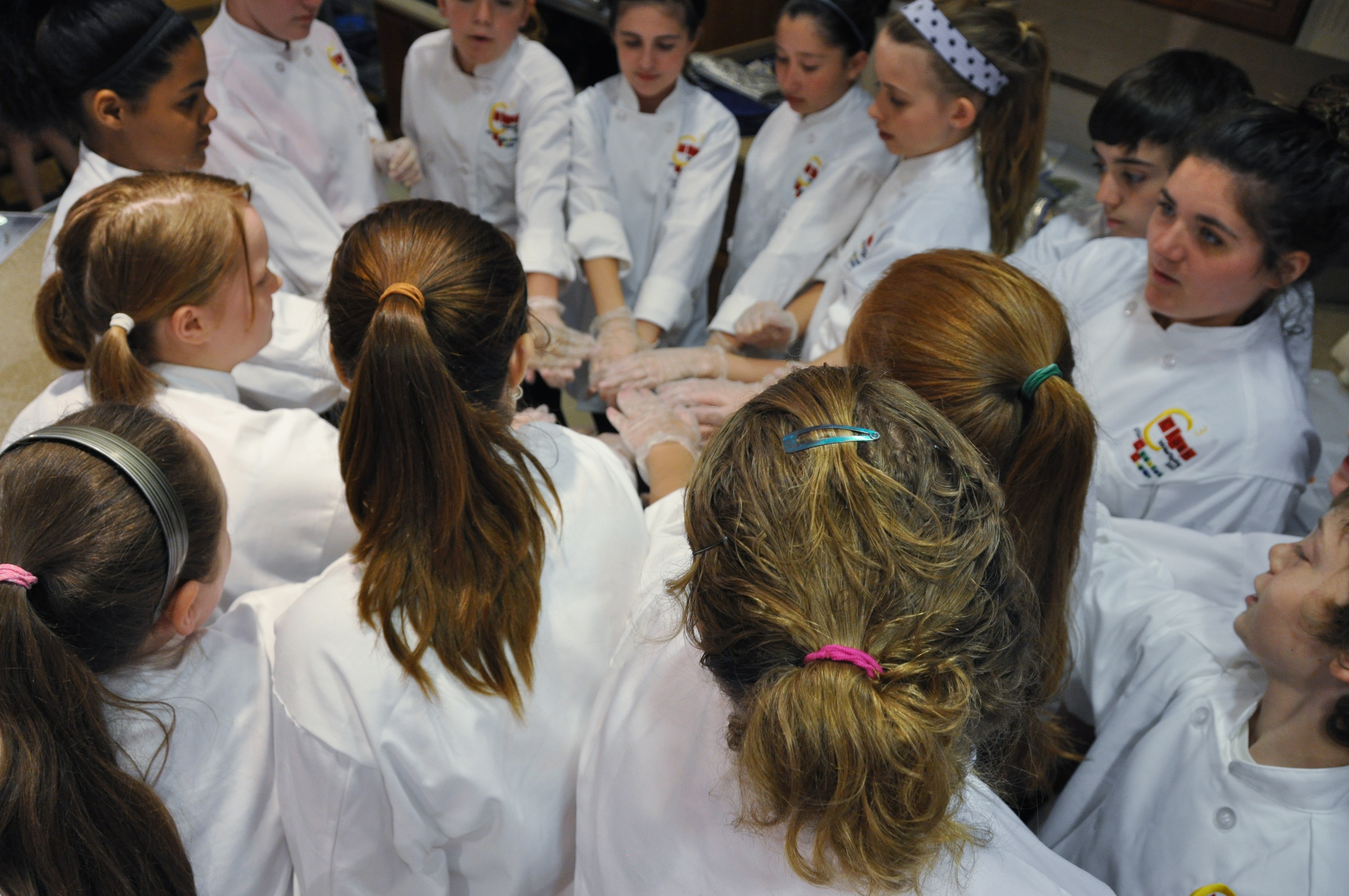 "Let's cook, on three!" (Photo by Scott Bridges)
Video presentations were also included in the competition. Teams were asked to record a video to document their efforts, with a prize offered to the best one. In addition to budding young chefs, some talented filmmakers may also be in the making, especially from video winner Swartz Creek. The team went so far as to write and perform an original song.
Prepolec has plans to expand the program, and is currently working with schools in the Los Angeles area.
Correction: This post initially stated that the winner of the cooking competition was Waterford PIece, when in fact it was Parker Middle School.