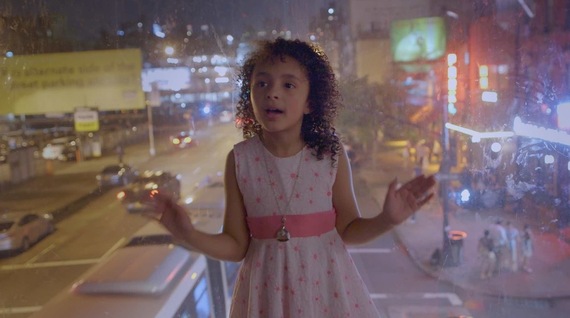 Rosa De Santiago in "Class Divide" Photo Credit : HBO Documentaries
New York City Council Member Corey Johnson sponsored a screening of the documentary film, "Class Divide" at Hudson Guild on Saturday, June 11th. The powerful documentary film by the Blowback Productions team of director/ producer Mark Levin and producer Daphne Pinkerson ( "Schmatta", "Hard Times", "Trump: What's The Deal?") focuses on the Chelsea-Elliot House and The Avenues The World School. The Chelsea-Elliot House, a federally subsidized housing complex across the street from Avenues The World School, a private school focused on the Harkness teaching method for kindergarten through 12th grade with classes bilingual in Spanish and Chinese. The documentary traces the rich history of the West Chelsea landscape to the current state of hyper- gentrification interlaced with interviews of Avenues students, parents and faculty, Chelsea-Elliot House residents, developers, community activists and government officials. The film gets to the heart of the dramatic changes and rapid gentrification on mixed incomes and the sustainability of public housing. As Avenues student Yasemin's project observes 115 steps represents the class divide in the community. The star of the documentary is Beyonce super fan, future geology professor and Chelsea-Elliot House resident Rosa De Santiago who personifies the energy and hope of the Chelsea public housing neighborhood.
After the screening Corey moderated a panel on affordable housing and gentrification with HPD's Jordan Press, Executive Director of Clinton Housing Development Joe Restuccia, "Class Divide" field producer Mike Farah and Chelsea-Elliot House resident and comedian Juwan Stone. Breakfast and lunch was served for all guests. Mayor De Blasio's Affordable Housing New York Plan features affordable housing lotteries for Chelsea and all boroughs. Avenues The World School offers scholarships to low income residents of New York City. " Class Divide" continues to have screenings around New York and can be seen on HBO in Fall 2016.
Calling all HuffPost superfans!
Sign up for membership to become a founding member and help shape HuffPost's next chapter