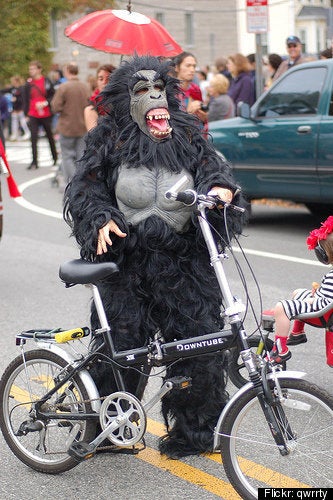 At Yale, elaborate in-class pranks aren't so funny -- at least to professors.
According to the Yale Daily News, art history professor Alexander Nemerov's class has been disrupted three times in one semester by jokesters, including a student in a gorilla suit who offered the teacher a banana.
"This is certainly not why I came to Yale," Nemerov told the Daily News. "I am very serious when I say it mocks the central purpose of the university."
Administrators are grappling with how to handle the rash of pranks, which have included dildo demonstrations, martini-making and fake pregnancies; there is no official punishment. Large introductory lecture classes have historically been the most susceptible to interruptions, and one professor says the jokes have become more disruptive and less funny:

[Economics professor Timothy Guinnane] said pranks in recent years have become increasingly drawn-out, offering little real humor. Such interruptions were never acceptable, he said, adding that he believes the pranksters are cowardly because students often come in disguise before professors who don't recognize them, bolstered by the belief that their classmates will not rat them out.

"Under the best of circumstances it's a chore to keep class going," Guinnane said. "But when someone comes in and interrupts it completely undermines what the professor is trying to accomplish."

Other professors have a sense of humor about the pranks, which are usually incited by initiation processes for campus groups.
William Summers, who teaches a biology class nicknamed "Porn in the Morn," told the Daily News that the pranks are "really just a bit of silly humor that I have been able to accept in the spirit intended."
What do you think? Are students going too far, or are professors totally humorless?
Popular in the Community