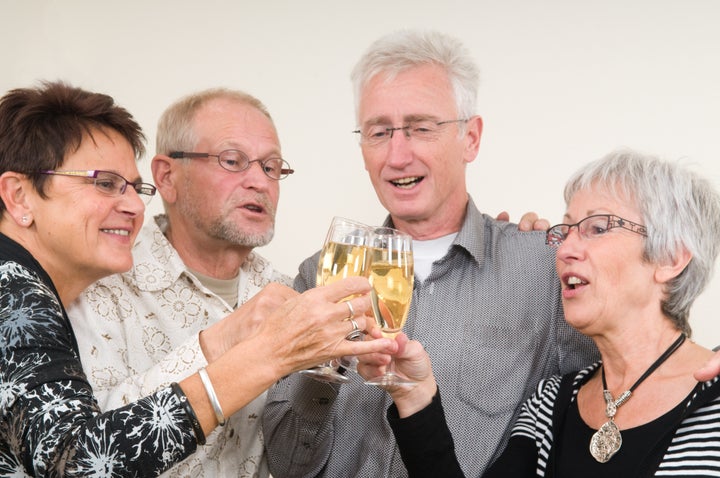 A few years ago, I helped plan my Weequahic High School (Newark, NJ) 40th reunion. Due to a last-minute personal situation, I wound up not attending. And no, that situation was not that Weight Watchers booted me out over that unfortunate potato chip incident or that the damn zipper on my dress just wouldn't go up.
But I recently found myself in central Florida, where my reunion co-chair (read: the woman I dumped all the real reunion planning work on before I bailed) has recently moved. Not being one to hold grudges, she invited me to spend the night, and I gratefully accepted.
I'm happy to report that when you liked someone in high school, you likely will like them 40 years later. While people do change -- and in some cases evolve -- basically what you saw then is what you get now. Except maybe in a larger-size jeans (I'm talking about me here, not Helen.)
The arrogant kids turn into arrogant adults; the snobby kids will still snub you; and the ones that would invite you over to their lunch table will invite you over to their new home in central Florida just because they are nice like that.
But hooking up with people who knew you in high school is always a loaded proposition. There are the inevitable comparisons of success in all things from career to marriage to how your offspring have fared. There is also the risk of altered memories: I think I hated high school and remember myself as a 60s-style hippie; yet there I am posing in the yearbook in my majorette uniform with my baton held high. Was I really a rah-rah girl? Apparently so.
And of course there is the curiosity factor. Did the class valedictorian burn out at Harvard? Did the fast girl who sat behind you in math have five kids and six husbands? Did the former football star's muscles all turn to flab? And in my class -- the class of 1968 -- we also had to ask: How many fallen heros did we lose in Vietnam and how many civil rights lawyers did we produce?
Graduations and reunions have a lot in common. There are tinges of remorse in both. When you graduate, you move on to a new experience and in most cases, leave behind those you feel close to. With a reunion, you come back fleetingly before returning to what is your real life.
Fortunately, Helen and I had plenty to talk about. I left knowing it wouldn't be another 40 years before we visited again. She promised to fan me on this page (and has already followed through) and I promised to organize the next reunion without dumping it all on her lap (and I haven't) -- because basically, we are the same people we were in high school.
Here are are some photos of us now and then. How about adding your own?
PHOTO GALLERY
High School Reunion
Calling all HuffPost superfans!
Sign up for membership to become a founding member and help shape HuffPost's next chapter