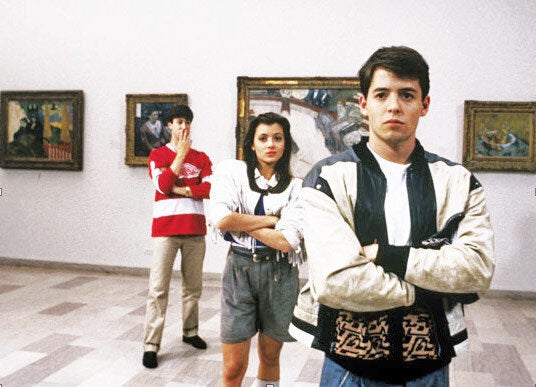 They're remaking Footloose. I know this is not news. But I have to keep repeating it to myself, checking the IMDb page for a release date, tattooing it on my body like Guy Pearce in Memento. Because like an amnesiac, I wake up every morning blissfully ignorant, forgetting that it's true. But then Kenny Loggins will show up in my Twitter feed ("Gonna hit the gym. Hope to see you out there!") or I'll kick off my shoes, realizing too late that it's Sunday, and all of a sudden it comes rushing back. The question that haunts me is, Why? Why, Hollywood? Why Footloose? Look, I saw the stage musical back in 1998 and it was not good. Hay bales were involved. Is there really any more blood to squeeze from this stone? The main thing that bothers me, though -- apart from the entire idea and execution -- is the title. The way to do a remake right, as evidenced by the 2004 monstrosity Dirty Dancing: Havana Nights, is to give it a colon, a subtitle, and a slightly different and vastly inferior plot, preferably set outside United States borders. This alerts the potential viewer to the fact that it will suck. The presence of the colon alone is enough, really. Decoded, it reads: Beloved Movie: Bastardized For A Generation Who Can't Even Be Bothered To Silence Their Cell Phones In Theater But look, I'm not bitter. How could I be? To play the role immortalized by Kevin Bacon, Hollywood has tapped none other than Kenny Wormald, who starred in Center Stage: Turn It Up (note colon). And as the Lori Singer character, we have Julianne Hough, best known for dancing the samba with Apollo Ohno on live television and dating Ryan Seacrest. The only casting choice that gives me pause is Dennis Quaid as the anti-rug-cutting Reverend Moore. Surely they mean Randy? I won't even get into the Red Dawn remake starring the guy who played Thor, or Top Gun 2, or the rumored Weird Science reboot. Sigh. Anyway, before Hollywood can break my heart again I've decided to predict their next move(s). And yes, I'm publishing them here so that when they inevitably materialize I can sue. The Breakfast Club: Back To School Nick Jonas, Ed Westwick, McLovin' from Superbad, and two of MTV's Teen Moms star as a group of mismatched high schoolers forced to serve as hall monitors after perpetrating a series of unrelated offenses against Principal Vernon (Matthew Lillard). Look for a cameo by Judd Nelson as Carl the janitor, who runs a black-market fake ID business through his Facebook fan page. Save Ferris In this sequel to John Hughes' 1986 classic, the adult Ferris Bueller (Matthew Morrison) is diagnosed with a fatal strain of mono, leading his teenage son (the kid from Two and a Half Men) to ditch school, fuck around, and solicit money from strangers using his considerable charm, eventually ending up on a float in the Macy's Thanksgiving Day Parade singing a cover of Lady Gaga's "Born This Way." Look for a touching reunion between Ferris Sr. and his old buddy Cameron Frye when they meet in the hospital after Cameron develops an anxiety-related aortal aneurysm. M. Night Shyamalan ending: Ferris is faking! Suckers! Cameron dies, though, and the Save Ferris money is used to buy a commemorative Ferrari. My Dinner With @ndre Ray Romano and Andre Braugher tweet at each other from separate computers for two hours while eating takeout sushi, mostly speculating about whether Men Of a Certain Age will be renewed.
When Harry Met Sally: Senior Year Miley Cyrus and Cory Monteith star in this prequel to the seminal rom-com, which rewrites history to place the future friends-turned-lovers in the same Chicago high school, where they meet cute, hate each other, and then eventually make out at prom. In a modern twist, "Harry" (Harriet) is the girl and "Sally" (Salvador) is the boy. A lot of texting is involved. In lieu of Harry Connick, Jr., Bruno Mars provides the soundtrack.
Plat2n Michael Bay will direct this remake of Oliver Stone's Academy Award-winning war drama. In a terrible stunt casting choice, Charlie Sheen will reprise his own role. Cedric the Entertainer, Kevin James, and Zac Efron round out the infantry. Oh, and instead of Vietnam, this takes place in Abbottabad, as a re-imagining of Osama bin Laden's capture. Also, there are Transformers.
Calling all HuffPost superfans!
Sign up for membership to become a founding member and help shape HuffPost's next chapter