By Vanessa Pisk
In the center of Brescia, the restaurant Classico opened a few months ago in a faux-ancient building but charming in its own right, and with a lovely little courtyard (Via Callegari 2). Shaded by numerous plants, the restaurant focuses on aperitifs and snacks. The importance of cocktails is evident in the first room, with a large table and well-stocked bar, where the outstanding bartender Cristian Manassi moves confidently, preparing sophisticated drinks with a beautiful presentation. Cristian alternates classic recipes with reinterpretations and personal creations, and he also offers a wide selection of Italian craft beers. Heading the kitchen is Michele Bontempi, a young chef already known for the delicious hamburger he developed for his restaurant Dispensa in San Felice del Benaco (Piazza Municipio 10), on the Brescian shores of Lake Garda. Here sandwiches are served along with nibbles as well as other more complex dishes. Michele lavishes attention on the quality of the products, which are sophisticated but presented with an informal touch.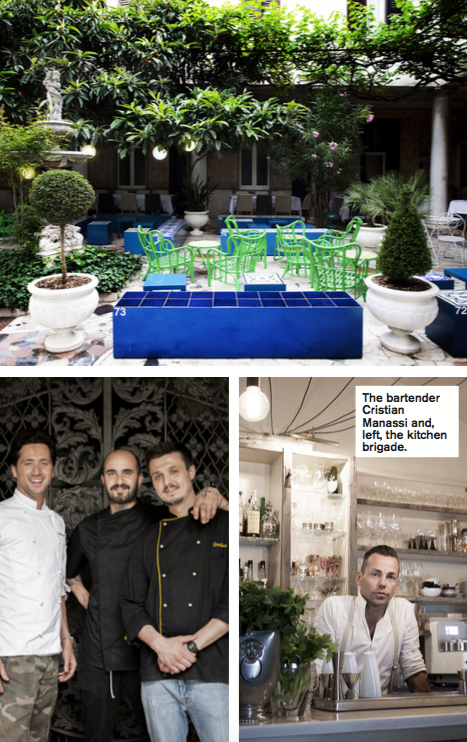 TAGLIATELLE WITH JOWL BACON AND ZUCCHINI
(Serves four)
300 g (10 oz) fresh egg tagliatelle
2 zucchini
200 g (7 oz) Norcia jowl bacon grated Tuscan pecorino cheese about 1 tbsp butter
Chop the bacon and julienne the zucchini, and sauté them
in some butter. Cook until crisp. Cook the pasta in boiling salted water until it is done but firm. Drain and add to the skillet with the bacon and zucchini. Cook for another minute with
a tablespoon of the pasta water. Using a ladle and large fork, twist the pasta into a nest and sprinkle with the Tuscan pecorino.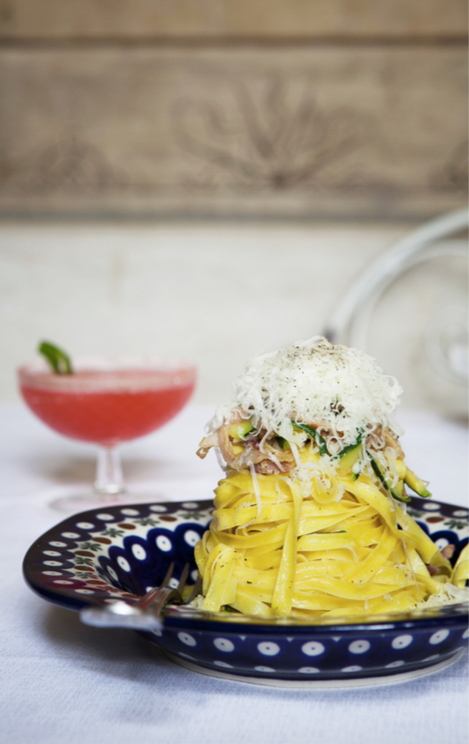 YAKITORI
(Serves four)
8 chicken thighs
150 ml (2/3 cup) soy sauce 1/2 glass sake
2 tbsp coriander seeds
Bone the thighs and marinate them for 30 minutes with the soy sauce, sake and coriander. Drain, place each thigh on a skewer and cook on a barbecue for about 20 minutes.
In the meantime, simmer the sauce until it has cooked down to one-third. Before serving the chicken, brush it with the soy reduction.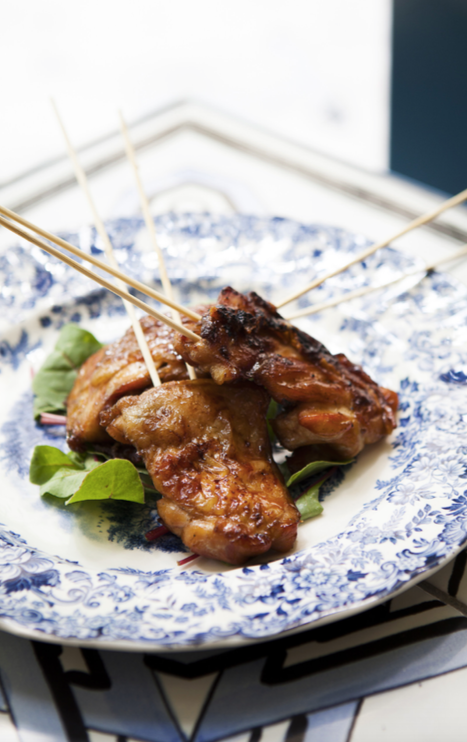 EGGPLANT BALLS
(Serves ten balls)
1 eggplant
1 egg
breadcrumbs
grated Grana cheese salt and pepper
Peel the eggplant and chop finely into a tartare. Sauté until wilted. Add some breadcrumbs, the grated cheese, salt and pepper. Roll into balls. Dip them first in the beaten egg and then dredge them in breadcrumbs. Fry for about 2 minutes.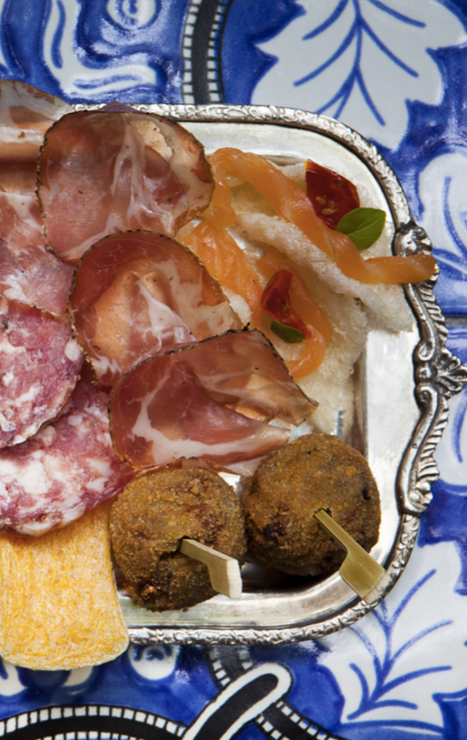 B.B. BURGER
Bread
180 g (6.5 oz) beef round
25 g smoked Patanegra bacon 4 g (1 tsp) paprika
80 g (2.8 oz) taleggio cheese some raw onion rings
2 slices tomato
lettuce
mustard, ketchup and mayonnaise
Mince the beef and add the chopped bacon and paprika. Toast the bread in a skillet
and spread some mustard, mayonnaise and ketchup on both sides. Melt the cheese bain-marie. Shape the beef into a patty and grill for 2 minutes per side.
Assemble the sandwich with the meat, cheese, onion, tomato and lettuce. Bake for 3 minutes at 350°F for 3 minutes and serve.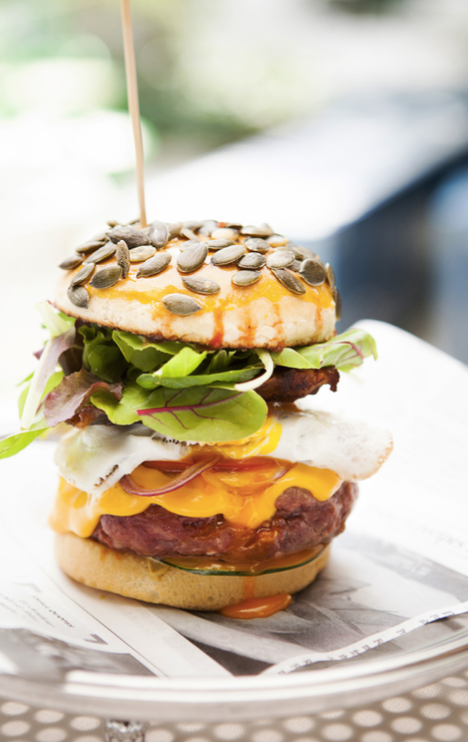 SAUTEED SCALLOPS WITH BROCCOLI CREAM
(Serves two)
500 g (1.1 lb) broccoli
3 Cantabrico anchovy fillets garlic
8 scallops
extra virgin olive oil
salt and pepper
Boil the broccoli for 4 minutes and then put it in the blender. Drizzle in some oil, two or
three anchovies, half a clove of garlic, salt and pepper. Blend until smooth. Lightly cook the scallops (4 per serving) and set them on the broccoli cream.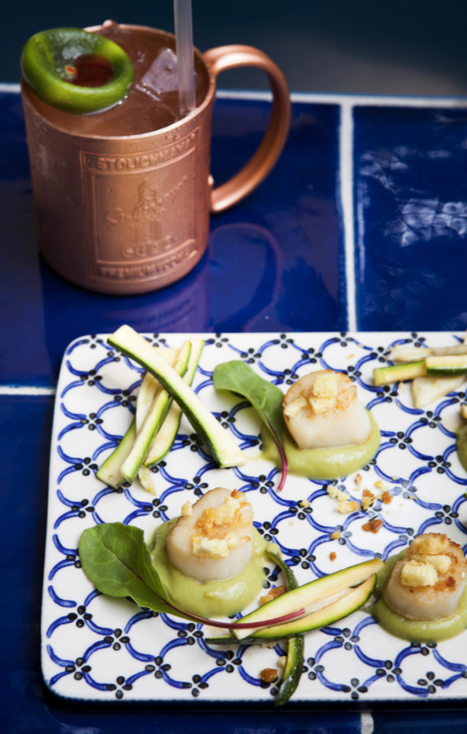 COCKTAILS MOSCOW MULE
1 oz vodka
2 3⁄4 oz ginger ale or ginger beer 1 oz lemon juice
fresh mint leaves
a few cucumber slices
a slice of lime to garnish
Prepare directly in the glass, copper mug or, as an alternative, a tumbler, filled with ice. Add the cucumber slices, mint leaves and the slice of lime.
MARGHERITA
0.7 oz Campari 0.7 oz Cointreau 0.3 oz lime juice salt, sugar
Put the Campari, Cointreau and lime juice in a shaker , and blend. Filter and pour into an iced glass. To rim the glass, use a mixture of salt and sugar.