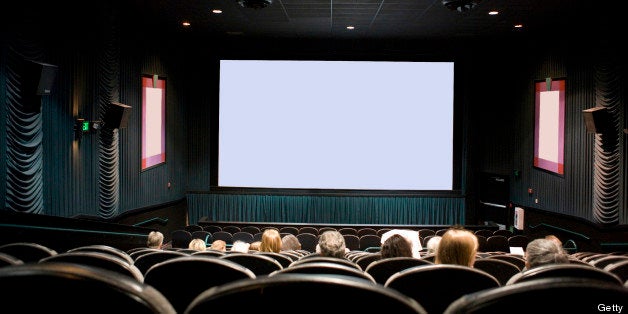 Coming Soon to a Theatre or Drive-in Near You! (Especially if you're old enough to remember drive-ins!)
The Wizard of MenopOZ
Hiding behind a curtain, a great and powerful Man claims to have discovered the cure for All Female Fatigue.... MORE SEX. Ha! DVD includes never seen before footage where he gets the "Courage" to admit he doesn't know everything, the "Heart" to loan Dorothy his VISA to shop Nordies for more ruby slippers and the "Brains" to stay clear of Wicked Witches who haven't slept in weeks!
Forest Slump
A woman named Forest (don't ask!) slumps over with exhaustion while working, shopping, cleaning, driving, cooking and exercising. But she's totally alert when her head hits the pillow at night. Go figure. Audiences will cheer when a Good Samaritan informs the tired waif that, "Life is like a box of chocolates" and she finally perks up for good! "Run Forest, Run... to See's Candy!"
Malice in Wonderland
Vindictive, insomniac wife plots revenge as her spouse snores blissfully unaware beside her.
The Postman Always Brings Ice
Getting ready to celebrate the big 5-0, a woman is grateful to her mail carrier for saving the day because: a) She was too exhausted to get ice for her own big birthday bash b) She actually forgot she was throwing her own big birthday bash and c) To cool her wrists and neck when her own big birthday bash "hot flash" hit. Warning: Ending will "melt" your heart AND your libido.
Sophie's Choice
Predictably dark comedy about a woman who must choose between taking a nap or having sex. Seriously?
Mascara (Para) Normal Activity
Docudrama following a mid-life woman's makeup routine. Cringe as she selects the wrong shade of foundation and uses powder blush instead of cream. Teaches that age-old wisdom, "Less is more." Male audience members left the theater scratching their heads asking, "Why do women always open their mouth when they put that black stuff on their lashes?"
Frocky Horror Picture Show
Terrifying tale about a female looking for the perfect dress for her 30th high school reunion. Close your eyes during the special effects Spanx scene... shudder!
SchindlHER's List
Woman visits her doctor and walks away with everything from Xanax and Ambien to Tylenol PM and Melatonin scrawled in wretched physician handwriting on a prescription pad. Yawn, we've seen this all before... and still it fails to put us to sleep. Darn.
Other notable films too numerous to review but worth a look in 2015 are... "Kiss of the Tired-er Woman," "Look Who's Balking!" "Casablanket," "Les Menopausals," "Withering Nights," "Maternal Sunshine of the Spotless Mind," "Numb and Number," "Streetcar Named Expire," "Total UnRecall," and "Cloudy With a Chance of Menopause!
NEW BESTSELLER BOOKS FOR 2015
(Actually, some are quite old, but we cannot remember them anyhow!)
Withering Nights (Wuthering Heights)
The Importance of Seeing an Internist (The Importance of Being Ernest)
Kvetcher and the Rye -- Tale of Old Jewish Woman in a Deli (Catcher in the Rye)
The Legend of Weepy Wallow (The Legend of Sleepy Hallow)

All of Her Cysts! (Oliver Twist!)
Shred Bag to Discourage -- A Shopaholic's Recovery Bible (Red Badge of Courage)
Weight Fluctuations (Great Expectations)
Grapes of Bath (Wine recommendations for the spa)

Children's Books reissued for the adult female:
Goodnight Prune (Goodnight Moon)
Poky Little Progesterone (Poky Little Puppy)
Lean Legs & Gam (Green Eggs & Ham)
I'll Love You Forever! (Until I get dementia and forget who you are.)
Are You There, Bod? It's Me Menopause! (Are You There God, It's Me Margaret!)
Charlotte's Web of Sexual Deceit (Charlotte's Web)
Where the Wild Flings Are! (Where the Wild Things Are)
Related
Popular in the Community