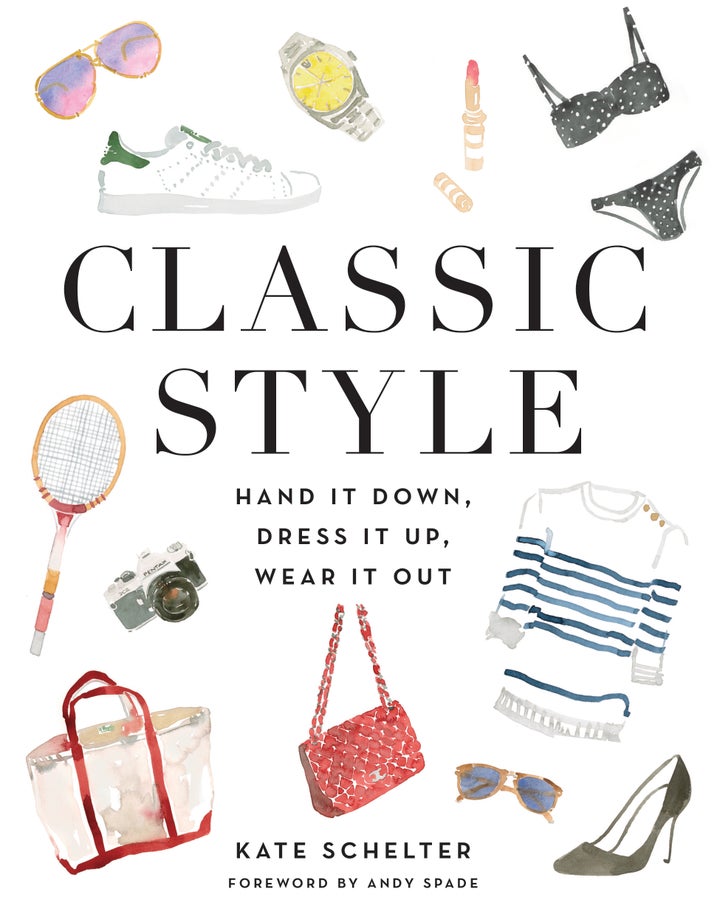 The element of style is a personal and challenging subject for most people. It is difficult to explain to others your own personal style except through visual displays and examples. Classic Style: Hand it Down, Dress it Up, Wear it Out should be required reading for fashion designers, stylists and those who care to learn more about their own sense of style. Not since The Preppy Handbook has a book served as a how to guide for the classic elements of style.
Until now, I had no true explanation for my style. Plain yet classic. Simple but deliberate. However, when I first saw the cover of CLASSIC STYLE, and realized that I owned almost every item on the cover, I knew I needed to have it. Classic Style: Hand it Down, Dress it Up, Wear it Out, is a gorgeously styled guide to the classics. Fashion expert, illustrator, stylist, and "It Girl" Kate Schelter is tapping into today's minimalist movement in a visually captivating and inspirational way. Her book shows readers how to develop timeless personal style by paring to the pieces you truly love.
"You can use something that you already have in your closet to create your style. Each coast, childhood experience, and stage of life ultimately impacts how we dress." Kate Schelter
However, the intentional aspect of fashion is an important component of style. One must deliberately reject or accept each new trend. Without conscience effort, you can find yourself wearing things that go against your personality and make you feel insecure in your own skin. There are three reasons why Kate Schelter's book Classic Style: Hand it Down, Dress it Up, Wear it Out is a must-read.
1. Perspective. With an intentional wardrobe comes a different perspective on how you see yourself and others. I often felt judged for purchasing the same type of shirt consistently; striped blue and white long sleeve. However, I needed to trust my own sense of personal style and own my brand. I now have a new perspective on others as they do the same.
2. Style. Though some would feel limited to maintaining some of the things in their wardrobe, CLASSIC STYLE frees you up to define your personal style and brand by taking an inventory of the clothes you already have.
3. Inspiration. There is nothing more inspiring than having a guide of must have classic items at your fingertips. A visual gem, CLASSIC STYLE will inspire you to pare down your stuffed closets and storage units, find joy in simplicity and usefulness, and rediscover what is truly essential to your personal style-you.
Related
Popular in the Community