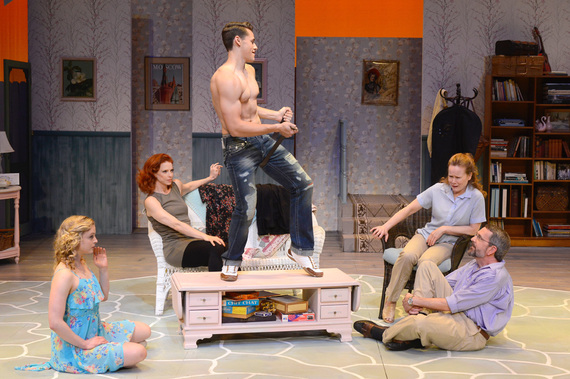 Emily Goss, Leslie Stevens, Connor McRaith, Jennifer Parsons and Stephen Rockwell Photo by CaughtintheMoment.com
"We licked stamps..." Begins Stephen Rockwell's "Vanya" in the ICT Production of "Vanya and Sonia and Masha and Spike."
Yes, indeed we did; of all kinds, not just postage but S&H Green Stamps for those of us who were poor and still have a memory can recall. Because that was what we did, then; in that simpler time, in that better time, when we were great (I had to).
Reminiscing, romanticizing the past, watching life whiz by, feeling like it's passed you up, that the best is over and all that's left is the rest, that someone else got more, that you didn't reach that potential, or worse, won't...repressed or unrequited love lost or repressed feelings in the present, the fear monster forever living in your head and that of those around you, fear of life, of death, of losing your space, your home, your place in it all....No, I'm not describing what is driving the election of 2016 (well, kind of not in a weird sort of way); I'm talking about Chekhov's themes made relevant in Long Beach's ICT's production of Christopher Durang's Vanya and Sonia and Masha and Spike playing through July 3rd at the Beverly O'Neill Theatre in the Long Beach Convention Center.
The play centers on Vanya and Sonia (Stephen Rockwell and Jennifer Parsons) whose parents obviously loved Chekhov (well, Vanya and Sonia are related by adoption). They live together, spinsters really, in the family home, Sonia pining away for Vanya who uses the attention as a poor substitute for the love he really craves but seems to never have had the courage to admit or pursue. Parsons' Sonia is comically morose, echoing the sentiments of so many over 50 in the audience but in an almost silent movie camp that while over the top, proves far too emotionally spot on. Rockwell is great given he's in almost every scene and has the detached optimism or even passive aggressive behavior Vanya would need to survive Sonia's dramatic flairs. However, Vanya is to be our righteous indignation. His rant in Act II is epic, one worthy of great and epic rants of all time (think "I'm mad as hell and..."). It nails every single point about the messed-up, disconnected modern life millennials seem to accept as real and the complete void so many are feeling as we look in to the deep. While his speech was filled with energy and conviction, I needed a little more fire in the belly at that point. He was telling off every single millennial every one of us over 40 has wanted to in our recent past, every cell phone grabbing, screen watching, craft beer drinking, text messaging, snap chatting, instagramming facebooking tweeter out there and dammit, I want to see spit coming out by the end! Rant!
Rockwell did, and got a rousing applause for it but it could be even more of a moment. However, the play is filled with moments that are all delightful, funny, uncomfortable, calling upon so many fears including losing our homes yet maintaining its hope and sense of humor.
Masha owns the house, Vanya's sister and Sonia's adopted sister. She's a fabulous actress; well, she could be. She really the star of an action franchise to pay the bills; but would REALLY tear that juicy Broadway role apart...should she ever get it. Masha comes home with some news for Vanya and Sonia and brings eye candy Spike with her. When I was 40, on #1 talk radio, I dated a 20+ year old, gorgeous; to think I was Masha made me squirm. Spike is a young actor, who has a penchant for losing his clothing. Hey, I was perfectly fine with it. Connor McRaith is drop dead gorgeous, has a perfect male physique and is the reason I'm gay. Wait, outer voice? Anyway, Masha, Leslie Stevens, is the perfect clueless starlet in a mid career crisis. Stevens has the presence, the swagger of a movie star so the part seems effortless. McRaith is perfect as the everybody look at me, touch me, love me (and I do mean everyone) self-absorbed Hollywood stereotype. The middle aged star, the too young date, the spinster siblings...it all reaches a head after a costume party where the unexpected happens on all counts. Throw in the doe-eyed Emily Goss as the star struck neighbor that idolizes Masha and has the hots for Spike (along with every breathing woman and man in the theatre) and it's almost 1940s Rosalind Russell / Cary Grant meets Chekhov. And of course Murielle Zuker as the psychic housekeeper chews the scenery every time she's on stage, leaving comic debris in her wake.
It's no wonder the play won a Tony for Best New Play and Long Beach's International City Theatre does the work proud.
The play runs through July 3rd on Thurs, Fri and Sat. Go relate and have some fun.
Watch Karel: Life In Segments weekly on Free Speech TV on ReallyKarelTube. To hear this or other interviews get the FREE Karel Cast App, subscribe in Spreaker to the Podcast or simply go to the most incredible website on all the planet, save this one, ReallyKarel
Calling all HuffPost superfans!
Sign up for membership to become a founding member and help shape HuffPost's next chapter