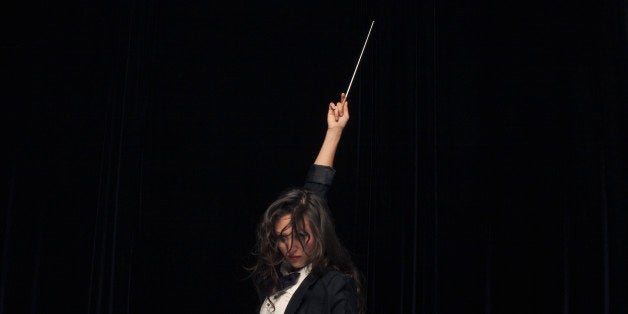 NEW YORK -- The velveted lobby of Weill Recital Hall smelled like an old folks' home. It was business as usual on a January night -- a typical pre-classical concert scene outside the small theater in the east wing of Carnegie Hall. Bald men stooped. Their wives hugged each other, ungainly in furs. No one patronized the cash bar in the center of the room.
But as the clock ticked down, so did the audience's average age. A gaggle of college-aged friends yelled hellos, so hyped up they stood in their row until the last minute. Whippet-thin fashionistas arrived, swimming in big sweaters and red lipstick. Girls in head scarves took their seats in pairs.
Had these young people not read the obituaries? For the last decade, classical music has been proclaimed dead, most recently and divisively in Slate last month. Audiences, statistics show, are not only aging, they're vanishing. In 1937, a study of classical music audiences in America yielded a median age of 30. By 2012, according to the National Endowment for the Arts, not only had audiences shrunk steadily for two decades, they comprised mostly senior citizens, men and women ages 65 to 74.
The great thought experiment is to imagine concerts of the past. Consider a tale from critic Greg Sandow, the foremost seer on the future of the genre (and a major source for the Slate piece). Digging through a 1940 survey, "America's Symphony Orchestras," Sandow discovered a poetic moment in classical music history, retold on his blog in near-haiku rhythms:
"College students at the Boston Pops, in the 1930s and earlier. They snakedanced through the streets to get to concerts. And demanded the Academic Festival Overture."
It almost reads as fiction. Ignore the proper nouns, move the date forward a few decades, and you're looking at a description of Southern California's Coachella music festival, or maybe New York's holiday pub crawl, SantaCon. The very last possibility is an evening of Vivaldi on the Tanglewood lawn. And yet Sandow, like many classical music lovers, is not ready to declare defeat.
"I don't talk of life or death," he wrote on his blog, in a counter to the Slate piece titled "Don't Say It's Dead."
"Instead I try to say, more carefully, that classical music, in its present form, as an enterprise in our society, might not be sustainable." It must change, he argues, and "when the changes have deeply taken root, classical music will look, much more than it does now, like the culture that surrounds it."
Steep yourself in debate on the issue and it's clear the surrounding culture -- to borrow Sandow's language -- is blocked from entry by institutional isms: racism, sexism, elitism. Even in the U.S., arguably the world's most progressive classical seat, fewer than 3 percent of all orchestral musicians are black, according to a 2011 broadcast on New York classical music radio station WQXR. And recent data from the League of American Orchestras shows that 80 percent of all orchestral conductors in the U.S. are men. Like attracts like, meaning audience demographics tend to reflect those on stage.
Those who've hit ceilings inside the field blame inbuilt causes, from an old boys' network to the belief held by some (most prominently, Vienna Philharmonic flutist Dieter Flury), that the "soul" of classical music is essentially white and male.
And yet, Tuesday night at Weill Recital Hall looked more "Glee" than "Leave It to Beaver." Every view produced a visual rebuke to statistics, from the crowd, of all races and ages, to the conductor herself, Sera Tokay, a Turk of French descent.
Blonde and shapely, in a smart-fitted black tunic, Tokay guided her orchestra -- all fresh conservatory graduates -- into the music of the Second Viennese School. This was a careful choice. The atonal, late romantic sensibility that came out of World War II was meant to oppose what Tokay sees as a modern trend toward "affected neutrality and coldness," as she later wrote in an email to The Huffington Post.
Tokay leads performers into Igor Stravinsky's Dumbarton Oaks.
Tokay is a rare breed. If women conductors are few in the U.S., they're practically mythical in Europe. Parity exists at lower levels -- The Economist reported last fall that student bodies at two of Europe's most prestigious conservatories are split equally between genders, a shift from even five years ago. But look further up the ladder, and it's still 1950. The prevailing belief that the cutthroat life of a conductor precludes a motherly, wifely one means women often choose to exit the race.
"The joke is, of course, that women conductors need wives," wrote Colgate University conductor Marietta Nien-hwa Cheng in 1998, in an essay on what the future held for her professional sisters and daughters. As one-liners go, that one's telling. The roles couldn't be more circumscribed in this world: Conductors conduct; wives clean, cook and change diapers.
How then, to explain the others -- women like Baltimore Symphony Orchestra conductor Marin Alsop, or Cheng, or, indeed, Tokay? As she brandished her wand against "affected neutrality and coldness" on Tuesday, a phrase came to mind in opposition, made infamous last year by conductor Vasily Petrenko: "cute girl at the podium." (His point: conductresses are too physically distracting to be effective.)
Sera Tokay conducts players in a performance of Benjamin Britten's Sinfonietta.
Petrenko may be interested to know that none of Tokay's male strings players dropped their bows. In fact, they played smashingly, so much so that a few of the younger onlookers lost themselves in the music and clapped between movements -- breaking one of those mores that can alienate new audiences. Such is the "present day misery" of the musical profession, Tokay later wrote to HuffPost. "A systematically dissuasive policy against women," concocted by the men in charge, she asserted, is used "as a proof of their natural disability."
Last year proved a rich season for dissuasion. Not long after Petrenko's comments surfaced, composer Bruno Mantovani, a director at Paris' influential Higher Conservatory of Music and Dance, hypothesized on French radio that woman conductors were so few due not to institutional bias, but because the job is too taxing. "Conducting, taking a plane, taking another plane, conducting again," went his rundown of the acts women couldn't handle.
Concurred another venerable figure, the conductor Yuri Temirkanov: "The essence of the conductor's profession is strength. The essence of a woman is weakness."
In this case, the European disdain for political correctness was a boon. So comically sexist were these pronouncements, the debate that ensued produced unlikely repenters, like Alex Ross, the very critic who brought Temirkanov's bizarre new aphorism to light when he translated it for The New Yorker last year.
"Silent neglect can do just as much damage as open contempt," Ross wrote a week later in an apologia on his personal blog, acknowledging that his own writings rarely featured female performers and conductors until he was called to task.
Another outcome: women spoke. In an interview with The Telegraph, Jude Kelly, director at Britain's largest arts complex, the Southbank Centre, put the onus of change on institutions. The question of how to juggle "childcare and touring," she argued, is not "just a female issue":
It's about the chaps who run orchestras and people who run music colleges getting behind women. The assumption historically is that it's only women who worry about this. It can't only be women. If society wants women to reach their potential and contribute, society has to care about it.
Tokay, who is unmarried ("married to my orchestra," is how she put it to HuffPost), prefers to go tit for tat. She has her own version of Termirkanov's aptitude theory, built around a groundbreaking University of Pennsylvania study on neural wiring, published last winter. The authors found the female brain to be on average better designed for juggling tasks ("like conducting a large orchestra," Tokay pointedly noted), whereas the average male brain excels at modular work (cycling and navigating are the study's examples).
It's all a little dry compared to the point made simply by doing. Inside Weill, Tokay raised the planes of Schoenberg's Kammersymphonie No. 2 against each other like slabs of earth in a quake. The players knotted their eyebrows when despair hit, eyes on the wand. They grinned when Tokay commanded the flute to soar. All are graduates of the very same Paris conservatory where Mantovani, the composer who believes women cannot stomach the job, is a director.
His students, it seems, may disagree with him.
CORRECTION: An earlier version of this post misspelled the surnames of composers Bruno Mantovani and Yuri Temirkanov.
Related
Popular in the Community