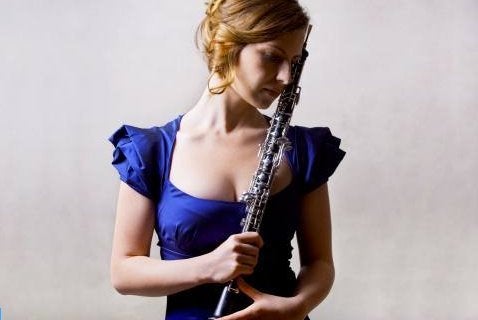 Of all the instruments that bring relief to the heart and soul of women, and men, the oboe is one of the oldest, and one of the most deeply sympathetic, perhaps because the lips of the player touch the reeds directly. Although you rarely encounter an oboe recital outside of a university or conservatory setting, the oboe's repertoire as a solo instrument includes much to treasure, much to adore and much to console.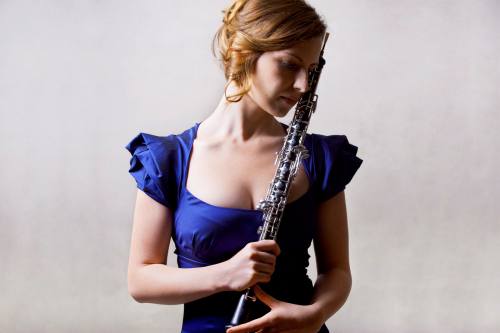 French oboist Celine Moinet
The oboe works well with meditation to gently lessen the stress in your body, mind, mood and behavior. It works, too, when you have only a few minutes in which to recoup and regroup. In both cases, classical music can be used to embrace stress and release it through breathing to achieve an in-the-present-moment frame of mind and reconnect positively and creatively with reality:

1. Lose yourself in music
2. Breathe along with music's rhythm and pace
3. Cherish and share the energy you feel
Classical music's magic works very quickly if given just some time to itself. As you align your breathing to the music's beat, your mind will be free to observe that all is a flow. The best cure for serious stress, of course, is prolonged relaxation and rest, but if time is short and the urgency real, classical music can provide a place of safety, as if it were accompanying the dance of a yogic spirit in your world, and then the energy for a fresh start.
I made today's playlist after reflecting back on oboists I know and the music they play; it is short and a little silly, but it curiously comes together as a way of exploring the miraculous beauties of the oboe. In some deeply intimate, small, personal way, the oboe at its heart is always celebrating our eternal youth and renewal.
Benjamin Britten's pipe-playing "Pan" is wistful, releasing, letting go
Carl Phillipp Emanuel Bach's wistful reflections are emotional, restrained, salvational
Giovanni Battista Sammartini's Mozartian aria is devotional
Richard Strauss's oboe concerto is rich in memories from the bloom of youth
Bohuslav Martinu's dark night ends in radiant embrace
Vivaldi brings back our souls with music of soaring beauty
Two oboes chortling Mozart fall in love with life
Macedonian oboists run naked through village streets
For more on unplugging and recharging, click here.