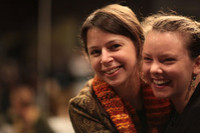 Clamor filled the central-Los Angeles industrial loft last Thursday evening, when the Russian expatriate painter, Alexey Steele, and his wife Olga, opened their funky-junky, atelier-style home to the music lovers of Los Angeles.
Amidst a clutter of books, art supplies, burning candles, and oversized paintings, propped onto surfaces or hanging from walls, habitués of "Classical Underground," the monthly musical salon, went through their paces. They sipped, noshed, and schmoozed.
The hubbub was a pre-concert affair; once the music started, a connoisseur's hush-hush set in. Settling into seats -- mostly folding chairs, some the cozy overstuffed variety -- a few hundred classical-music junkies focused on getting their fix. A roster of musical prodigies -- primarily imports from the Russian academy still in their mid-thirties, several on the brink of major classical careers -- delivered an exquisite line-up of chamber music deploying killer technique and sublime interpretation rarely seen at close range. Now in its fifth season, the still-vital "Classical Underground" served up this bohemian repast -- top-notch music plumped out by food, wine, and passionate, if somewhat kooky, arts discourse.
[Story continues after slideshow]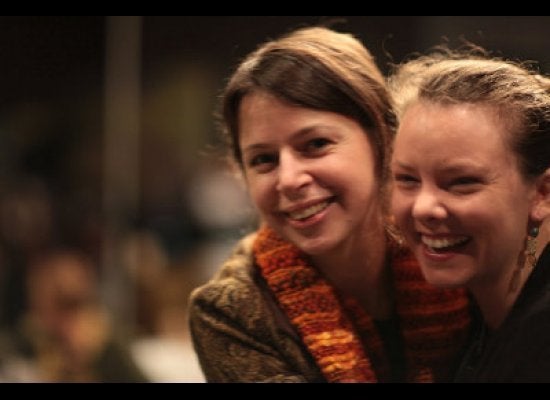 Classical Underground
What music. The pairing of pianist Alexander Kobrin with cellist Boris Andrianov formed the program's core. The bespectacled Kobrin, buttoned down but with a dry wit, proved a fine foil for Andrianov, whose expressive Russian face oozed ecstasy as he extracted sweetness from his vintage (1740) cello. Together, both men, laden with musical chops, plunged into the program opener, the Beethoven Cello Sonata #4, its themes of melancholia chiming forth right up front. Bowing at an extreme angle, the cellist went after Beethoven.
Kobrin, the first-prize winner of the Van Cliburn and Busoni piano competitions, as well as a prize winner of the Chopin Competition in Warsaw, soloed in a spot-on, if rather insistent and hammering, reading of Beethoven's "32 Variations in C Minor." Classical Underground guru-in-residence Laurence Vittes, the HuffPost blogger, informed the audience that the work reflects Beethoven's enormous improvisatory skill.
Boris Martinovich, an animated Croatian bass-baritone, bellowed, accompanied by the sweet Kanae Matsumoto on piano. An expressive actor-singer, Martinovich shared two Italian arias, the first, from Rossini's Barber of Seville and then an encore from Verdi. So solid, so golden. Listening, your heart vibrated.
A high point was the premier of "Intro Version" by Anna Drubich, a darkly pretty and poised female pianist/composer, her work performed by the young Russian cello virtuoso Evgeny Tonkha. The duo shared a contemporary work by Rodion Shchedrin, a well-known Russian composer married to ballerina Maya Plisetskaya. Playing Glazunov, Tonkha's rapture surfaced: his eyes closed, his mouth moved slightly, a light sweat broke out. What a vision.
The major musical happening, however, was Andirinov and Kobrin reuniting for Benjamin Britten's "Cello Sonata" written by Britten for himself on piano accompanied by cellist Mstislav Rostroprovich. Vittes set up the piece as a dialogue between the two instruments, calling it "a work about friendship and love," then adding, "it's just right for tonight." The cellist journeyed through the work's six rich movements, at one point putting down his bow and plucking, then, in the third section, "Elegia," plummeting the depths of his instrument. When this bit was over, the host, Steele, sitting nearby, leaned toward me and murmured, almost wincing, "That's really beautiful." And so it was, as Britten had his players crawl through sound and time and space, a ghostly march reduced at moments to note-by-note, but always moving inexorably ahead.
After playing this grown-up masterwork, the two young cellists, Andrianov and Tonkha, engaged in splendid horseplay, sputtering in cello duets that resembled cowboy music.
The C.U. experience is for the musically -- and otherwise -- adventurous. Located at the crosshairs of two massive Los Angeles freeways, the 110 and 405, the loft sits in a blandly bizarre industrial park. It's a weird trip, off the beaten track. The Steeles launched the concerts as cozy artists parties, but they've expanded, and now disparate strangers mingle. Doors open well before the show, when the smorgasbord is laid out (everyone is encouraged to contribute). Initially it feels like a train station. But barriers fall quickly as the room warms with the sound of gorgeous music.
Photos courtesy of Classical Underground
Debra Levine is a Los Angeles-based arts journalist blogging about dance, film, music and urban culture on arts•meme.
Support HuffPost
The Stakes Have Never Been Higher
Related
Popular in the Community