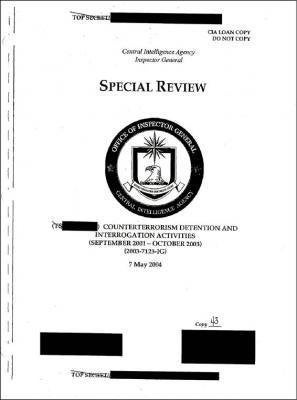 Many documents produced by the U.S. government are confidential and not released to the public for legitimate reasons of national security. Others, however, are kept secret for more questionable reasons. The fact that presidents and other government officials have the power to deem materials classified provides them with an opportunity to use national security as an excuse to suppress documents and reports that would reveal embarrassing or illegal activities.
I've been collecting the stories of unreleased documents for several years. Now I have chosen 11 examples that were created -- and buried -- by both Democratic and Republican administrations and which cover assassinations, spying, torture, 50-year-old historical events, presidential directives with classified titles and... trade negotiations.
1. Obama Memo Allowing the Assassination of U.S. Citizens
When the administration of George W. Bush was confronted with cases of Americans fighting against their own country, it responded in a variety of ways. John Walker Lindh, captured while fighting with the Taliban in December 2001, was indicted by a federal grand jury and sentenced to 20 years in prison. José Padilla was arrested in Chicago in May 2002 and held as an "enemy combatant" until 2006 when he was transferred to civilian authority and, in August 2007, sentenced to 17 years in prison for conspiring to support terrorism. Adam Gadahn, who has made propaganda videos for al-Qaeda, was indicted for treason in 2006 and remains at large.
After he took over the presidency, Barack Obama did away with such traditional legal niceties and decided to just kill Americans who would previously have been accused of treason or terrorism. His victims have included three American citizens killed in Yemen in 2011 by missiles fired from drones: U.S.-born anti-American cleric Anwar al-Awlaki, Samir Khan, an al-Qaeda propagandist from North Carolina, and Awlaki's 16-year-old son, Abdulrahman al-Awlaki.
Obama justified his breach of U.S. and international law with a 50-page memorandum prepared by the Justice Department's Office of Legal Counsel. Attorney General Eric Holder argued that the killing of Awlaki was legal because he was a wartime enemy and he could not be captured, but the legal justification for this argument is impossible to confirm because the Obama administration has refused to release the memo.
2. 30-page Summary of 9/11 Commission Interview with Bush and Cheney
You would have thought that, in the interests of the nation, the Bush administration would have demanded a thorough investigation of the terrorist attacks of September 11, 2001, the deadliest assault ever on U.S. soil. Instead, they fought tooth and nail against an independent investigation. Public pressure finally forced President George W. Bush to appoint a bipartisan commission that came to be known as the 9/11 Commission. It was eventually given a budget of $15 million...compared to the $39 million spent on the Monica Lewinsky/Bill Clinton investigation. When the commission completed its work in August 2004, the commissioners turned over all their records to the National Archives with the stipulation that the material was to be released to the public starting on January 2, 2009. However, most of the material remains classified. Among the more tantalizing still-secret documents are daily briefings given to President Bush that reportedly described increasingly worried warnings of a possible attack by operatives of Osama bin Laden.
Another secret document that the American people deserve to see is the 30-page summary of the interview of President Bush and Vice-President Dick Cheney conducted by all ten commissioners on April 29, 2004. Bush and Cheney refused to be interviewed unless they were together. They would not testify under oath and they refused to allow the interview to be recorded or transcribed. Instead the commission was allowed to bring with them a note taker. It is the summary based on this person's notes that remains sealed.
3. 1,171 CIA Documents Related to the Assassination of President Kennedy
It's been 49 years since President John F. Kennedy was shot to death in Dallas, yet the National Archives and Records Administration (NARA) insists that more than one thousand documents relating to the case should not be released to the public until NARA is legally required to do so in 2017...unless the president at that time decides to extend the ban. It would appear that some of the blocked material deals with the late CIA agent David Phillips, who is thought to have dealt with Lee Harvey Oswald in Mexico City six weeks before the assassination.
4. Detainee Assessment Briefs for Abdullah Tabarak and Abdurahman Khadr
In 2011, WikiLeaks released U.S. military files known as Detainee Assessment Briefs (DABs), which describe the cases of 765 prisoners held at Guantánamo Bay. However, there were actually 779 prisoners. So what happened to the files for the other fourteen? Andy Worthington, author of The Guantanamo Files, has noted that two of the fourteen missing stories are especially suspicious: those of Abdullah Tabarak and Abdurahman Khadr.
Tabarak, a Moroccan, was allegedly one of Osama bin Laden's long-time bodyguards, and took over bin Laden's satellite phone in order to draw U.S. fire to himself instead of to bin Laden when U.S. forces were chasing the al-Qaeda leader in the Tora Bora mountains in December 2001. Captured and sent to Guantánamo, Tabarak was mysteriously released, sent back to Morocco in July 2003, and set free shortly thereafter.
Abdurahman Khadr, the self-described "black sheep" of a militant family from Canada, was 20 years old when he was captured in Afghanistan and turned over to American forces. He has said that he was recruited by the CIA to become an informant at Guantánamo and then in Bosnia. When the CIA tried to send him to Iraq, he refused and returned to Canada. His younger brother, Omar, was 15 years old when he was captured in Afghanistan and accused of killing an American soldier, Sergeant First Class Christopher Speer, during a firefight. He was incarcerated at Guantánamo for almost ten years until he was finally released to Canadian custody on September 29, 2012.
5. FBI Guidelines for Using GPS Devices to Track Suspects
On January 23, 2012, in the case of United States v. Jones, the Supreme Court ruled unanimously that attaching a GPS device to a car to track its movements constitutes a "search" and is thus covered by the Fourth Amendment protecting Americans against "unreasonable searches and seizures." But it did not address the question of whether the FBI and other law enforcement agencies must obtain a warrant to attach a GPS device or whether it is enough for an agent to believe that such a search would turn up evidence of wrongdoing.
A month later, at a symposium at the University of San Francisco, FBI lawyer Andrew Weissman announced that the FBI was issuing two memoranda to its agents to clarify how the agency would interpret the Supreme Court decision.# One memo dealt with the use of GPS devices, including whether they could be attached to boats and airplanes and used at international borders. The second addressed how the ruling applied to non-GPS techniques used by the FBI.
The ACLU, citing the Freedom of Information Act, has requested publication of the two memos because they "will shape not only the conduct of its own agents but also the policies, practices and procedures of other law enforcement agencies -- and, consequently, the privacy rights of Americans."
To read the rest of the list of 11 documents, click here.
Popular in the Community