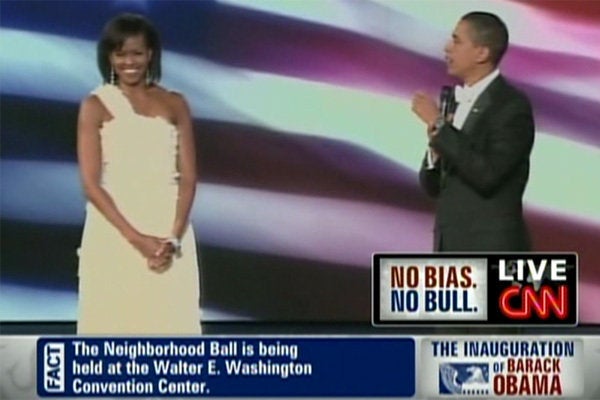 Around 1 p.m. on Tuesday, according to Cliff Black, director of media relations for Amtrak, the Secret Service closed down the picturesque Grand Hall of Union Station to secure the site for the evening's event as well as the food court and many of station's retail shops. According to Amtrak's Web site, Amtrak, Maryland Area Regional Commuter (MARC), and Virginia Rainway Express (VRE) passengers would be allowed access to the station.
But during the afternoon, things went awry as ticketed passengers were held outside in freezing temperatures after some already spent countless hours battling the cold on the Mall or at the Capitol or along the parade route.
A New York businessman bound for home who did not want to be named waited outside Union Station for hours. He also had the misfortune of holding tickets for the infamous purple section of the inauguration. He was not a happy man.
On a day when President Obama's inaugural address heralded the work of the average American and lambasted those who "seek only the pleasures of riches and fame," his impression was the contrary of Obama's rhetoric.
"There were two kinds of people: the VVIPs, and everyone else was treated like rabble," he said.
Over and over again, he called the whole day a "disgrace," wondering why Amtrak would sell tickets for trains passengers couldn't get to.
Self-described baby boomers, Francine Freedman and Bob Schnapp from Reston, Viriginia, also told of a ridiculous scene outside Union Station just before 5 p.m. Arriving ten minutes before their VRE train's departure home, the couple found hundreds of people waiting to get inside the station and board their trains. Rumors circulating through the crowd said that Union Station had been closed. But a police officer in earshot, according to Friedman and Schnapp, said that the fire marshal had stopped letting people into the station due to overcrowding.
In a scene out of Monty Python's Flying Circus, officials tried to tell people to line up to either the left or right depending on their train carrier. When the officials would tell people to gather to the left or right depending on train, the crowd would yell back "which left, your left or our left," said Friedman and Schnapp. The one good piece of information they did hear was that each every ticket would be guaranteed and that everyone would eventually make it home. But during their wait, the couple said they watched someone throw up as many others became claustrophobic in the swelling crowd.
After an hour of waiting outside the station in a throng of people trying to get out of the District, Friedman and Schnapp decided to visit some friends and grab a bite before they boarded the Metro, not the VRE, home that evening. They said they were sick of waiting after their morning waiting four and a half hours to gain access to the parade route at the intersection of 10th and E St. Schnapp said the security checkpoint had four tables and four metal detectors, resulting in two people getting through security in a minute.
"Do the math," he said sarcastically.
"It was like pouring a thousand people into a funnel," said Friedman.
Black guessed the two corridors left open at Union Station for passengers became too crowded with a mixture of ticketed passengers, frozen inaugural visitors, and people looking for a meal at the few eateries still open on the ground floor. Even though the station was supposed to only allow in ticket passengers according to its Web site, the station did not deny entry to anyone because of the cold, Black said.
But there seems to be a mixture of confusion and denial about what exactly happened between Amtrak, the Secret Service, and District's Fire Department (DCFD). Officials at Union Station could not be reached for comment, according to woman answering the station's public line, because they had worked two straight days.
Amtrak confirmed people were indeed left waiting in the cold. Asked if people waited outside for hours, Black said it was "possible."
But here's where the confusion creeps in. Black said he believes it was the fire department that held passengers outside in the cold, where many missed their ticketed trains home. But the fire department denies that. "Let me reiterate, we did not close down Union Station," said Kenneth Crosswhite, deputy fire chief of DCFD.
But the most surprising disconnect occurred with the Secret Service. "I'm not aware of any issues at Union Station," said Special Agent Malcolm Wiley. "Nothing like the situation you are describing was reported to our Joint Information Center."
In two e-mails to Wiley, however, he never answered the central question posed: Why would the Secret Service, the lead agency securing the Inauguration, allow an inaugural ball in one of the District's most critical transportation hubs during an day anticipated to bring record crowds flooding into the District? On a day when the nation's first African-American president would be sworn in and as an unspecified threat was posed to the Inauguration from a Somali-based terrorist network, didn't they know the effort to secure the public venue would inconvenience the average Americans coming to celebrate the Inauguration or simply going home after a long day at work amid the hysteria?
In the end, average rail travelers using Union Station got the same treatment they always do when their interests cross those of our nation's elite: They were told to be patient and calm and to wait in line.
"And for what," asked the New York businessman, "so someone could have champagne tonight?"
If you were lucky enough to get into the Eastern States Inaugural Ball, according to the Boston Herald, you could see a few Kennedys, Congressman Barney Frank, and the Senator John Kerry's brother and sister, before the Obamas made their entrance.
Enthusiasts and critics of Obama are right: maybe this is the new Camelot.
Matthew Harwood is a journalist in Washington, DC, and a frequent contributor to the Guardian's Comment is Free. His writing has appeared in The Washington Monthly and Progress Magazine (U.K.) as well as online at CommonDreams and Alternet.
REAL LIFE. REAL NEWS. REAL VOICES.
Help us tell more of the stories that matter from voices that too often remain unheard.