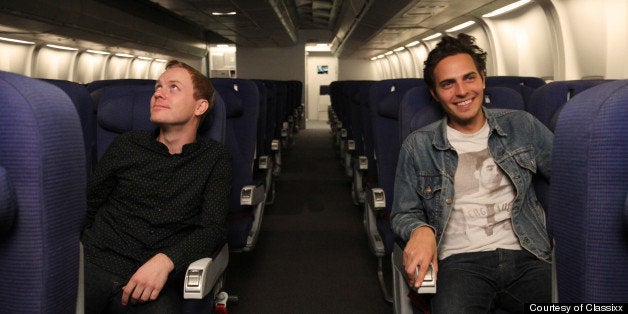 Michael David and Tyler Blake have been making music together for years now, but it's on "Hanging Gardens" -- their debut LP as Classixx -- that they've finally hit gold. The Los Angeles-based DJ and production duo exploded onto the scene with "I'll Get You," a sing-song dance track that sounds like it has been around for decades. That 2009 single, which was written with and features Lady Gaga stalwart Jeppe, makes its way onto the album (May 14, Innovative Leisure).
"Gardens" is a near-perfect summer record, and anyone who has lived in or visited Los Angeles can instantly feel the city seeping through its 12 tracks. That makes sense, given the fact that the duo says they recorded the album "in every corner of L.A., from a very dense, industrial part of the Valley to our new studio in Venice Beach, Downtown and everywhere in between." HuffPost linked up with (the very concise) David over email to find out how L.A. made its own voice heard on the project.
Tell us about one of your usual places in L.A., for food or entertainment.
I'm a Westside dude, so for coffee, it's Balconi on Sawtelle. Lunch: Bay Cities in Santa Monica. Dinner: Apple Pan of Dan Tanas (if it's Valentine's Day).
Are there any LA-based bands or producers that figured prominently in your music?
Yes, we collaborated with lots of L.A. friends on the record. Some notable performances by Active Child and Jesse from Kisses.
What do you hate about L.A.?
Spoiled kids and traffic.
What do you love about L.A.?
The weather, radio and close proximity to the desert, beach and snow.
What's your dream venue to perform at in LA?
The Troubadour. We've played it before, but we're playing there again on May 20 with our friends, Holy Ghost!
Parts of this record, to us, sound like sitting by the pool with a bunch of gorgeous friends. Where do you picture it being played, and where did you record it?
We envisioned a driving record. I think it'd be good on the way down to Palm Springs or somewhere coastal on the way up to Big Sur.
My LA is a series of Q&A profiles with our favorite Angelenos. To see others, be sure to check out My LA.
Calling all HuffPost superfans!
Sign up for membership to become a founding member and help shape HuffPost's next chapter
BEFORE YOU GO
PHOTO GALLERY
Celebrity News & Photos