During every election season I wonder what more we can do, as educators, to inspire civic mindedness? What lessons or projects provide paths for students to understand the critical role voting plays in building and nurturing a healthy democracy?
Now that the midterm election results are recorded and the pundits proclaim "winners" and "losers" , we all welcome the ensuing dissipation of the acerbic banter that has flooded our airways and mailboxes. What, if anything, did we as an electorate learn from this most recent set of elections? What did students learn?
Students develop critical thinking skills when they learn through deep and engaging ways. Of course, it's essential that students develop a strong academic foundation. We also want to ensure that students experience community within their school and develop care and concern for the world outside their school.
Elections are tough to make relevant when the election process itself seems toxic. Add to that the alarmingly low opinions of elected officials held by the public. Society's pressing challenges include immigration reform, terrorism threats, gay rights, and the care and support for veterans--just to name a few. These are clearly pressing in a large sense, but how to make them relevant to 15 year-olds?
There are ways the election process and political issues can provide powerful learning opportunities. Mike Kaechele, a teacher from Kent Innovation High School in Grand Rapids, Michigan, has found a compelling way to make the election process and specifically, political issues relevant and engaging. Mike designed a fantastic project called "#MyParty14" for his students during the recent midterm elections.
This project helped students dissect the election ballot and develop understandings of the pros and cons for each initiative. They also observed and analyzed political ads and were encouraged to get involved with issues they cared about.
As one student who participated in "#MyParty14" said, "I definitely watch and listen to campaign commercials with a critical ear. I fact check, I don't just believe."

Another student said, "The Republican campaign manager came to Kent Innovation High School and told us about voting demographics -- that only 1% of people aged 18-25 vote. That's why politicians do not target ads towards us and do not focus on our issues. So we all need to VOTE as soon as we are eligible!"

Students were challenged to form their own political parties and establish a set of common beliefs. They developed party platforms and determined ways they could affect public policy. They created short campaign videos promoting their party platforms. They also launched social media campaigns, held debates, watched campaign commercials and contacted local politicians.

"#MyParty14" encouraged students to understand the political spectrum -- Right/Conservative, Left/Liberal, Middle/Moderate -- by brainstorming political issues and researching perspectives. Experiencing what active, engaged citizenship feels like served as valuable practice for them to become the kind of citizens who want to participate in their own community. Who knows how far inspired, thoughtful and caring students will go?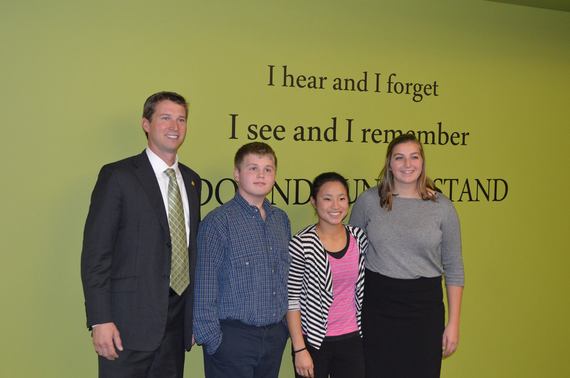 Popular in the Community